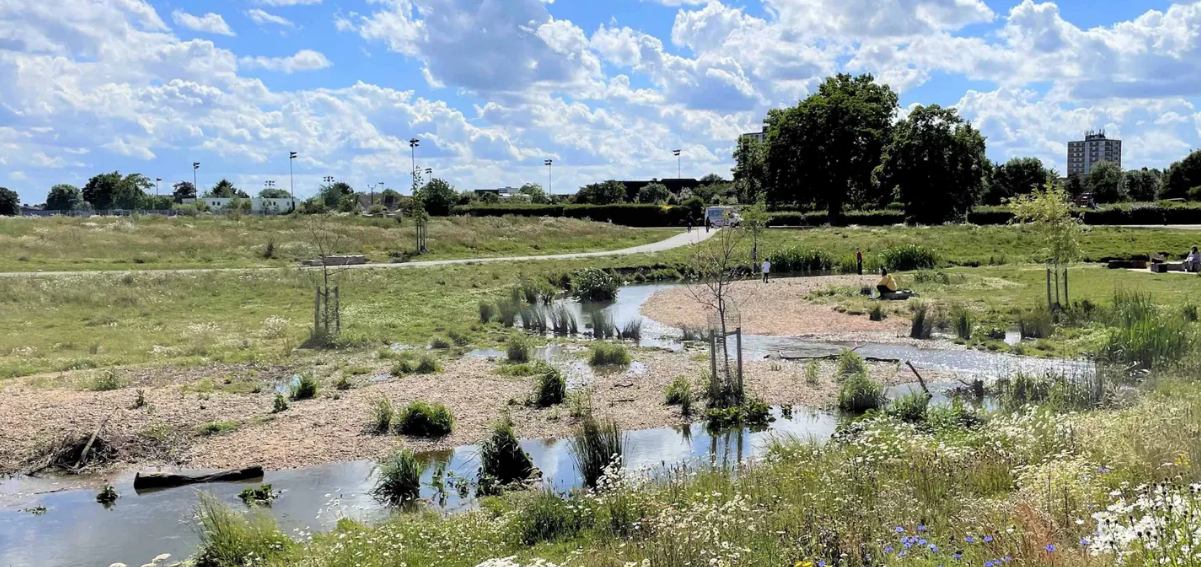 ©Michael Shorey/Enfield Council
Vocabulary:
I will read the words, meanings, and sample sentences. Then, repeat after me.
concealed /kuhn-SEELD/

[adjective] – kept hidden or where it cannot easily be seen
While exploring the ancient ruins, the archaeologists stumbled upon a concealed chamber filled with mysterious artifacts, hinting at a long-lost civilization.

uncover /uhn-KUHV-er/

[verb] – to discover something secret or hidden
During their science project, the students conducted experiments to uncover the hidden factors affecting plant growth, leading to a deeper understanding of the subject.

akin /uh-KIN/

[adjective] – having some of the same qualities
The relationship between a teacher and their students is akin to that between a guide and an explorer, as they embark on a journey of knowledge together.

revive /ri-VAHYV/

[verb] – to come or bring something back to life, health, existence, or use
After the summer break, the school playground was revived with laughter and excitement as students reunited with their friends and started playing games again.

innovative /IN-uh-vey-tiv/

[adjective] – using new methods or ideas
The school's new science lab is equipped with innovative tools and experiments that allow students to explore and discover the wonders of the natural world.
Article reading:
Please read the whole article. Then, I will check your pronunciation and intonation.
Beneath London's streets, a secret world awaits—an ancient labyrinth of forgotten waterways, echoing stories of the city's past. Concealed for centuries, these hidden rivers beckon curious souls, inviting them to uncover the mysteries of a forgotten era and ignite their imagination.
Buried beneath layers of urban development, these clandestine channels served as the lifeblood of London, powering its industries and providing a vital source of sustenance for its inhabitants. From the languid flow of the Fleet to the meandering curves of the Tyburn, these subterranean arteries were once the veins that pulsed with the rhythm of the city's vibrant life. Venturing into these clandestine waterways is akin to embarking on a journey through time. The atmosphere is laden with a sense of antiquity as the echoes of the past reverberate through the dimly lit tunnels. Ancient brickwork, adorned with moss and ivy, bears witness to the passage of time, while the gentle trickle of water whispers forgotten stories to those who dare to listen. Today, a renaissance is underway to revive these lost rivers and breathe new life into their forgotten existence. Organizations and passionate individuals are dedicating themselves to uncovering and restoring these hidden gems, transforming them into vibrant spaces that celebrate both history and nature. Through innovative projects and community engagement, these hidden waterways are being resurrected as havens of biodiversity, providing a sanctuary for wildlife and a tranquil escape for weary city dwellers.
London's lost rivers are a captivating ode to the city's spirit, revealing its hidden past. Emerging from the depths, they weave history into the present, unveiling secrets of bygone eras and infusing nature's allure amidst the urban sprawl.
Discussion Questions:
I will read each question. Then, please answer them.
Have you ever explored any hidden or secret places in your city or town? If so, could you describe your experience? If not, would you like to explore one? Why or why not?
Have you ever visited a place that made you feel like you were stepping back in time? Could you describe that experience and how it made you feel?
Do you agree that exploring hidden rivers beneath a city can provide a fascinating glimpse into its past?
What role do the hidden rivers play in preserving biodiversity and providing a peaceful retreat for city residents?
Reflecting on the article, why do you think these lost rivers are considered a captivating ode to London's spirit?
Summarization
Please summarize the whole article using your own words and expressions. You will have one minute to prepare before you answer.
Describe:
Please explain the definition of each word listed below based on your understanding. You can provide example sentences if needed.
labyrinth
curious
sustenance
renaissance
community engagement
Listening: