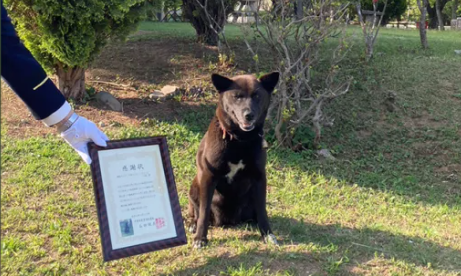 ©Chiba Riding Park
Pre-reading questions:
I will read each question. Then, please answer them.
講師がそれぞれの質問を読むので答えましょう。
Do you believe animals have a sixth sense or heightened instincts that allow them to perceive and respond to emergencies better than humans?
Have you ever personally been involved in or witnessed a situation where an animal played a crucial role in someone's rescue or well-being?
Vocabulary:
I will read the words, meanings, and sample sentences. Then, repeat after me.
単語、意味、例文を読みます。講師に続いて音読しましょう。
breed /breed/

[noun] – a particular type of animal or plant
Golden Retrievers are a popular breed of dog known for their friendly and gentle nature.

barking /BAHR-king/

[noun] – (of a dog) making a loud, rough noise
The barking of the stray dog echoed through the empty streets, causing passersby to feel uneasy.

immediate /ih-MEE-dee-it/

[adjective] – happening or done without delay or very soon after something else
When the storm hit, people sought immediate shelter to protect themselves from the heavy rain and strong winds.

response /ri-SPONS/

[noun] – an answer or reaction
When the alarm sounded, the firefighters arrived at the scene in quick response.

highlight /HAHY-lahyt/

[verb] – to attract attention to or emphasize something important
The artist used a bright color to highlight certain features of the painting.
Article reading:
Please read the whole article. Then, I will check your pronunciation and intonation.
記事を音読しましょう。講師はあなたの発音とイントネーションを確認します。
In Japan, a dog named Koume, a 5-year-old mixed breed, became a hero by saving a man's life. She alerted others to his heart attack by continuously barking. She was honored by local fire officials in Chiba City, who held a special ceremony for her and gave her an appreciation letter. Koume lives at a horse riding club, where, on February 25, a middle-aged man collapsed. Despite her calm nature, Koume urgently barked for help. Yuna Maruo, a 23-year-old riding instructor involved in the immediate rescue, explained that Koume is usually quiet but instinctively barks during emergencies.
The Wakaba Fire Department emphasized the importance of vigilance and prompt response to save lives. Koume's timely barking led to an ambulance being called, and the man was revived with a defibrillator. Remarkably, the man has returned to horseback riding, expressing gratitude for Koume's heroism. Koume, who serves as a mascot at the club, previously highlighted attentiveness by alerting a scared horse and assisting an elderly horse in need. Her brave actions have earned admiration and appreciation from everyone who has witnessed her life-saving efforts.
True or False:
Read the sentences and identify if they are true or false based on the article.
文章を読んで、記事に基づいて正誤を答えましょう。
Koume is a 5-year-old mixed-breed dog from Japan.
Koume was honored by local fire officials for saving a horse's life.
Koume kept quiet when a man had a heart attack.
The man who had the heart attack has fully recovered.
Koume has previously helped catch a fleeing horse.
Fill in the blanks:
Choose the correct word from the table then fill in the blanks.
適切な言葉を選んで空欄を埋めましょう。
| | | | | |
| --- | --- | --- | --- | --- |
| breed | barking | immediate | response | highlight |
I need an _______ answer from you right away.
The teacher was impressed by the student's thoughtful _______ to the challenging question.
The bright colors on the poster _______ important information that attendees should pay attention to.
The Poodle is a popular dog _______ known for its friendly temperament and intelligence.
The loud _______ of the neighbor's dog woke me up early in the morning.
Listening: