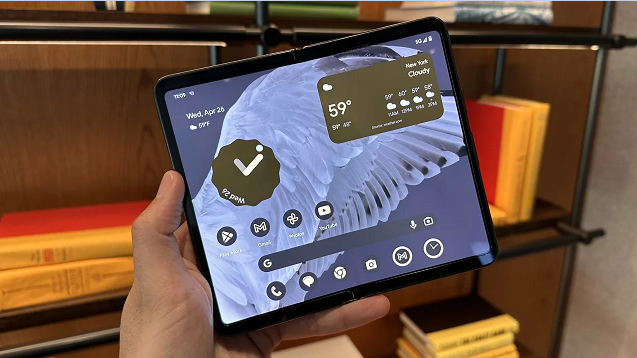 ©Mike Andronico/CNN
Vocabulary:
I will read the words, meanings, and sample sentences. Then, repeat after me.
developer /dih-VEL-uh-per /

[noun] – a person or company that creates new products, especially computer products such as software
The app developer collaborated with a team of designers to develop a sleek and intuitive interface for their productivity app.

vertical /VUR-ti-kuhl/

[adjective] – standing or pointing straight up or at an angle of 90° to a horizontal surface or line
The skyscraper stood tall, with its vertical lines reaching towards the sky.

acknowledge /ak-NOL-ij/

[verb] – to accept, admit, or recognize something, or the truth or existence of something
The CEO sent an email to acknowledge the hard work and dedication of the employees on a successful project.

enhanced /en-HANST/

[adjective] – better than before
The new and improved smartphone boasted an enhanced camera system for capturing stunning photos.

dock /dok/

[noun] – a piece of electrical equipment to which another piece of equipment can be connected
I placed my smartphone on the charging dock to replenish its battery while I worked at my desk.
Article reading:
Please read the whole article. Then, I will check your pronunciation and intonation.
Google unveiled its latest hardware products, including its first foldable phone, the Pixel Fold, and a new tablet, at the Google developer conference. The Pixel Fold features a thin design with a vertical hinge and a 7.6-inch screen when unfolded. Google optimized its top apps for the larger screen but acknowledged that further work is needed to optimize for the new foldable form factor. The Pixel Fold includes features such as long exposure, unblur, magic eraser, and dual-screen live translation. The foldable market remains relatively small, with Samsung dominating the category. Google also introduced the Pixel 7a smartphone, featuring a Tensor G2 processor, a Titan M2 security chip, and wireless charging. The device offers camera upgrades, including a 64-megapixel main camera and a 13-megapixel ultra-wide camera. It supports Pixel features like unblur, magic eraser, improved night vision, long exposure, and enhanced zoom. The Pixel 7a targets cost-conscious consumers and starts at $499.
Additionally, Google unveiled the Pixel Tablet, powered by the Tensor G2 chips, with an 11-inch display, rounded edges, and the colors porcelain, hazel, and rose. It includes a front-facing camera, an 8-megapixel rear camera, and a charging dock. The tablet will be available starting June 20 and will start at $499. Google announced plans to bring AI chat features to its search engine, allowing an AI-powered chatbot to answer questions and provide information quickly. The updated Google Search will display an AI-generated response in addition to traditional results. The new Google Search is launching in the United States, with a limited number of users initially gaining access.
Discussion Questions:
I will read each question. Then, please answer them.
Are you personally interested in foldable phones? If so, what features would you look for in a device like the Pixel Fold?
Have you ever used a tablet for tasks around the house? How do you envision the Pixel Tablet fitting into your daily life or improving your productivity at home?
Do you often rely on AI-powered chatbots or virtual assistants for information and assistance?
As a user of Google products and services, do you feel that the company's emphasis on AI and hardware advancements aligns with your needs and preferences? Why or why not?
What are your expectations for the future of foldable phones and the impact they may have on the smartphone market? Do you think they will become more popular and mainstream in the coming years?
Summarization
Please summarize the whole article using your own words and expressions. You will have one minute to prepare before you answer.
Describe:
Please explain the definition of each word listed below based on your understanding. You can provide example sentences if needed.
dual-screen
foldable
chatbot
smartphone
wireless
Listening: