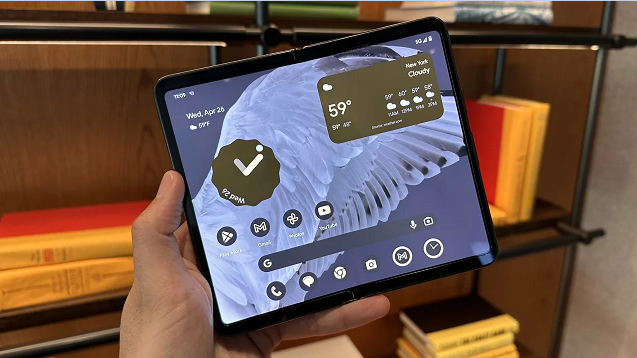 ©Mike Andronico/CNN
Pre-reading questions:
I will read each question. Then, please answer them.
Do you have a dream smartphone? Tell me more about it.
What new smartphone features can make you spend a lot on a purchase?
Vocabulary:
I will read the words, meanings, and sample sentences. Then, repeat after me.
factor /FAK-ter /

[noun] – a fact or situation that influences the result of something
The weather was a significant factor in our decision to postpone the outdoor event.

upgrade /UHP-greyd/

[noun] – a piece of software or equipment that improves the quality or usefulness of a computer or machine
The computer company released a new upgrade for their software, which included bug fixes and added features.

reveal /ri-VEEL/

[verb] – to make known or show something that is surprising or that was previously secret
The detective gathered all the evidence and prepared to reveal the true identity of the culprit at the press conference.

response /ri-SPONS/

[noun] – something said or done as a reaction to something that has been said or done; an answer or reaction
The email sent by the customer received a prompt response from the company's support team, addressing the issue.

initially /ih-NISH-uh-lee/

[adverb] – at the beginning
The car had some minor issues initially, but after a thorough inspection and repairs, it ran smoothly.
Article reading:
Please read the whole article. Then, I will check your pronunciation and intonation.
Google unveiled its latest hardware offerings at the Google Developer Conference, introducing the Pixel Fold, their first foldable phone, and a new tablet. The Pixel Fold features a thin design and a 7.6-inch unfolded screen. They optimized its top apps for the larger display but admitted the need for further optimization for the foldable form factor. Notable features of the Pixel Fold include long exposure, unblur, magic eraser, and dual-screen live translation. Additionally, Google introduced the Pixel 7a smartphone, featuring a Tensor G2 processor, a Titan M2 security chip, and wireless charging. The device offers camera upgrades such as a 64-megapixel main camera and a 13-megapixel ultra-wide camera. The Pixel 7a starts at $499.
Google also revealed the Pixel Tablet, powered by Tensor G2 chips, with an 11-inch display, rounded edges, and colors including porcelain, hazel, and rose. It includes a front-facing camera, an 8-megapixel rear camera, and a charging dock. The tablet will be available on June 20, starting at $499. Furthermore, Google announced plans to introduce AI chat features to their search engine, enabling an AI-powered chatbot to provide quick responses and information. The updated Google Search will display AI-generated responses together with traditional search results. Initially, access to the new Google Search will be limited to users in the United States.
Comprehension questions
I will read each question. Then, please answer them based on the article.
What were the two hardware offerings unveiled by Google at the Google Developer Conference?
What are some features of the Pixel Fold that are specifically optimized for the foldable form factor?
Can you describe the key features of the Pixel Tablet, including its display size, design, and available colors?
What is the availability date and starting price of the Pixel Tablet?
What did Google announce regarding the introduction of AI chat features to their search engine?
Discussion questions
I will read each question. Then, please answer them.
Are you personally interested in foldable phones? If so, what features would you look for in a device like the Pixel Fold?
Have you ever used a tablet for tasks around the house? How do you envision the Pixel Tablet fitting into your daily life or improving your productivity at home?
Do you often rely on AI-powered chatbots or virtual assistants for information and assistance?
As a user of Google products and services, do you feel that the company's emphasis on AI and hardware advancements aligns with your needs and preferences? Why or why not?
What are your expectations for the future of foldable phones and the impact they may have on the smartphone market? Do you think they will become more popular and mainstream in the coming years?
Listening: