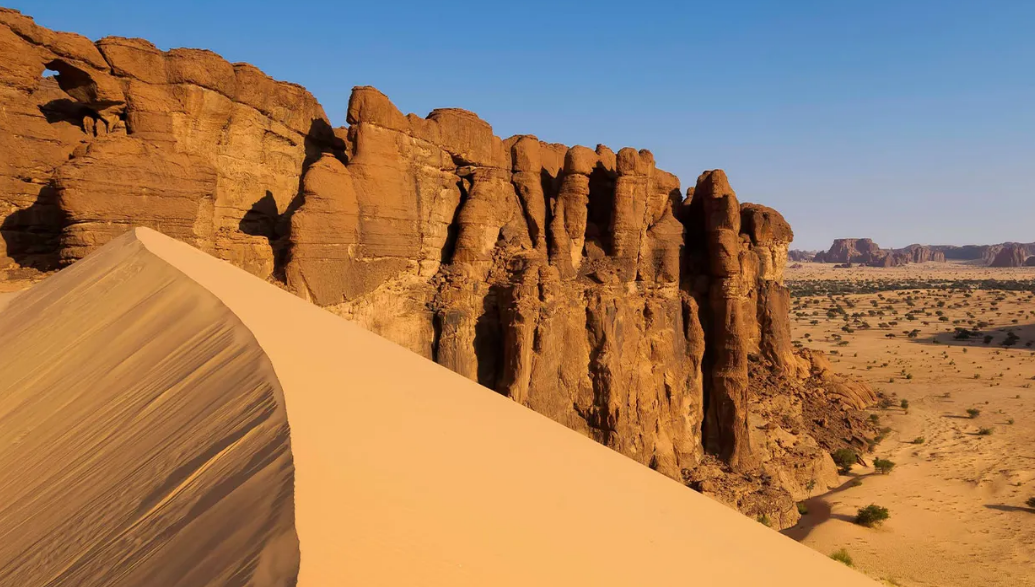 ©Hemis/Alamy
Pre-reading questions:
I will read each question. Then, please answer them.
講師がそれぞれの質問を読むので答えましょう。
Have you ever visited a geological wonder?
Have you ever hiked or explored a geological wonder?
Vocabulary:
I will read the words, meanings, and sample sentences. Then, repeat after me.
単語、意味、例文を読みます。講師に続いて音読しましょう。
wonder /WUHN-der /

[noun] – an object that causes a feeling of great surprise and admiration
The grand castle stood before them, a wonder of architecture and history, leaving them in awe.

tower /TOU-er/

[noun] – a tall, narrow structure, often square or circular, that either forms part of a building or stands alone
The tall tower in the center of the city offers a magnificent view of the surrounding buildings and streets.

rare /rair/

[adjective] – not common or frequent; very unusual
In our science class, we learned that the golden frog is a rare species found only in a small part of the rainforest.

landscape /LAND-skeyp/

[noun] – a large area of land, especially in relation to its appearance
The countryside is known for its beautiful landscape, with rolling hills, green fields, and picturesque farms.

scientific /sahy-uhn-TIF-ik/

[adjective] – relating to science, or using the organized methods of science
The students conducted a scientific experiment in the laboratory to study the effects of sunlight on plant growth.
Article reading:
Please read the whole article. Then, I will check your pronunciation and intonation.
記事を音読しましょう。講師はあなたの発音とイントネーションを確認します。
Enter a realm frozen in time, where nature's brushstrokes craft an awe-inspiring masterpiece. Witness the Ennedi Massif, a celestial testament to Earth's enigmatic wonders.
Voyaging into the heart of the Ennedi Massif unveils a tapestry of geological wonders. The region's rugged sandstone towers, shaped by centuries of wind and water erosion, stand tall as nature's sentinels. These magnificent formations, some reaching heights of over 300 meters, evoke a sense of awe and wonder. As explorers traverse the maze-like canyons and deep gorges, they discover hidden oases where crystal-clear pools glisten like rare jewels amidst the vast desert landscape. It is a surreal juxtaposition of arid plains and lush pockets of life, reminding us of the delicate balance between harshness and resilience. Beyond its sheer beauty, the Ennedi Massif holds scientific significance that continues to intrigue researchers and geologists. 
The Ennedi Massif's remote splendor and geological wonders make it a destination unlike any other. Its ancient rock formations, breathtaking landscapes, and scientific significance create a captivating allure for those seeking adventure and a deeper understanding of our planet's rich history.
True or False:
Read the sentences and identify if they are true or false based on the article.
文章を読んで、記事に基づいて正誤を答えましょう。
The Ennedi Massif is a testament to Earth's enigmatic wonders.
The Ennedi Massif's towers were shaped by wind and water erosion.
The towers in the Ennedi Massif reach heights of over 300 meters.
There are hidden oases with crystal-clear pools in the Ennedi Massif.
The Ennedi Massif is a lush, green landscape.
Fill in the blanks:
Choose the correct word from the table then fill in the blanks.
適切な言葉を選んで空欄を埋めましょう。
| | | | | |
| --- | --- | --- | --- | --- |
| wonder | tower | rare | landscape | scientific |
Sarah read a ______ article about the solar system to learn more about the planets and their characteristics.
The princess was trapped in the dark ______ and the brave knight set out on a quest to rescue her.
The fireworks display on New Year's Eve was a true ______, filling the night sky with brilliant colors and explosions that amazed everyone.
Sarah was excited to find a ______ book at the library, as there was only one copy left and it had been out of print for many years.
We went on a hike and were amazed by the breathtaking ______ of towering mountains and sparkling lakes.
Listening: