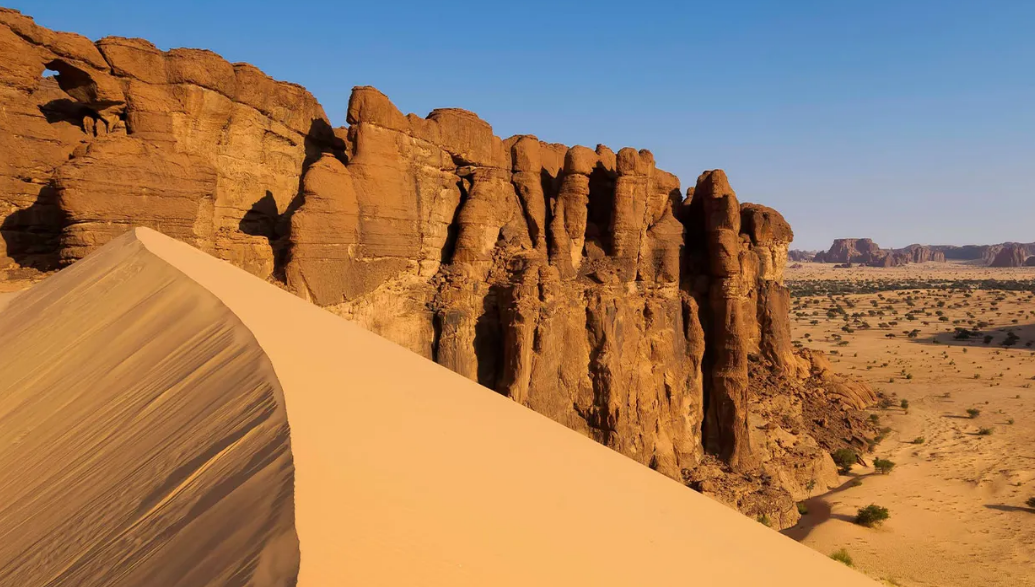 ©Hemis/Alamy
Vocabulary:
I will read the words, meanings, and sample sentences. Then, repeat after me.
masterpiece /MAS-ter-pees/

[noun] – something made or done with great skill, esp. an artist's greatest work
The painting displayed in the art gallery was truly a masterpiece, with its vibrant colors and intricate details that left the viewers in awe.

arid /AR-id/

[adjective] – very dry and without enough rain for plants
The desert's arid climate, characterized by scorching temperatures and minimal rainfall, makes it difficult for plants and animals to thrive in such dry conditions.

heritage /HER-i-tij /

[adjective] – relating to buildings, places, works of art, etc. that are considered to have historical importance for a particular area or for all people:
My grandmother shared stories of our family's heritage, revealing our ancestral traditions, cultural values, and historical roots that have been passed down through generations.

formation /fawr-MEY-shuhn/

[noun] – the way something is naturally made or the way it has been arranged
During the field trip to the national park, we marveled at the impressive rock formations, shaped by thousands of years of wind and water erosion, creating unique and breathtaking landscapes.

allure /uh-LOOR/

[noun] – the quality of being attractive, interesting, or exciting
The exotic beaches, with their crystal-clear waters and soft white sands, hold an irresistible allure, attracting tourists from all over the world to bask in their beauty and tranquility.
Article reading:
Please read the whole article. Then, I will check your pronunciation and intonation.
In the heart of Africa, a hidden gem awaits: the Ennedi Massif. This captivating landscape in Chad calls for adventurers worldwide. Ancient rocks hold a story spanning eons, illuminated by the golden sun. Step into a timeless world where nature's artistry creates a breathtaking masterpiece. Behold the Ennedi Massif, an ethereal testament to our planet's enduring mysteries.
Voyaging into the heart of the Ennedi Massif unveils a tapestry of geological wonders. The region's rugged sandstone towers, shaped by centuries of wind and water erosion, stand tall as nature's sentinels. These magnificent formations, some reaching heights of over 300 meters, evoke a sense of awe and wonder. As explorers traverse the maze-like canyons and deep gorges, they discover hidden oases where crystal-clear pools glisten like rare jewels amidst the vast desert landscape. It is a surreal juxtaposition of arid plains and lush pockets of life, reminding us of the delicate balance between harshness and resilience. Beyond its sheer beauty, the Ennedi Massif holds scientific significance that continues to intrigue researchers and geologists. This geological marvel, a UNESCO World Heritage Site, preserves a rich tapestry of ancient rock art dating back thousands of years. Carved into the sandstone walls, these masterpieces provide a glimpse into the lives and cultures of civilizations long gone. Additionally, the Ennedi Massif harbors unique species of flora and fauna, many of which are endemic to the region.
The Ennedi Massif's remote splendor and geological wonders make it a destination unlike any other. Its ancient rock formations, breathtaking landscapes, and scientific significance create a captivating allure for those seeking adventure and a deeper understanding of our planet's rich history.
Discussion Questions:
I will read each question. Then, please answer them.
What kinds of landscapes and geological features can be found in your country? Could you tell me about them?
If you were to plan an adventurous trip to the Ennedi Massif, what activities or explorations would be at the top of your itinerary? How would you make the most of your time there?
Do you agree that the Ennedi Massif in Chad is a hidden gem that deserves more recognition and attention from adventurers worldwide?
The Ennedi Massif is recognized as a UNESCO World Heritage Site. What do you think makes it deserving of such a prestigious title?
The ancient rock art in the Ennedi Massif provides insights into past civilizations. How do you think these masterpieces were created, and what stories do you think they tell?
Summarization
Please summarize the whole article using your own words and expressions. You will have one minute to prepare before you answer.
Describe:
Please explain the definition of each word listed below based on your understanding. You can provide example sentences if needed.
timeless
unveil
century
glimpse
history
Listening: