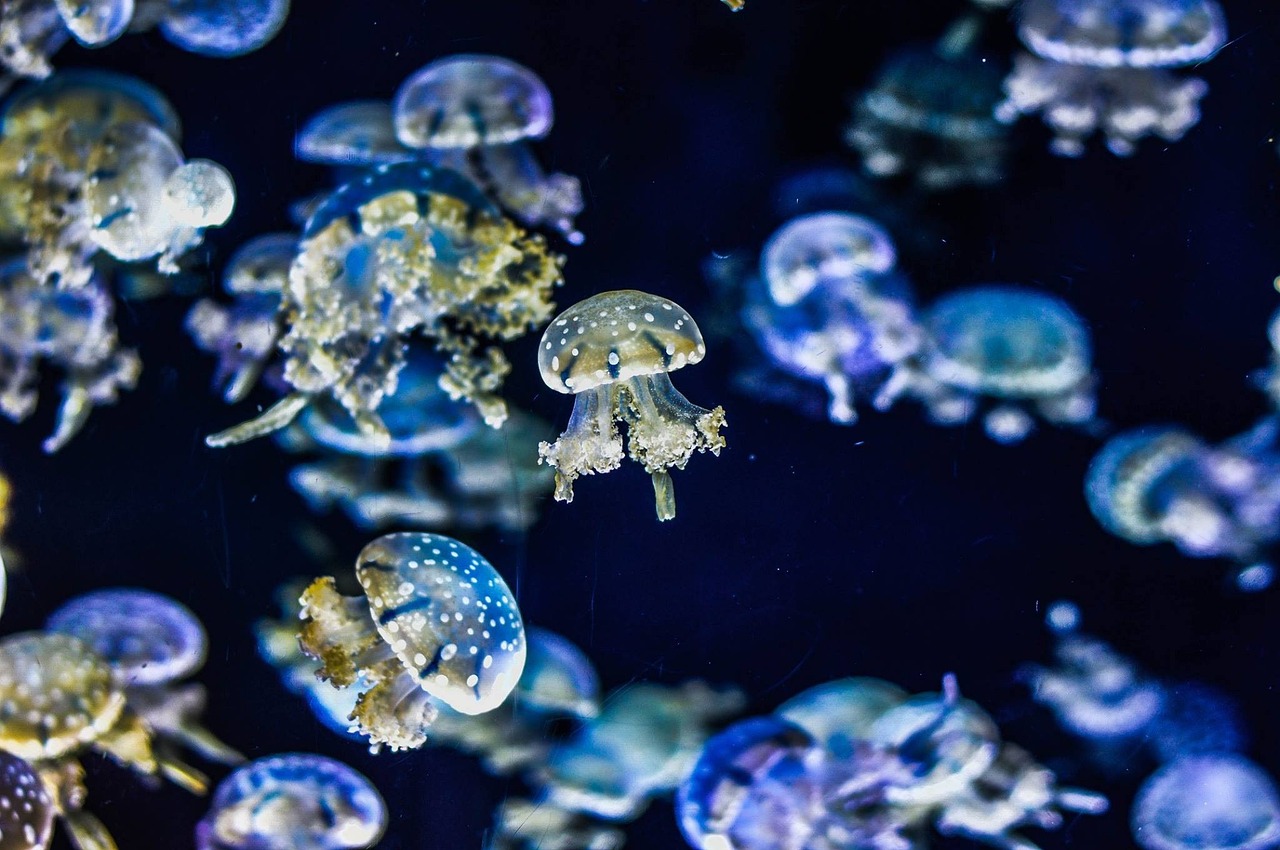 Pre-reading questions:
I will read each question. Then, please answer them.
講師がそれぞれの質問を読むので答えましょう。
Have you ever seen a jellyfish in person?
Do you know if jellyfish is commonly consumed in certain cultures or countries?
Vocabulary:
I will read the words, meanings, and sample sentences. Then, repeat after me.
単語、意味、例文を読みます。講師に続いて音読しましょう。
scientist /SAHY-uhn-tist/

[noun] – an expert who studies or works in one of the sciences
The scientist used a microscope to observe tiny cells and discover new things about how living things work.

creature /KREE-cher/

[noun] – any large or small living thing that can move independently
We saw a strange creature with long ears and a fluffy tail running through the forest.

taste bud /teyst buhd/

[noun] – any of a large group of cells found mostly on the tongue that allow different tastes to be recognized
When you eat something sweet, the taste buds on your tongue can detect the sugary flavor and send a message to your brain.

opportunity /op-er-TOO-ni-tee/

[noun] – an occasion or situation that makes it possible to do something that you want to do or have to do, or the possibility of doing something
I didn't want to miss the opportunity to learn a new language, so I joined a language class at school.

champion /cham-PEE-uhn/

[verb] – to support, defend, or fight for a person, belief, right, or principle enthusiastically
The teacher always encourages her students to champion causes they believe in and make a positive difference in their community.
Article reading:
Please read the whole article. Then, I will check your pronunciation and intonation.
記事を音読しましょう。講師はあなたの発音とイントネーションを確認します。
Deep in the ocean, jellyfish thrive, captivating and puzzling scientists while posing a threat to marine life. However, a surprising twist emerges as restaurants, acting as unlikely heroes, combine culinary art with sustainability, transforming this troublesome sea creature into a delicious solution.
As the world grapples with the pressing need for sustainable food sources, restaurants are embracing the potential of jellyfish to satiate our taste buds while mitigating ecological harm. By incorporating these mesmerizing creatures into their menus, visionary chefs are turning an omnipresent menace into a gourmet opportunity. With their avant-garde approach, these culinary pioneers are challenging traditional norms and beckoning diners to embark on an extraordinary oceanic adventure. Jellyfish integrated into culinary creations tackle ecological imbalances while tantalizing taste buds. Chefs artfully transform them into exquisite dishes, unveiling their gastronomic potential and offering sustainable seafood alternatives.
Restaurants are transforming dining with jellyfish, saving the seas, and serving sustainability. Relish these ocean delicacies and become an eco-hero, restoring our delicate balance. Savor the flavors and champion a sustainable future!
True or False:
Read the sentences and identify if they are true or false based on the article.
文章を読んで、記事に基づいて正誤を答えましょう。
Jellyfish captivate and puzzle scientists.
Jellyfish pose a threat to marine life.
Restaurants combine culinary art with sustainability.
Restaurants are embracing the potential of jellyfish.
Jellyfish are incorporated into menus.
Fill in the blanks:
Choose the correct word from the table then fill in the blanks.
適切な言葉を選んで空欄を埋めましょう。
| | | | | |
| --- | --- | --- | --- | --- |
| scientist | creature | taste bud | opportunity | champion |
Mark decided to ______ the rights of animals by organizing a protest and raising awareness about animal cruelty.
The ______ conducted experiments to find out if plants grow better with different amounts of sunlight.
Sarah was excited when she got the _______ to perform in the school play.
The ocean is home to many fascinating ______, such as colorful fish, playful dolphins, and graceful sea turtles.
Spicy foods can make your ______ tingle and feel a little bit hot, giving you a strong and exciting sensation in your mouth.
Listening: