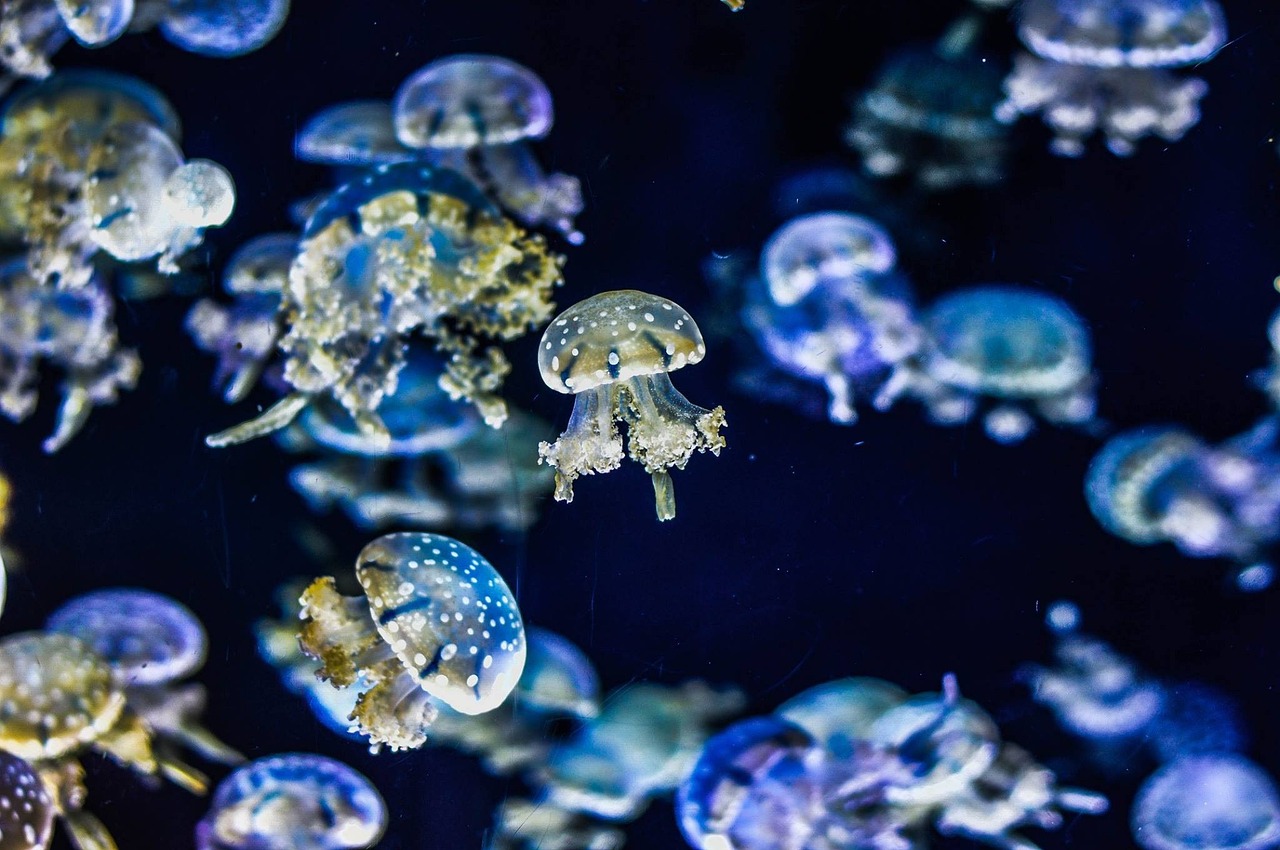 Pre-reading questions:
I will read each question. Then, please answer them.
Have you ever tried any unusual or unique foods? Could you tell me about them?
What do you think might be the challenges or benefits of incorporating jellyfish into culinary dishes?
Vocabulary:
I will read the words, meanings, and sample sentences. Then, repeat after me.
nuisance /NOO-suhns/

[noun] – something or someone that annoys you or causes trouble for you
The constant buzzing of mosquitoes during our picnic was quite a nuisance.

conventional /kuhn-VEN-shuh-nl/

[adjective] – traditional and ordinary
In our society, it is conventional to shake hands when you meet someone for the first time.

concept /KON-sept/

[noun] – a principle or idea
The teacher used colorful diagrams to explain the concept of photosynthesis to the students.

alternative /awl-TUR-nuh-tiv/

[noun] – an alternative plan or method is one that you can use if you do not want to use another one
If you don't like coffee, tea can be a good alternative to give you a boost of energy in the morning.

conservation /kon-ser-VEY-shuhn/

[noun] – the protection of plants and animals, natural areas, and interesting and important structures and buildings, especially from the damaging effects of human activity
It is important to turn off the lights when you leave a room to practice energy conservation and help protect the environment.
Article reading:
Please read the whole article. Then, I will check your pronunciation and intonation.
In the boundless ocean, a mysterious creature thrives. Jellyfish, captivating yet puzzling, puzzle scientists and harm marine ecosystems. But an unexpected hero arises in restaurants. Through culinary ingenuity and sustainability, they turn this oceanic nuisance into a mouthwatering remedy.
As humanity grapples with the urgent need to find sustainable food sources, restaurants are embracing the potential of jellyfish to satisfy our palates while mitigating ecological damage. By incorporating these captivating creatures into their menus, visionary chefs are turning a pervasive threat into a gourmet opportunity. With their avant-garde approach, these culinary pioneers are challenging conventional norms and inviting diners to indulge in an oceanic adventure like never before. The incorporation of jellyfish into culinary delights not only tantalizes taste buds but also addresses the ecological imbalance caused by their proliferation. Embracing the concept of "invasive cuisine," renowned chefs are skillfully transforming jellyfish into delectable dishes that harmoniously combine contrasting flavors, textures, and colors. Through meticulous preparation and innovative recipes, these culinary artisans are unleashing the hidden gastronomic potential of jellyfish, offering a sustainable alternative to traditional seafood options.
Restaurants are revolutionizing dining by embracing jellyfish. Not only does this help control their population, but it also promotes sustainable fishing and conservation. By enjoying jellyfish dishes, diners become environmental stewards, restoring our oceans' balance. Let's savor the flavors of the sea while championing a sustainable future.
Comprehension questions
I will read each question. Then, please answer them based on the article.
What is the article mainly about?
How are restaurants using jellyfish into their menus?
What is the term used to describe the culinary transformation of jellyfish?
What benefits do jellyfish dishes offer in terms of the environment?
What is the author's perspective on embracing jellyfish in restaurants?
Discussion questions
I will read each question. Then, please answer them.
If you had the opportunity, would you be willing to try a jellyfish dish at a restaurant? Why or why not?
If you had the opportunity to meet one of the visionary chefs mentioned in the article, what questions would you ask them about their innovative use of jellyfish in their culinary creations?
Do you agree that restaurants embracing the use of jellyfish in their menus can contribute to controlling their population and promoting sustainable fishing practices?
Do you think restaurants have a responsibility to promote sustainable fishing practices and conservation efforts through their menu choices? Why or why not?
What other innovative approaches do you think restaurants could take to address the global challenges of food sustainability and ecological balance?
Listening: