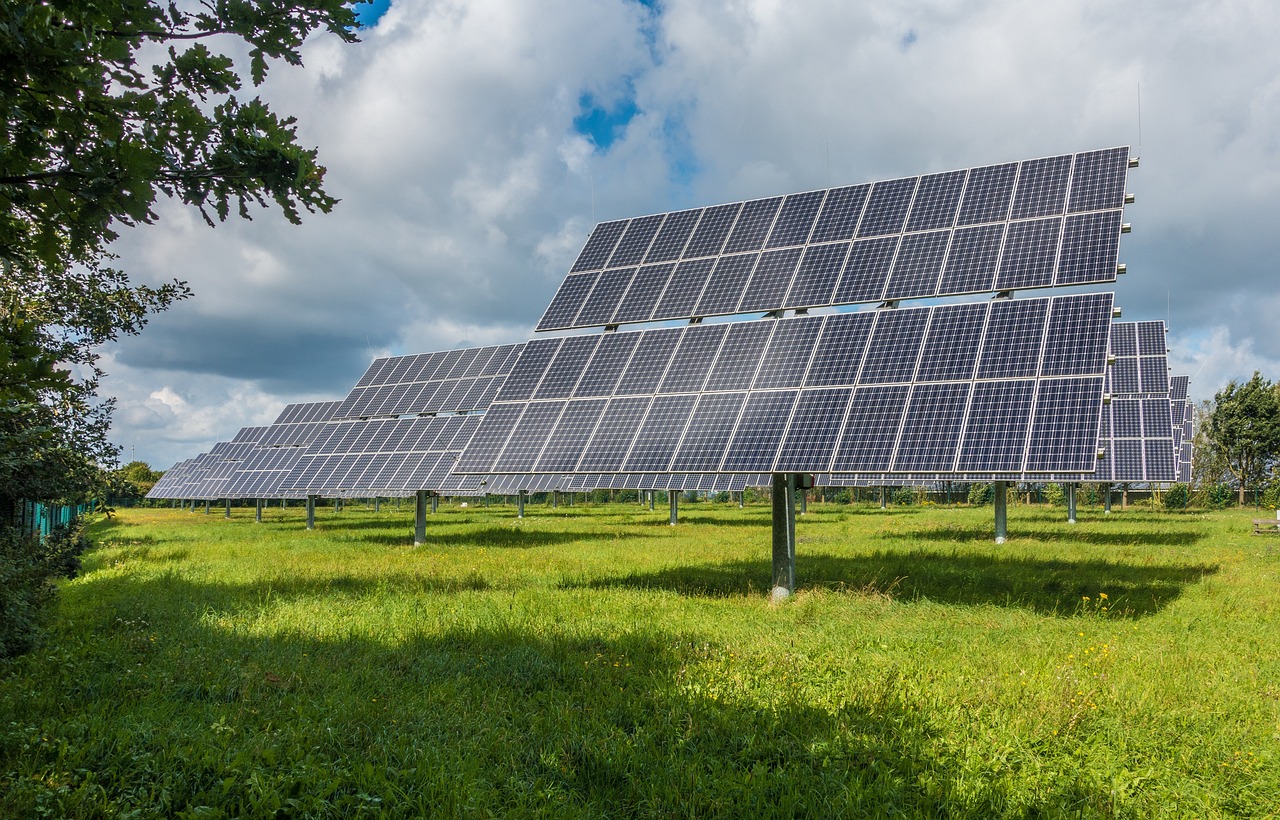 Pre-reading questions:
I will read each question. Then, please answer them.
What is solar power?
Can you think of any disadvantages or challenges associated with solar power?
Vocabulary:
I will read the words, meanings, and sample sentences. Then, repeat after me.
emerge /ih-MURJ/

[verb] – to appear by coming out of something or out from behind something
During springtime, beautiful flowers emerge from the ground, filling the gardens with vibrant colors.

supply /suh-PLAHY/

[noun] – an amount of something that is available for use
The store had a limited supply of the popular toy, so the children had to get there early to buy one.

adoption /uh-DOP-shuhn/

[noun] – the act of accepting or beginning to use something
My friend's adoption of a healthier lifestyle includes regular exercise and a balanced diet.

economy /ih-KON-uh-mee/

[noun] – the system of trade and industry by which the wealth of a country is made and used
The country's economy improved when more businesses opened, creating new jobs for people.

vivid /VIV-id/

[adjective] – very brightly colored
The artist used bright and vivid colors to paint a beautiful sunset on the canvas.
Article reading:
Please read the whole article. Then, I will check your pronunciation and intonation.
In the midst of Lebanon's diverse and captivating landscapes, where the echoes of bygone eras still resonate, a promising ray of hope emerges. Embracing the power of the sun, Lebanon has embarked on a journey towards sustainable energy solutions, radiating both brightness and potential.
With a veritable abundance of sunny days gracing its skies throughout the year, Lebanon possesses a remarkable advantage in harnessing the potential of solar power. The strategic implementation of solar panels has allowed communities to tap into the sun's rays, converting them into a reliable and environmentally friendly energy alternative. This pioneering initiative not only diminishes the nation's dependence on fossil fuels but also relieves the strain on its power grid, ensuring a stable supply of electricity. Furthermore, the widespread adoption of solar power in Lebanon has spurred remarkable economic growth, empowering both individuals and businesses alike. The establishment of solar farms and installations has paved the way for flourishing employment opportunities within the renewable energy sector, as skilled professionals work hand in hand to shape a sustainable future and bolster the nation's economy. This virtuous cycle of progress in Lebanon attracts more investments, drives technological advancements, and paints a vivid picture of a brighter and greener tomorrow. 
In essence, Lebanon's commitment to solar power exemplifies its resourceful resilience, casting a luminous path toward a sustainable future.
Comprehension questions
I will read each question. Then, please answer them based on the article.
How does Lebanon benefit from its abundance of sunny days?
What role do solar panels play in Lebanon's energy transformation?
What employment opportunities have emerged as a result of solar farms and installations in Lebanon?
How does the article describe the future that Lebanon envisions through its commitment to solar power?
What word is used to describe the connection between skilled professionals and the shaping of a sustainable future in Lebanon?
Discussion questions
I will read each question. Then, please answer them.
Have you ever visited or lived in a place with a significant reliance on solar power? If so, what was your experience like? If not, would you like to live in one? Why or why not?
Can you recall any personal or community experiences where the implementation of solar power systems resulted in cost savings or improved energy efficiency? How did these outcomes positively impact the individuals or the community involved?
Do you agree that the widespread adoption of solar power in Lebanon has stimulated economic growth?
Reflecting on Lebanon's experience, do you believe that other countries should prioritize the integration of solar power? Why or why not?
What role do you think individuals and communities can play in promoting the use of renewable energy sources like solar power? What steps can they take to encourage others to adopt sustainable practices?
Listening: