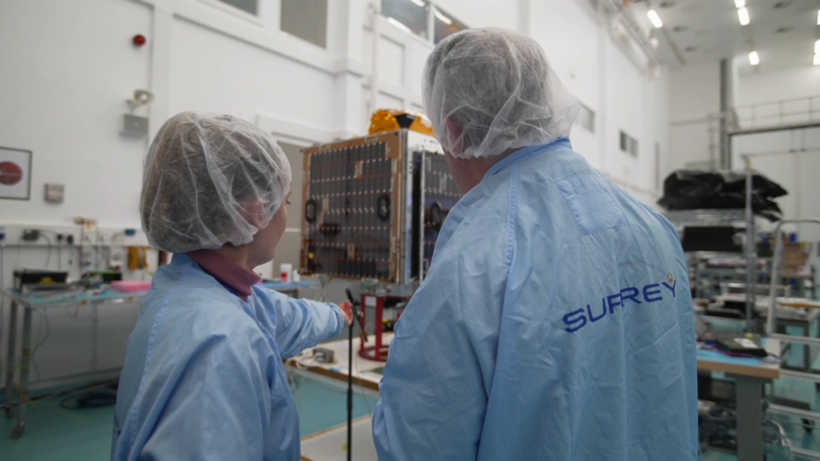 ©techtimes
Pre-reading questions:
I will read each question. Then, please answer them.
Have you ever heard about satellites before? What do you know about them and their functions?
Are you familiar with the concept of energy efficiency? Can you provide examples of how energy can be used more efficiently in everyday life?
Vocabulary:
I will read the words, meanings, and sample sentences. Then, repeat after me.
launch /lawnch/

[verb] – to begin something such as a plan or introduce something new such as a product
They planned to launch the rocket into space to orbit around the Earth.

efficiency /ih-FISH-uhn-see/

[noun] – the quality of achieving the largest amount of useful work using as little energy, fuel, effort, etc. as possible
By turning off lights when not in use, we can improve energy efficiency and reduce our electricity bills.

data /DEY-tuh/

[noun] – information, especially facts or numbers, collected to be examined and considered and used to help with making decisions
The scientists collected data from the experiment to analyze and understand the results.

thermometer /ther-MOM-i-ter/

[noun] – a device used for measuring temperature, especially of the air or in a person's body
The doctor used a thermometer to measure my body temperature and check if I had a fever.

insurance /in-SHOOR-uhns/

[noun] – an agreement in which you pay a company money and they pay your costs if you have an accident, injury, etc.
The insurance company offered various coverage options for homeowners, including fire, theft, and flood insurance.
Article reading:
Please read the whole article. Then, I will check your pronunciation and intonation.
HotSat-1 is an advanced satellite that was recently launched from California. Its mission is to help the United Kingdom improve energy efficiency in buildings. Developed by Satellite Vu, this small satellite has a special sensor that can look at individual rooftops and walls from space. By studying how buildings use energy, HotSat-1 provides important information to make them more efficient and save money. The team at Satellite Vu, led by CEO Anthony Baker, understands the importance of using data to find buildings that use too much energy. They plan to launch more satellites that act like "thermometers in the sky." These satellites will give us information about how hot or cold different places are. HotSat-1 can also find places like parking lots that make cities hotter. This helps city planners decide where to plant trees and makes cities cooler. It also helps businesses like banks and insurance companies make better decisions using temperature data.
HotSat-1 is a big step towards making buildings greener and saving energy. By finding areas that need improvement and giving useful information, it helps homeowners save money and supports the UK's goals for the climate. With more satellites from Satellite Vu, we can expect even more exciting uses for temperature data. HotSat-1 is leading the way to a future where space technology helps us create a more sustainable world.
Comprehension questions
I will read each question. Then, please answer them based on the article.
What is the mission of HotSat-1?
How does HotSat-1 collect information about buildings?
How can HotSat-1 help city planners?
What is one benefit of HotSat-1 for homeowners?
What does the article say about the future of temperature data usage?
Discussion questions
I will read each question. Then, please answer them.
Have you ever personally felt the effects of extreme heat in your city? If yes, how did it affect you and the people around you? If not, how do you think extreme heat could potentially affect individuals and communities in your city?
Have you heard about or been part of any actions to make your city cooler and reduce the heat? If yes, can you tell us what those actions were? If not, would you like to know more about the things being done in your city to tackle the problem of urban heat?
Do you think using city-wide data to guide insulation initiatives is effective?
What are your thoughts on using satellite technology to monitor and analyze building energy consumption?
Can you think of any other innovative uses for satellite data, such as building energy consumption or urban planning, that could benefit society or specific industries?
Listening: