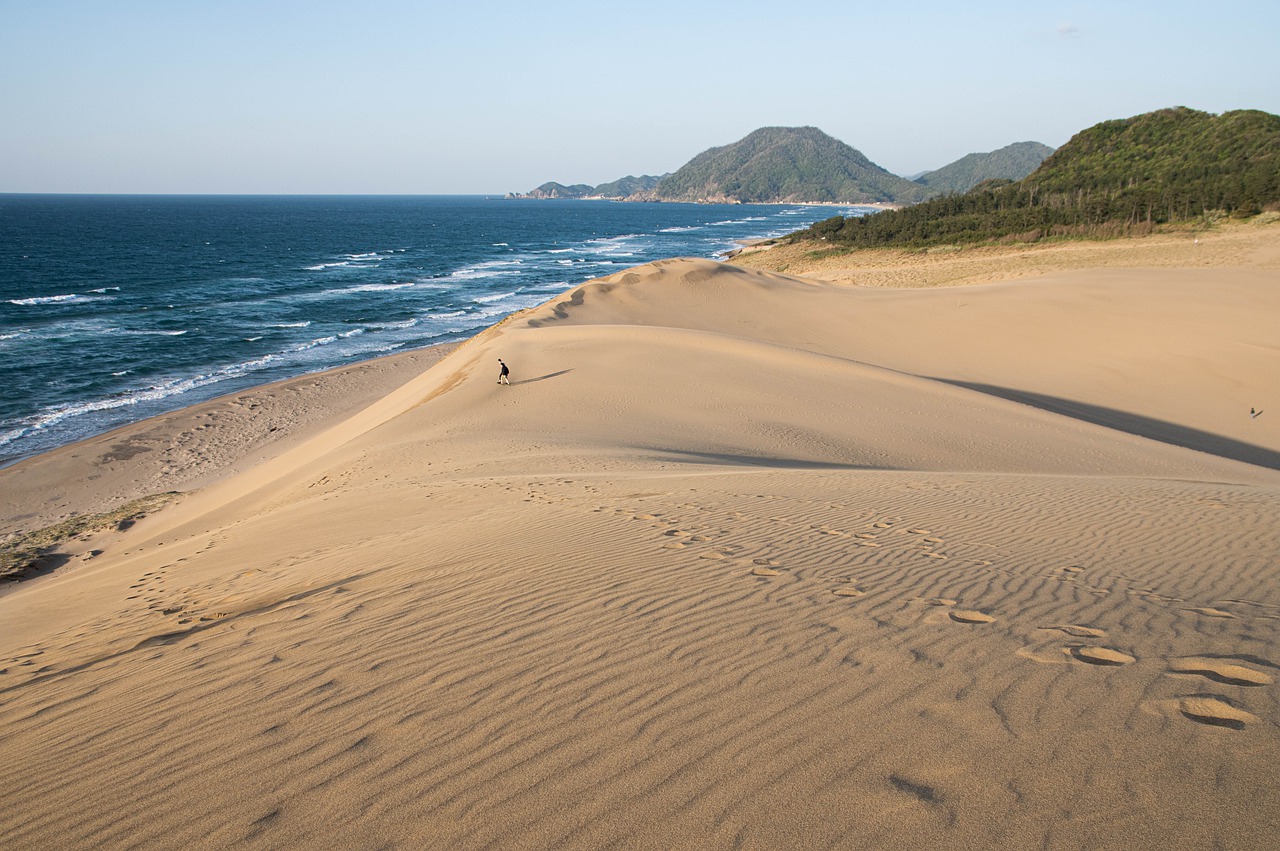 Pre-reading questions:
I will read each question. Then, please answer them.
What are sand dunes?
Should natural wonders be protected? Why or why not?
Vocabulary:
I will read the words, meanings, and sample sentences. Then, repeat after me.
preservation /prez-er-VEY-shuhn/

[noun] – the act of keeping something the same or of preventing it from being damaged
The preservation of historical landmarks ensures that future generations can appreciate and learn from the past.

erosion /ih-ROH-zhuhn/

[noun] – the fact of soil, stone, etc. being gradually damaged and removed by the waves, rain, or wind
The geological site showed clear signs of erosion, with layers of rock gradually wearing away over time.

awareness /uh-WAIR-nis/

[noun] – knowledge that something exists, or understanding of a situation or subject at the present time based on information or experience
The training program increased awareness among employees about workplace safety protocols.

thrive /thrahyv/

[verb] – to grow, develop, or be successful
The community garden provided a nurturing environment for various crops to thrive and yield abundant harvests.

cultivate /KUHL-tuh-veyt/

[verb] – to try to develop and improve something
The parents actively cultivated their child's talents and interests by enrolling them in music lessons and sports activities.
Article reading:
Please read the whole article. Then, I will check your pronunciation and intonation.
The Tottori Sand Dunes, located along the picturesque coast of the Sea of Japan, have become a focal point for sustainable tourism and environmental preservation. To safeguard its existence, conservation initiatives have been implemented. Wooden walkways have been introduced throughout the area, allowing visitors to explore the dunes while minimizing erosion and preserving the delicate ecosystem. These thoughtfully constructed pathways grant access to the stunning landscape while reducing the impact on the sand dunes.
Local authorities and organizations have taken proactive measures to promote sustainable tourism practices in the region. Educational initiatives encourage visitors to appreciate the natural beauty of the Tottori Sand Dunes while emphasizing the importance of preserving their ecological integrity. Responsible behavior, such as avoiding littering and respecting designated areas, helps maintain the dunes' pristine condition and fosters a harmonious coexistence between tourists and nature. Furthermore, efforts have been made to raise awareness about the conservation of this remarkable natural wonder. The Tottori Sand Dunes serve as a living laboratory for scientists and researchers, enabling them to study the unique flora and fauna that have adapted to thrive in this sandy environment. By sharing their findings with the public, these experts aim to cultivate a deeper appreciation for the delicate balance of nature and inspire individuals to actively participate in the preservation of this remarkable ecosystem.
Comprehension questions
I will read each question. Then, please answer them based on the article.
Where are the Tottori Sand Dunes located?
What initiatives have been implemented to preserve the sand dunes?
How do the wooden walkways help preserve the sand dunes?
How have local authorities and organizations promoted sustainable tourism in the region?
What role do educational initiatives play in preserving the Tottori Sand Dunes?
Discussion questions
I will read each question. Then, please answer them.
Have you ever visited the Tottori Sand Dunes in Japan or any other natural tourist spots? How was the experience?
Do you think it is important to implement sustainable tourism practices in environmentally sensitive areas like the Tottori Sand Dunes? Why or why not?
Are you familiar with any other destinations that prioritize conservation and sustainable practices in their tourism efforts?
What measures do you believe are crucial to preserving delicate ecosystems such as sand dunes while allowing visitors to enjoy their beauty?
How can tourists actively contribute to the preservation of delicate ecosystems like the Tottori Sand Dunes while enjoying their visit?
Listening: