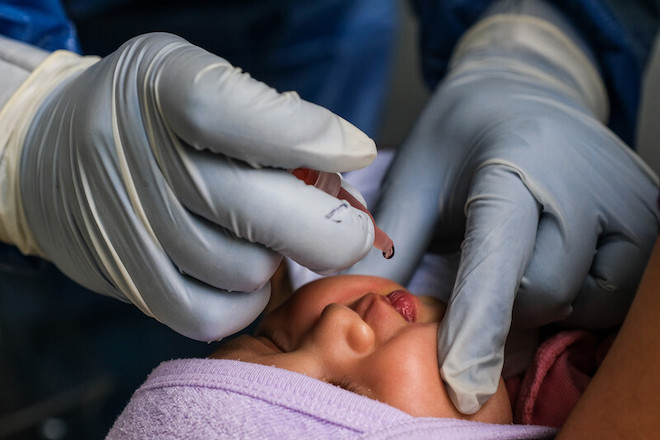 ©ADB SEADS
Pre-reading questions:
I will read each question. Then, please answer them.
What do you know about polio?
How do you think polio is prevented or treated?
Vocabulary:
I will read the words, meanings, and sample sentences. Then, repeat after me.
upgraded /uhp-GRAY-duhd/

[adjective] – something that has been improved or enhanced compared to its previous version
I recently purchased an upgraded smartphone that has a faster processor and a higher-resolution camera.

significant /sig-NIF-i-kuhnt /

[adjective] – important or noticeable
Her contribution to the project was significant, as she brought valuable insights and expertise to the team.

worldwide /wurld-wahyd/

[adjective] – existing or happening in all parts of the world
The company has a worldwide reputation for its high-quality products and exceptional customer service.

invade /in-VEYD/

[verb] – to enter forcefully and without permission into a place or area where one is not welcome or where they should not be
The loud music from the party invaded the peaceful atmosphere of the neighborhood.

spread /spred/

[verb] – to cover or reach a wider or increasing area, or to make something do this
The flu virus can spread easily from person to person, especially in crowded places.
Article reading:
Please read the whole article. Then, I will check your pronunciation and intonation.
Scientists have used advanced genetic engineering to create better polio vaccines. These vaccines have been modified to prevent harmful virus changes that could lead to outbreaks and paralysis. By improving the weakened live polio viruses in oral vaccines, they have made them safer and more stable. This important achievement was possible thanks to the collaboration between research teams from the United States and the United Kingdom. They have successfully developed upgraded vaccines for all three types of polio, which is a significant milestone in the worldwide battle against this serious disease. The main challenge is distributing vaccines widely to protect children from polio, which causes paralysis. Vaccines have reduced polio cases by over 99% since the late 1980s, aiding mobility. Although the original poliovirus still exists in certain areas of Afghanistan and Pakistan, oral vaccines are crucial in the global effort to eliminate polio.
However, there is concern about the genetic stability of these vaccines. Even a small change in the virus can make the vaccine less effective and allow it to invade the nervous system, causing paralysis. Mutated viruses from vaccinated individuals can spread through waste and infect unvaccinated people, leading to new outbreaks. Surprisingly, there are now more cases of "vaccine-derived polio" than the original poliovirus. Instances of polio connected to the oral vaccine have been found in London's sewage system, which is a cause for worry.
Comprehension questions
I will read each question. Then, please answer them based on the article.
What has been done to improve polio vaccines?
Why is it important to modify the weakened live polio viruses in oral vaccines?
Who collaborated to develop upgraded vaccines for all three types of polio?
What is the main challenge in the battle against polio?
What can happen if a small change occurs in the virus in the vaccine?
Discussion questions
I will read each question. Then, please answer them.
Have you heard of polio before reading the article? Is it a common disease in your country or region? If it is, how does it affect the people and the community? If it's not common, what measures do you think have helped prevent the spread of polio?
Have you seen any country that has made good progress in getting rid of polio? If yes, which country was it, and what do you think helped them succeed? If not, which country do you think has the potential to make a lot of progress in eliminating polio, and why?
Even if polio cases have decreased significantly in recent years, do you think it is still important to continue efforts to improve polio vaccines?
In your opinion, what are the key factors that contribute to the persistence of the "wild" poliovirus in limited areas of Afghanistan and Pakistan despite global efforts to eliminate polio?
Reflect on the global impact of eradicating polio and its significance for public health. What lessons can be learned from the efforts to eliminate polio that can be applied to other vaccine-preventable diseases?
Listening: