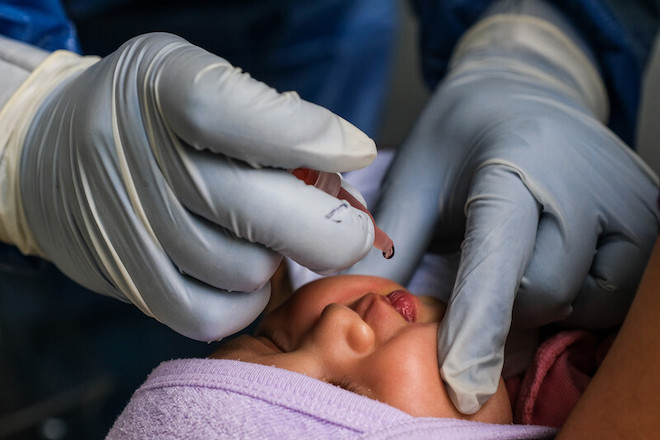 ©ADB SEADS
Vocabulary:
I will read the words, meanings, and sample sentences. Then, repeat after me.
vaccine /vak-SEEN/

[noun] – a substance that is put into the body of a person or animal to protect them from a disease by causing them to produce antibodies (proteins that fight diseases)
The vaccine has proven to be highly effective in preventing the spread of the virus.

outbreaks /OUT-breyk/

[noun] – a time when something suddenly begins, especially a disease or something else dangerous or unpleasant
The sudden outbreak of a contagious illness in the community led to an increased number of people falling ill.

severity /suh-VER-i-tee/

[noun] – seriousness
The severity of the storm was evident as strong winds toppled trees and caused extensive damage to homes and infrastructure.

staggering /STAG-uh-ring/

[adjective] – very shocking and surprising
The cost of repairing the damages was staggering, requiring a significant financial investment.

persist /per-SIST/

[verb] – If an unpleasant feeling or situation persists, it continues to exist
Despite receiving treatment, the cough and fatigue persisted in the patient.
Article reading:
Please read the whole article. Then, I will check your pronunciation and intonation.
Scientists have employed sophisticated genetic engineering techniques to develop advanced polio vaccines. These "super-engineered" vaccines have undergone extensive modifications to prevent harmful mutations that could cause outbreaks and paralysis. By genetically redesigning the weakened live polio viruses in oral vaccines, their stability and safety have been ensured. This groundbreaking achievement is the result of collaboration between research teams from the United States and the United Kingdom. They have successfully created upgraded vaccines for all three types of polio, representing a significant milestone in the global battle against this debilitating disease. Despite progress, the key challenge remains widespread vaccine distribution to protect every child and effectively contain the virus. Polio's ability to infiltrate the nervous system and induce paralysis underscores its severity. Vaccines have contributed to a staggering decline of over 99% in reported polio cases since the late 1980s, enabling around 20 million people to regain their mobility. Presently, the original "wild" poliovirus persists in limited areas of Afghanistan and Pakistan, emphasizing the critical role of oral vaccines in the global campaign to eliminate polio.
However, the genetic instability of these vaccines poses a significant concern. Even a single mutation can potentially reverse the weakened state of the polio vaccine, allowing the virus to escape the digestive system and invade the nervous system, leading to paralysis. Moreover, the spread of these mutated viruses from vaccinated individuals through contaminated waste poses the risk of infecting unvaccinated individuals and triggering new outbreaks. Troublingly, there are now more cases of "vaccine-derived polio" than of the wild poliovirus itself. Instances of polio linked to the oral vaccine have been detected in London's sewage system.
Discussion Questions:
I will read each question. Then, please answer them.
Have you heard of polio? Is it a common disease in your country or region? If it is, how does it affect the people and the community? If it's not common, what measures do you think have helped prevent the spread of polio?
Have you personally observed any country that has made significant progress in eliminating polio? If so, which country and what measures do you think contributed to their success? If not, which country do you believe has the potential to make substantial strides in polio eradication, and why?
Are you aware of the challenges in distributing polio vaccines globally to protect every child and contain the virus effectively?
In your opinion, what are the key factors that contribute to the persistence of the "wild" poliovirus in limited areas of Afghanistan and Pakistan despite global efforts to eliminate polio?
Reflect on the global impact of eradicating polio and its significance for public health. What lessons can be learned from the efforts to eliminate polio that can be applied to other vaccine-preventable diseases?
Summarization
Please summarize the whole article using your own words and expressions. You will have one minute to prepare before you answer.
Describe:
Please explain the definition of each word listed below based on your understanding. You can provide example sentences if needed.
widespread
collaboration
campaign
modification
genetic engineering
Listening: