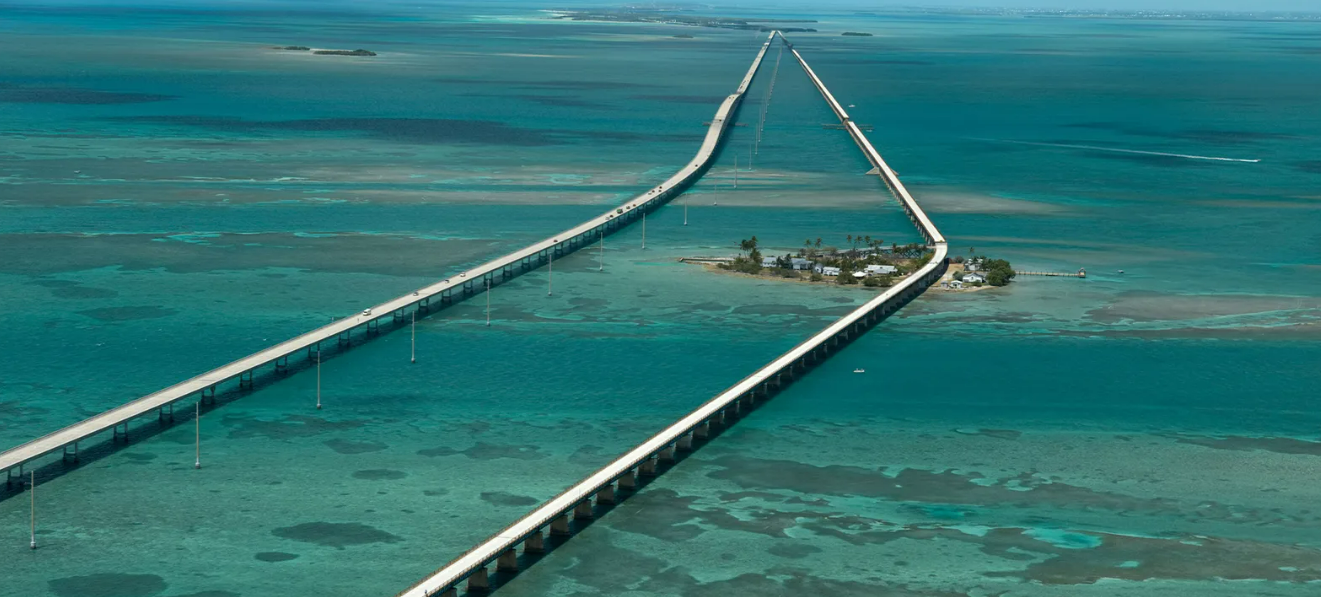 ©Johnny Stockshooter/Alamy
Pre-reading questions:
I will read each question. Then, please answer them.
What is a floating highway, and how does it differ from traditional highways built on land?
What are the potential benefits of constructing a floating highway?
Vocabulary:
I will read the words, meanings, and sample sentences. Then, repeat after me.
overseas /oh-ver-SEEZ/

[adjective] – in, from, or to other countries
Last summer, my cousin had an exciting adventure when she traveled overseas to visit her grandmother in a faraway country.

stunning /STUHN-ing/

[adjective] – extremely beautiful or attractive:
During our school trip to the national park, we were all amazed by the stunning view of the mountains and colorful flowers.

massive /MAS-iv/

[adjective] – very large in size, amount, or number
We were surprised to see a massive elephant at the zoo, as it was much larger than any other animal we had ever seen before.

encounter /en-KOUN-ter/

[noun] – experiences or interactions with different cultures or cultural aspects.
While studying abroad in Japan, the students had the opportunity to have exciting encounters with traditional tea ceremonies, sumo wrestling, and local festivals, allowing them to immerse themselves in the rich Japanese culture.

gaze /geyz/

[verb] – to look at something or someone for a long time, especially in surprise or admiration, or because you are thinking about something else
During the astronomy class, the students gathered around the telescope, eagerly taking turns to gaze at the stars twinkling in the clear night sky.
Article reading:
Please read the whole article. Then, I will check your pronunciation and intonation.
Get ready for a mind-blowing adventure as you drive along a supernatural road that bends the rules of nature. Picture yourself cruising on shimmering turquoise waters, surrounded by breathtaking beauty. Welcome to the extraordinary Overseas Highway, a remarkable floating wonder in the USA.
The Overseas Highway stretches across the stunning Florida Keys, connecting the mainland of Florida with the picturesque island of Key West. This amazing engineering feat consists of a series of bridges that link many islands together, creating a seamless roadway that appears to float above the water. Some of these bridges are truly massive and provide panoramic views of the vast ocean and vibrant marine life below. As you travel along this highway, you can't help but be amazed by the incredible human ingenuity that made it all possible. Experience the magic of Florida's Overseas Highway: dolphins, turtles, and vibrant reefs. Be captivated by azure waters, gentle breezes, and endless wonders. Immerse yourself in the lively culture, charming towns, delicious seafood, and local traditions. Don't skip the iconic Seven Mile Bridge, a cinematic marvel.
Experience an extraordinary adventure on the remarkable Overseas Highway. Discover floating bridges, stunning vistas, vibrant marine life, and immersive cultural encounters. Buckle up, gaze at the horizon, and prepare for an unforgettable journey along this mesmerizing road.
Comprehension questions
I will read each question. Then, please answer them based on the article.
What is the Overseas Highway known for?
Where does the Overseas Highway connect?
What can you see from the bridges on the Overseas Highway?
What is the Seven Mile Bridge known for?
What kind of marine life can you encounter on the Overseas Highway?
Discussion questions
I will read each question. Then, please answer them.
Have you ever had the opportunity to witness vibrant marine life, such as dolphins or sea turtles, in their natural habitat? If yes, where were you, and what was the experience like?
Have you ever driven on a bridge that connected islands or crossed over water? How did it feel to drive on such a bridge?
Do you agree that witnessing vibrant marine life, such as dolphins and sea turtles, while driving on the Overseas Highway would be an extraordinary experience?
How do you think the construction of the floating bridges on the Overseas Highway impacts the surrounding marine ecosystem? Are there any potential negative consequences?
In your opinion, what are some potential challenges that engineers faced when designing and building the Overseas Highway? How do you think they overcame these challenges?
Listening: