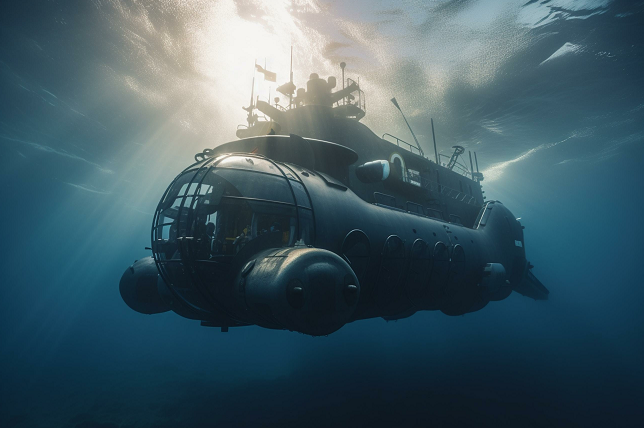 Pre-reading questions:
I will read each question. Then, please answer them.
What are some of the major challenges scientists face when exploring the depths of the ocean?
What are the different methods and technologies used in ocean exploration?
Vocabulary:
I will read the words, meanings, and sample sentences. Then, repeat after me.
ensure /uhn-SHUR/

[verb] – to make something certain to happen:
Before leaving the house, Maria always double-checks her bag to ensure that she has her keys, phone, and wallet with her.

utmost /UHT-mohst/

[adjective] – used to emphasize how important or serious something is:
The lifeguard at the pool takes the safety of swimmers with the utmost seriousness, always keeping a watchful eye to prevent any accidents.

emit /ih-MIT/

[verb] – to send out a beam, noise, smell, or gas
The flashlight emits a bright beam of light, helping us find our way in the dark forest.

bounce back /BOUNS-bak/

[phrasal verb] – refers to the behavior of sound waves when they hit an object or boundary and reflect back towards their source.
Despite facing a setback, Sarah was determined to bounce back and continue pursuing her dreams with renewed energy and determination.

revelation /rev-uh-LEY-shuhn/

[noun] – the act of making something known that was secret, or a fact that is made known
The detective's investigation led to a shocking revelation: the missing necklace had been hidden inside the old chest in the attic all along.
Article reading:
Please read the whole article. Then, I will check your pronunciation and intonation.
Immerse yourself in a captivating journey into ocean exploration! Unveil the remarkable ability of surveillance planes to detect underwater vessels. Delve into the secrets of this cutting-edge process and witness how these aerial protectors ensure the safety of our waters.
Surveillance planes are of utmost importance in monitoring the ocean, utilizing advanced technology and sensors. Their main task is to scan for objects or vessels that may be hidden beneath the water's surface. Sonar systems play a key role in this process, as they emit sound waves and analyze the echoes that bounce back, allowing for the creation of detailed images of the underwater environment. By measuring the time it takes for the sound waves to return, these planes can detect any disturbances or anomalies that may be present. Surveillance planes go beyond sonar, using advanced SAR and electro-optical sensors. SAR creates high-resolution images of the ocean's surface, exposing hidden objects. Electro-optical sensors track submersibles. Skilled crews make them guardians of our seas, protecting marine resources. From defense to conservation, they enable responsible oceanic endeavors, preserving its wonders for exploration and revelation.
Spy planes soar above the seas, equipped with sonar, SAR, and advanced sensors to uncover underwater vessels. They safeguard our oceans, preserving their beauty for exploration and shielding marine life. These planes hold the key to unveiling the hidden treasures of our precious underwater realm.
Comprehension questions
I will read each question. Then, please answer them based on the article.
What is the main purpose of surveillance planes in monitoring the ocean?
How do sonar systems contribute to the detection of underwater objects?
What information can be obtained by analyzing the echoes of sound waves?
What role do SAR and electro-optical sensors play in the work of surveillance planes?
Why are skilled crews important for surveillance planes to protect marine resources?
Discussion questions
I will read each question. Then, please answer them.
Can you think of any recent news or events related to the use of surveillance planes in detecting submersibles or preventing unauthorized activities in the ocean? How did those instances highlight the importance of such surveillance?
Have you ever engaged in discussions or debates about the balance between security and privacy when it comes to ocean surveillance? What are your thoughts on this topic?
Do you agree that synthetic aperture radar (SAR) is a powerful tool in ocean surveillance as it can produce high-resolution images of the ocean's surface and reveal hidden objects beneath?
How do you think the development and implementation of surveillance planes have impacted ocean exploration and maritime security? Discuss the changes they have brought about and any potential future implications.
The article mentions that surveillance planes play a vital role in protecting marine resources. How do you think their use contributes to the conservation and sustainable management of our oceans? Can you think of any specific examples?
Listening: