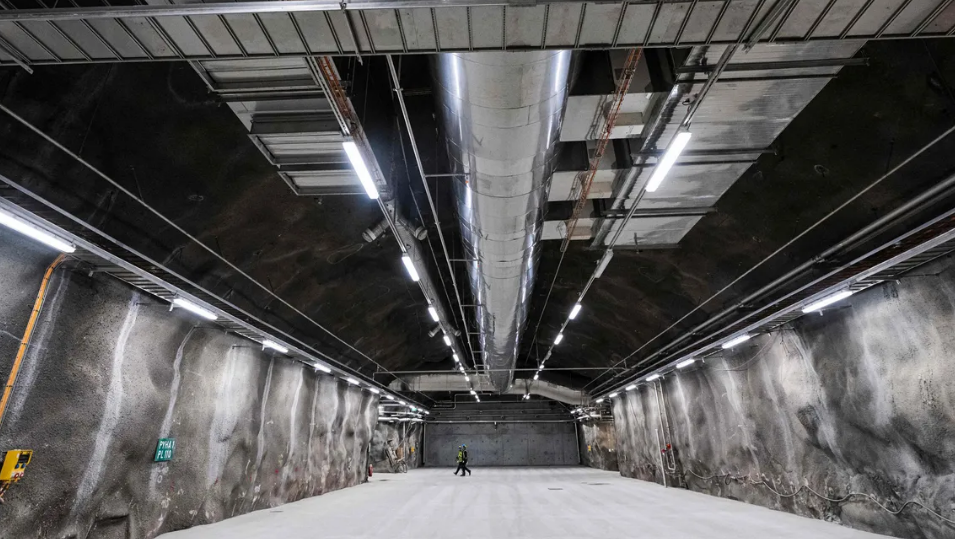 ©Getty Images
Pre-reading questions:
I will read each question. Then, please answer them.
What are the major challenges associated with nuclear waste disposal?
What are the potential environmental and health risks associated with improper nuclear waste management?
Vocabulary:
I will read the words, meanings, and sample sentences. Then, repeat after me.
impressive /im-PRE S-iv /

[adjective] – If an object or achievement is impressive, you admire or respect it, usually because it is special, important, or very large
The students were amazed by the impressive science experiment conducted by their classmates, as it showcased a remarkable display of colorful chemical reactions.

disposal /dih-SPOH-zuhl/

[noun] – the act of getting rid of something, especially by throwing it away
It is important to separate recyclable materials from regular trash and place them in the proper disposal bins, such as paper, plastic, and glass containers, to help protect the environment.

underground /UHN-der-GROUND/

[adjective] – below the surface of the earth; below ground
The group of friends decided to explore the mysterious underground cave, armed with flashlights and a sense of adventure.

facility /fuh-SIL-i-tee/

[noun] – a place, especially including buildings, where a particular activity happens
The school's new sports facility has a large gymnasium, an indoor swimming pool, and spacious fields for various outdoor activities.

proof /proof/

[noun] – a fact or piece of information that shows that something exists or is true
Alice presented her math teacher with her completed assignment as proof of her understanding and hard work in solving complex equations.
Article reading:
Please read the whole article. Then, I will check your pronunciation and intonation.
Below Finland's rugged terrain lies an impressive solution to a major human challenge: the safe disposal of nuclear waste. Onkalo, an underground storage facility, exemplifies Finland's commitment to safeguarding the environment and future generations. This article delves into Finland's smart approach to burying spent nuclear fuel deep underground, presenting a secure and sustainable solution for this hazardous waste.
Finland is leading the way in dealing with nuclear waste, a hazardous issue that has troubled us for centuries. Onkalo is located underground on the western shore of the country. It is carefully built into solid rock to securely hold Finland's nuclear waste for a very long time. By creating a maze of tunnels and sealed rooms, Onkalo ensures the safety of the environment. Copper containers, clay barriers, and sturdy bedrock strengthen its defenses, creating a shield that cannot be penetrated. Finland's smart nuclear waste storage plan separates it from the environment. They picked the stable Olkiluoto site after careful research. Involving the community ensured support and safety. Deep geological disposal was chosen for risk-free and long-lasting disposal.
As we stand on the edge of a more sustainable future, Onkalo in Finland stands as proof of human creativity and our commitment to addressing complex environmental problems. Through careful planning, scientific knowledge, and community participation, Finland provides a model for the safe and responsible management of nuclear waste, ensuring the well-being of both present and future generations.
Comprehension questions
I will read each question. Then, please answer them based on the article.
What is the purpose of Onkalo in Finland?
How does Onkalo ensure the safety of the environment?
What materials are used to strengthen the defenses of Onkalo?
Why did Finland choose the Olkiluoto site for nuclear waste storage?
Why is deep geological disposal considered a suitable method for nuclear waste disposal?
Discussion questions
I will read each question. Then, please answer them.
Can you recall any instances where you have learned about or discussed the environmental impact of nuclear waste? How did that influence your understanding of the topic?
Are you familiar with any initiatives or projects in your country or region that address the safe disposal of hazardous waste? If so, could you share some details about them?
Do you agree that Onkalo, Finland's underground repository, demonstrates Finland's dedication to protecting the environment and future generations?
What are some potential benefits and drawbacks of Finland's approach to burying nuclear waste deep underground in Onkalo?
In your opinion, is Finland's management of nuclear waste in Onkalo an ethical solution? Why or why not?
Listening: