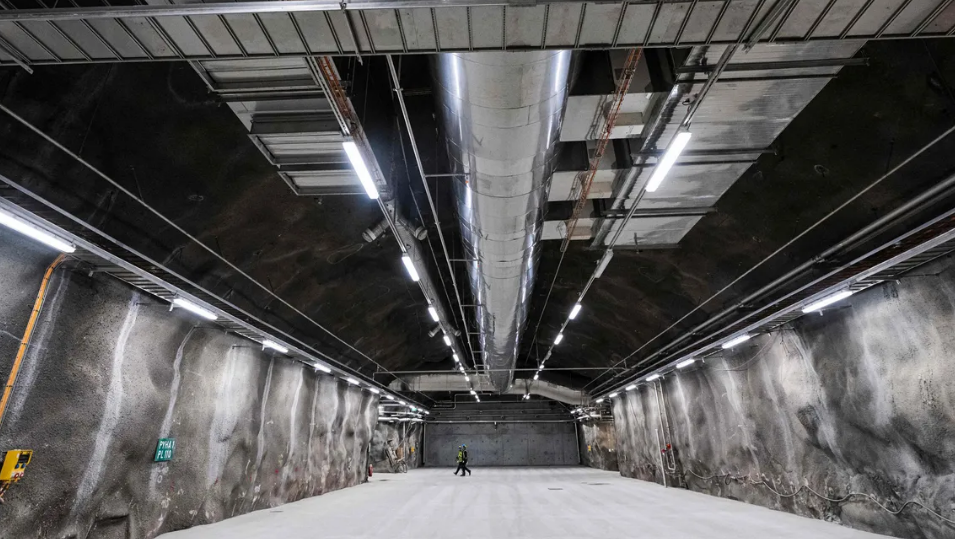 ©Getty Images
Pre-reading questions:
I will read each question. Then, please answer them.
講師がそれぞれの質問を読むので答えましょう。
Have you ever studied the environmental impact of nuclear waste?
Do you believe that nuclear waste poses a significant threat to human health and the environment?
Vocabulary:
I will read the words, meanings, and sample sentences. Then, repeat after me.
単語、意味、例文を読みます。講師に続いて音読しましょう。
waste /weyst/

[noun] – unwanted matter or material of any type, especially what is left after useful substances or parts have been removed
It is important to recycle paper and plastic bottles to reduce waste and protect the environment.

environment /en-VAHY-ruhn-muhnt/

[noun] – the air, water, and land in or on which people, animals, and plants live
It is important to keep our rivers and lakes clean to protect the environment and the animals that live there.

store /stawr/

[verb] – to put or keep things in a special place for use in the future
We should store our fruits and vegetables in the refrigerator to keep them fresh for a longer time.

location /loh-KEY-shuhn/

[noun] – a place or position
The beach is a beautiful location with golden sand and clear blue water.

scientific /sahy-uhn-TIF-ik /

[adjective] – relating to science, or using the organized methods of science
Scientists use special equipment and perform experiments to gather scientific evidence.
Article reading:
Please read the whole article. Then, I will check your pronunciation and intonation.
記事を音読しましょう。講師はあなたの発音とイントネーションを確認します。
Welcome to the hidden treasure of Finland, Onkalo! This extraordinary underground facility tackles the issue of nuclear waste in a remarkable way. Let's explore how Finland protects the environment and future generations by creatively burying dangerous fuel deep below the surface.
Finland leads in nuclear waste management with Onkalo, a hidden facility on the country's west coast. Built within solid rock, it securely stores Finland's nuclear waste is stored in tunnels, sealed chambers, copper containers, clay buffers, and solid bedrock at the Olkiluoto site. This stable location with minimal water flow ensures safety. Local participation is crucial for support and safety. Deep geological disposal at Olkiluoto provides a secure and long-lasting solution for nuclear waste management.
Onkalo in Finland embodies our sustainable future, showcasing human ingenuity in addressing environmental challenges. Through meticulous planning, scientific expertise, and community participation, Finland sets a remarkable example of safe and responsible nuclear waste management, ensuring the well-being of present and future generations.
True or False:
Read the sentences and identify if they are true or false based on the article.
文章を読んで、記事に基づいて正誤を答えましょう。
Onkalo is an above-ground facility located in Finland.
The main purpose of Onkalo is to address the issue of nuclear power generation.
Finland's nuclear waste is stored in open tunnels and chambers at Onkalo.
Copper containers are used to store Finland's nuclear waste at Onkalo.
Water flow is a significant concern for the safety of Onkalo.
Fill in the blanks:
Choose the correct word from the table then fill in the blanks.
適切な言葉を選んで空欄を埋めましょう。
| | | | | |
| --- | --- | --- | --- | --- |
| waste | environment | store | location | scientific |
It is important to ______ our belongings in a safe place to avoid losing or misplacing them.
Planting trees helps improve the ______ by providing shade, absorbing carbon dioxide, and producing oxygen.
Instead of throwing away leftover food, we can save it for later or donate it to avoid unnecessary ______.
The ______ method is a step-by-step process that helps scientists find answers to their questions.
The museum is an interesting ______ where you can learn about history and see ancient artifacts.
Listening: