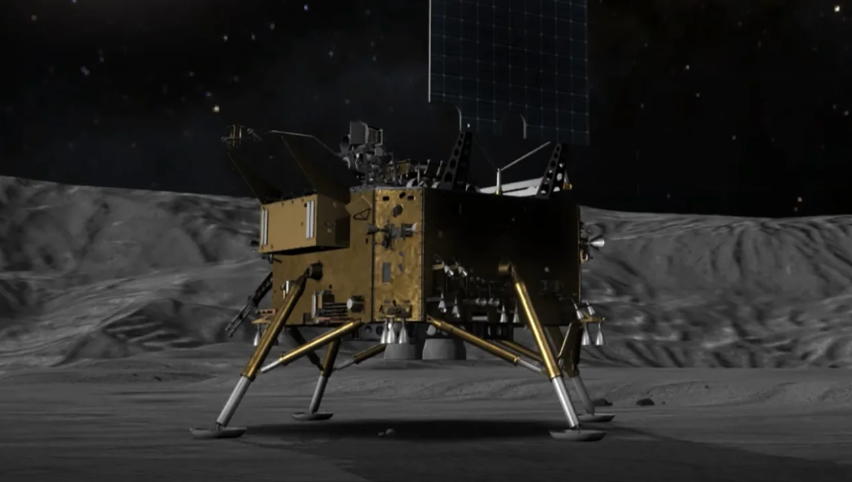 ©China National Space Administration
Pre-reading questions:
I will read each question. Then, please answer them.
講師がそれぞれの質問を読むので答えましょう。
Have you ever heard about a mission to the moon before?
Do you know which country is planning a mission to the moon?
Vocabulary:
I will read the words, meanings, and sample sentences. Then, repeat after me.
単語、意味、例文を読みます。講師に続いて音読しましょう。
explore /ik-SPLAWR/

[verb] – to search a place and discover things about it
The best way to explore the countryside is on foot.

communication /kuh-myoo-ni-KEY-shuhn /

[noun] – the act of communicating with people
With no decent phone signal, communication is difficult.

create /kree-EYT/

[verb] – to make something new or invent something
The Bible says that God created the world.

research /ri-SURCH/

[noun] – a detailed study of a subject, especially in order to discover new information or reach a new understanding
He has dedicated his life to scientific research.

discover /dih-SKUHV-er /

[verb] – to find information, a place, or an object, especially for the first time
We searched all morning for the missing papers and finally discovered them in a drawer.
Article reading:
Please read the whole article. Then, I will check your pronunciation and intonation.
記事を音読しましょう。講師はあなたの発音とイントネーションを確認します。
China is getting ready for a big space mission called Chang'e-6, which will happen next year. This mission is super important because it wants to collect special things from the part of the moon that we haven't explored before. China's space experts have been working really hard to make sure everything goes well. They will even send a special satellite before the mission to help with communication.China has big dreams for space! They want to send people to the moon within ten years and create a special research place there. The Chang'e-6 mission aims to discover new things about the moon, which will help scientists a lot. China is also inviting friends from other countries to join the Chang'e-8 mission in 2028. They want to work together in space and learn more about the moon. China is planning to make a permanent research spot on the moon's south pole by 2040. This shows that China is very serious about space, and they want to be friends with the whole world in this exciting adventure.
True or False:
Read the sentences and identify if they are true or false based on the article.
文章を読んで、記事に基づいて正誤を答えましょう。
China's Chang'e-6 mission is scheduled to take place next year.
The main goal of the Chang'e-6 mission is to collect samples from the moon's already-explored side.
China plans to send astronauts to the moon within the next decade.
China is inviting international partners to participate in the Chang'e-8 mission in 2028.
China aims to establish a permanent research station on the moon's south pole by 2040.
Fill in the blanks:
Choose the correct word from the table then fill in the blanks.
適切な言葉を選んで空欄を埋めましょう。
| | | | | |
| --- | --- | --- | --- | --- |
| explore | communication | create | reserach | discover |
Artists often use their imagination and skills to _______ beautiful paintings that captivate viewers.
Scientists conduct extensive _______ to learn more about the natural world and make important discoveries.
In the history of space exploration, astronauts have often used advanced technology to _______ new frontiers beyond our planet.
During their expedition, the archaeologists were excited to _______ ancient artifacts buried beneath the sand.
Effective _______ is crucial for maintaining strong relationships, whether it's in personal or professional life.
Listening: