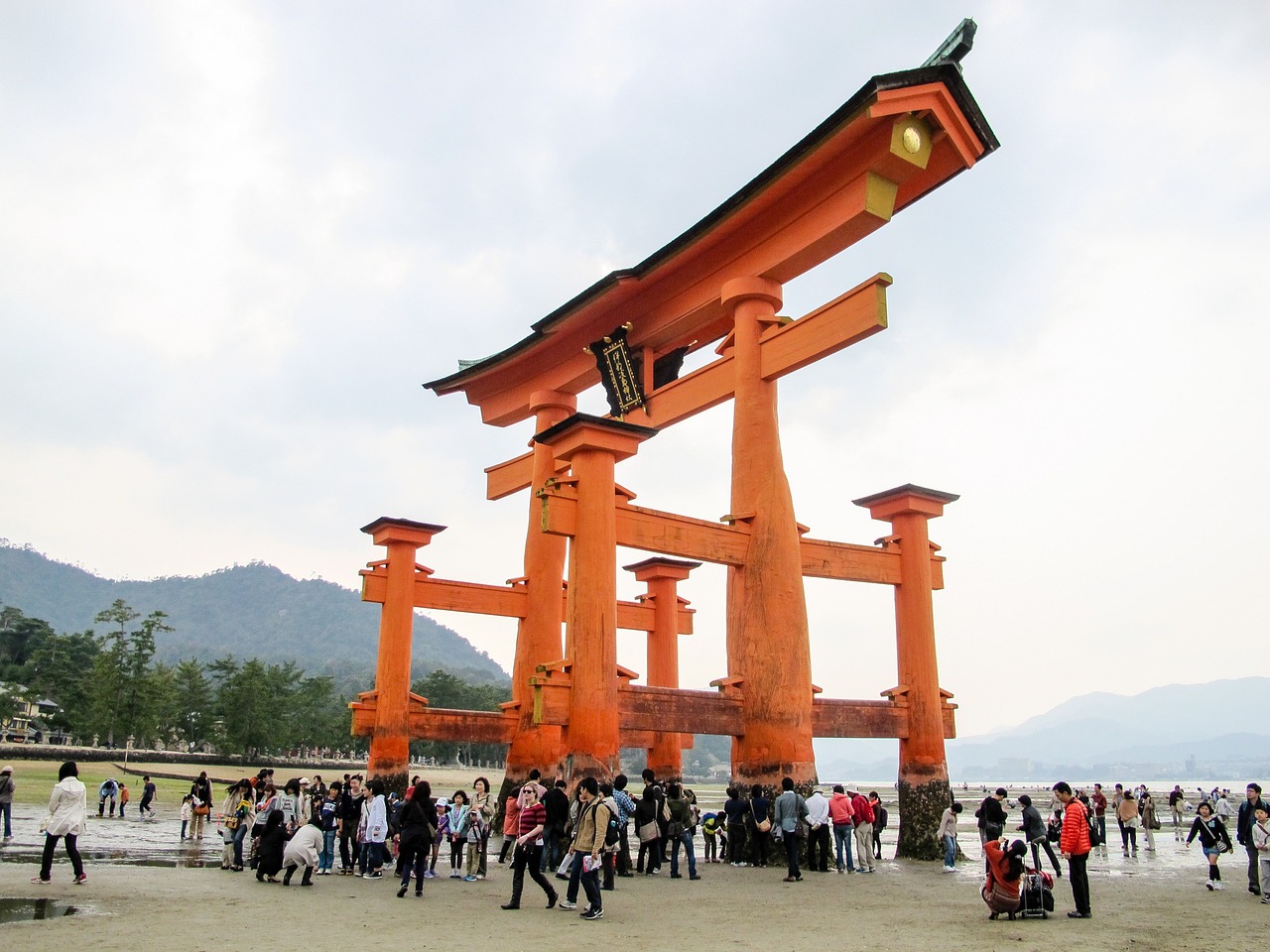 Pre-reading questions:
I will read each question. Then, please answer them.
What comes to your mind when you hear about a shrine that appears to float on water?
What do you think makes such a place unique or special?
Vocabulary:
I will read the words, meanings, and sample sentences. Then, repeat after me.
implement /IM-pluh-ment/

[verb] – to start using a plan or system
The changes to the national health system will be implemented next year.

emphasize /EM-fuh-sahyz/

[verb] – to show that something is very important or worth giving attention to
He emphasized that all the people taking part in the research were volunteers.

preserve /pri-ZURV/

[verb] – to keep something as it is, especially in order to prevent it from decaying, being damaged, or being destroyed
We want to preserve the character of the town while improving the facilities.

commitment /kuh-MIT-muhnt/

[noun] – a promise or firm decision to do something
Players need to make a commitment to play for a full season.

evident /EV-i-duhnt/

[adjective] – easily seen or understood; obvious
It quickly became evident that someone had broken in.
Article reading:
Please read the whole article. Then, I will check your pronunciation and intonation.
To tackle overtourism at Japan's famous Itsukushima Shrine, a new tourist tax was implemented on Sunday. The shrine, known for its iconic bright-orange torii gate seemingly floating on a lake in Hatsukaichi, Hiroshima prefecture, holds UNESCO World Heritage status. This tax, initially planned for 2021 but delayed due to the pandemic, charges visitors to Miyajima, the shrine's gateway, a nominal fee of 100 yen (about 67 cents) per visit, with an option for travelers to purchase a 500-yen ($3.33) annual pass. The tax revenue will fund tourism infrastructure improvements, such as public restrooms, architectural preservation, and the promotion of eco-friendly tourism practices in the area.
Shunji Mukai, a city planning official, emphasized the tax's dual purpose, saying, "We want to welcome tourists while ensuring the island's residents thrive. Tourists, we hope, will partner with us to preserve Miyajima." Leading preservation efforts is the 'Another Thousand Years' initiative, committed to the island's well-being, hoping "future visitors become island guardians, just like residents. Let's take pride in what we can do now, cherishing this island for another thousand years." Japan's commitment to safeguarding its treasures and harmonious coexistence with visitors is evident.
Comprehension questions
I will read each question. Then, please answer them based on the article.
Why was a tourist tax implemented at the Itsukushima Shrine in Japan?
What is the Itsukushima Shrine known for?
How much does the tourist tax charge visitors per visit to Miyajima?
What is the purpose of the tax revenue generated from the tourist tax?
Who is Shunji Mukai, and what does he emphasize about the tax's purpose?
Discussion questions
I will read each question. Then, please answer them.
Have you ever visited a tourist destination that you felt was overcrowded or negatively impacted by tourism, similar to the situation described at Itsukushima Shrine? If yes, could you share that experience and how it made you feel about the importance of protecting these iconic places? If not, can you imagine how such a situation might affect your perception of responsible tourism, and why do you believe it's essential to safeguard these destinations?
Have you ever personally witnessed or heard of a cultural or natural heritage site facing irreversible damage due to unchecked tourism, similar to the concerns at the Itsukushima Shrine? If yes, could you share that experience or story and reflect on what measures you think should be in place to ensure the conservation of these valuable places? If not, can you imagine the potential consequences of unsustainable tourism practices on such cherished sites, and why should travelers and governments collaborate to protect them?
Do you think implementing a tourist tax, like the one at Itsukushima Shrine, is an effective strategy to manage overtourism?
How might the Itsukushima Shrine's decision to charge a tourist tax impact the overall visitor experience, and what trade-offs should be considered in managing tourism at culturally significant sites?
In your opinion, what challenges and ethical considerations might arise when balancing the preservation of natural and cultural treasures with the economic benefits of tourism, as highlighted in the article about Itsukushima Shrine?
Listening: