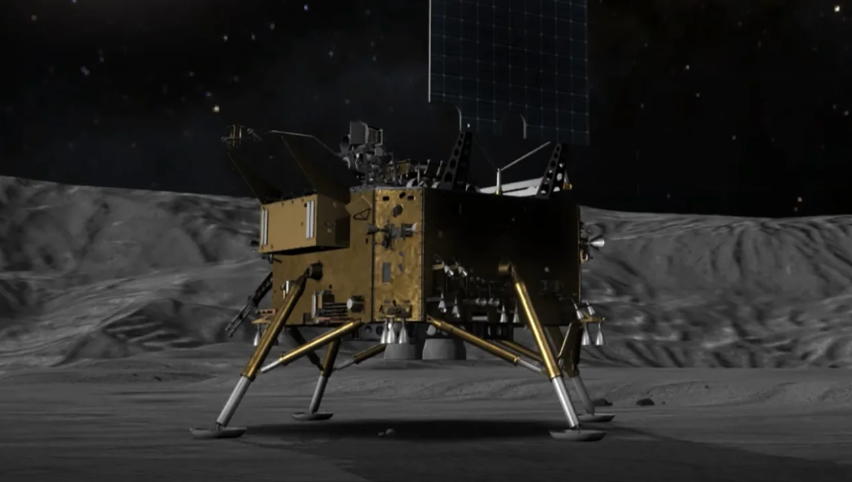 ©China National Space Administration
Pre-reading questions:
I will read each question. Then, please answer them.
What do you think a "mission to the moon" might involve?
Why do you think space agencies or countries might be interested in sending missions to the moon?
Vocabulary:
I will read the words, meanings, and sample sentences. Then, repeat after me.
mission /MISH-uhn/

[noun] – an important job, especially a military one, that someone is sent somewhere to do
Your mission is to isolate the enemy by destroying all the bridges across the river.

crucial /KROO-shuhl /

[adjective] – extremely important or necessary
Her work has been crucial to the project's success.

data /DEY-tuh/

[noun] – information, especially facts or numbers, collected to be examined and considered and used to help decision-making, or information in an electronic form that can be stored and used by a computer
The data was collected by various researchers.

ambitious /am-BISH-uhs/

[adjective] – having a strong wish to be successful, powerful, or rich
The government is persisting with its ambitious public works program.

construction /kuhn-STRUHK-shuhn/

[noun] – the work of building or making something, especially buildings, bridges, etc.
The bridge is a marvelous work of engineering and construction.
Article reading:
Please read the whole article. Then, I will check your pronunciation and intonation.
China's upcoming Chang'e-6 mission, scheduled for next year, represents a remarkable achievement in the nation's lunar program. This mission's primary goal is to collect groundbreaking samples from the unexplored far side of the moon. The China National Space Administration (CNSA) has meticulously prepared for this mission, including deploying a relay satellite in the first half of the coming year. This endeavor is a significant stride towards China's overarching objectives of sending astronauts to the moon within this decade and establishing an international lunar research station. The mission seeks to unravel the mysteries of the moon's uncharted territory, providing valuable insights into lunar science.
The CNSA is actively promoting global collaboration for the 2028 Chang'e-8 mission, inviting international partners to join in spacecraft operations, lunar exploration, and allocating space for 200 kilograms of foreign science payloads. Their goal is to gather crucial data for establishing a permanent international research station on the lunar south pole by 2040, showcasing China's ambitious space agenda. This proactive approach aligns with the world's growing interest in lunar exploration, as seen in previous achievements like the 2019 far-side rover landing and the Tiangong space station construction. China's upcoming missions, including Chang'e-6 in 2024, Chang'e-7 in 2026, and Chang'e-8 in 2028, will not only advance scientific knowledge but also enhance diplomatic ties through international collaboration, cementing China's prominent role in space exploration.
Comprehension questions
I will read each question. Then, please answer them based on the article.
What is China planning to do with its Chang'e-6 mission, and why is it important for their lunar program?
How is the China National Space Administration (CNSA) preparing for the 2028 Chang'e-8 mission, and what is their goal for this mission?
Can you name two previous achievements in China's lunar exploration mentioned in the article, and why are they significant?
What does the article say about China's approach to international collaboration in lunar exploration?
What is the main aim of China's lunar exploration efforts, and how do they fit into the broader picture of space exploration?
Discussion questions
I will read each question. Then, please answer them.
Have you ever followed or been interested in space exploration missions like China's Chang'e-6 and Chang'e-8? If yes, what aspects of these missions fascinate you the most, and how do you think they contribute to our understanding of the moon and space in general? If not, can you envision why such missions might be significant for both scientific advancement and international cooperation?
Considering China's active efforts to collaborate internationally on lunar exploration, do you think that space exploration should be a global endeavor involving multiple countries, or do you believe that nations should primarily pursue space exploration independently? Why or why not? If yes, what potential benefits or challenges do you see in international cooperation on space missions? If not, what advantages do you see in individual nation-led space exploration efforts?
Do you believe that China's ambitious lunar missions will significantly contribute to our understanding of space and lunar science?
What are the potential implications, both positive and negative, of China's proactive approach to lunar exploration, especially in terms of its international collaborations and ambitions to establish a permanent research station on the moon's south pole by 2040?
In the context of the global interest in lunar exploration, how do you think nations should balance their individual space exploration objectives with the opportunities for international cooperation in space missions? What factors should they consider when making these decisions?
Listening: