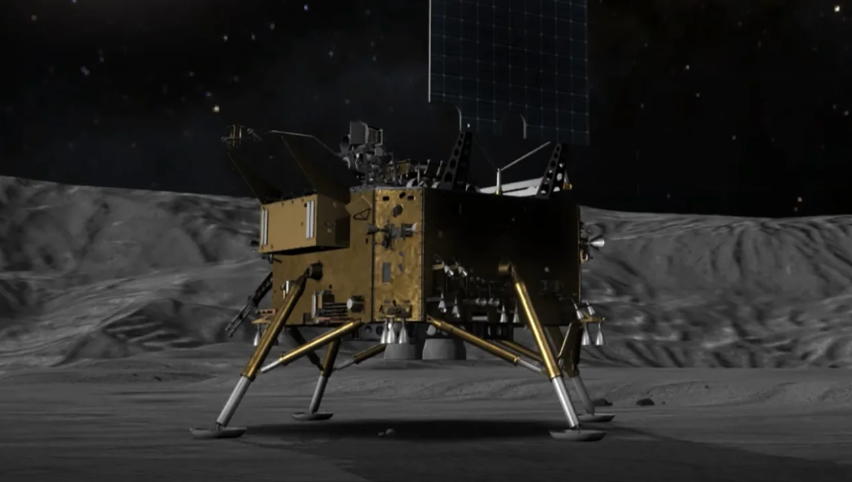 ©China National Space Administration
Vocabulary:
I will read the words, meanings, and sample sentences. Then, repeat after me.
administration /ad-min-uh-STREY-shuhn/

[noun] – the people in an organization who manage its business and operations
The decision to cancel the trip was made by the school administration.

collaboration /kuh-lab-uh-REY-shuhn /

[noun] – the situation of two or more people working together to create or achieve the same thing
The new airport is a collaboration between two of the best architects in the country.

pole /pohl /

[noun] – either of the two points at the most northern and most southern ends of the earth, around which the earth turns
Most weather satellites are stationed over the Equator or travel over the poles.

agenda /uh-JEN-duh /

[noun] – the things that a person or organization considers to be important and wants to solve or achieve, or their reasons for wanting to do something
The senator's environmental agenda is negative for traditional energy producers but positive for alternative energy producers.

pursuit /per-SOOT/

[noun] – an activity that you spend time doing, usually when you are not working
I don't have much opportunity for leisure pursuits these days.
Article reading:
Please read the whole article. Then, I will check your pronunciation and intonation.
China's Chang'e-6 mission, slated for next year, marks a historic milestone in the country's lunar program. It aims to gather groundbreaking samples from the moon's far side, shedding light on this uncharted territory. The CNSA has confirmed smooth mission preparations, including the deployment of a relay satellite in the first half of the coming year. This represents a significant step toward China's broader objectives of sending astronauts to the moon within this decade and creating an international lunar research station.
In preparation for its 2028 Chang'e-8 mission, China's National Space Administration (CNSA) is actively seeking increased global collaboration by inviting international partners to join in spacecraft launch, orbit operation, spacecraft-to-spacecraft interactions, and lunar surface exploration at the mission level. This initiative also includes allocating space for 200 kilograms of foreign science payloads to foster collaborative lunar research, all aimed at gathering essential data for establishing a permanent international research station on the lunar south pole by 2040, underscoring China's ambitious space agenda. China's proactive approach to lunar exploration, marked by milestones such as the 2019 far-side rover landing, Tiangong space station construction, and plans for a manned moon mission by 2030, resonates in a landscape where countries like India and the United States are also amplifying their lunar pursuits. As global interest in lunar exploration surges, China's missions serve both scientific and diplomatic purposes. The upcoming Chang'e-6 mission in 2024 will unveil the moon's far side through sample collection from the South Pole-Aitken Basin, with international partners contributing to the payload. Following this, Chang'e-7 in 2026 will focus on lunar resource exploration, while Chang'e-8 in 2028 will delve into lunar material utilization, cementing China's prominent role in space exploration.
Discussion Questions:
I will read each question. Then, please answer them.
Have you ever been personally fascinated by space exploration or lunar missions? If yes, what aspects of missions like Chang'e-6 and Chang'e-8 intrigue you the most? If not, what might spark your interest in such missions, considering their potential scientific and diplomatic implications?
Considering the collaborative efforts on China's upcoming lunar missions, do you think international cooperation in space exploration is crucial for the advancement of scientific knowledge and global relations? If yes, what are the potential benefits of such a collaboration? If not, what challenges or concerns might arise from international collaboration in space exploration efforts like these?
Do you think China's Chang'e-6 and Chang'e-8 missions are significant achievements in lunar exploration?
What potential scientific discoveries and advancements could emerge from the successful execution of China's Chang'e-6 and Chang'e-8 missions, particularly in terms of collecting samples from the moon's far side and collaborating with international partners?
Considering China's growing role in space exploration and the competition in lunar missions among countries like India and the United States, how do you think these missions contribute to the broader geopolitical landscape and international relations in space exploration?
Summarization
Please summarize the whole article using your own words and expressions. You will have one minute to prepare before you answer.
Describe:
Please explain the definition of each word listed below based on your understanding. You can provide example sentences if needed.
diplomatic
initiative
interaction
prominent
surge
Listening: