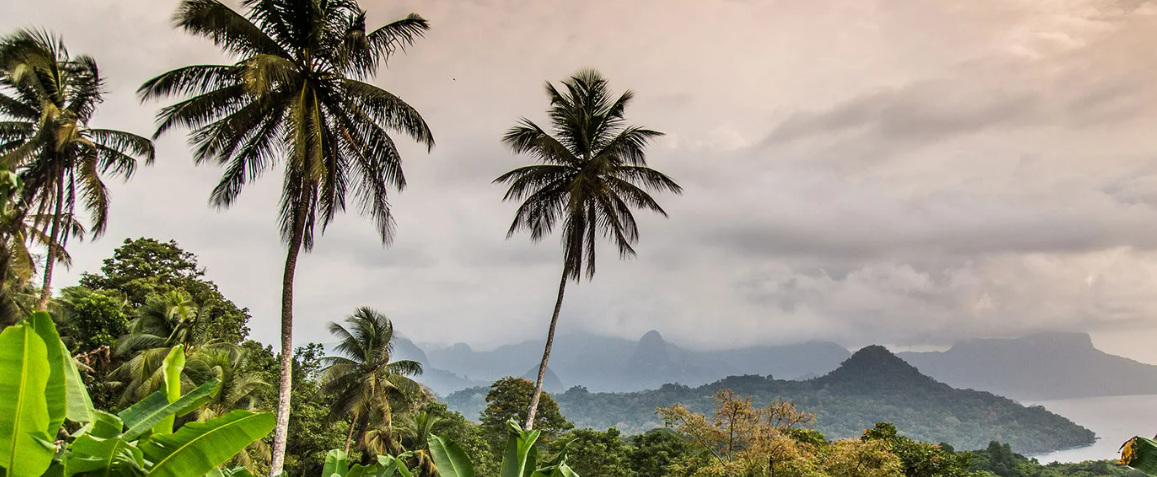 ©HBD Príncipe
Vocabulary:
I will read the words, meanings, and sample sentences. Then, repeat after me.
heritage /HER-i-tij/

[noun] – features belonging to the culture of a particular society, such as traditions, languages, or buildings, that were created in the past and still have historical importance
My family and I visited a historical museum to learn about our country's rich heritage by exploring artifacts and discovering the traditions of our ancestors.

legacy /LEG-uh-see/

[noun] – something that is a part of your history or that remains from an earlier time
Despite facing numerous challenges, Martin Luther King Jr. left behind a powerful legacy of peaceful activism, inspiring future generations to strive for equality and justice.

flourish /FLUR-ish/

[verb] – to grow or develop successfully
With proper care and attention, the plants in our school garden began to flourish, growing tall and healthy with vibrant flowers and lush green leaves.

fertile /FUR-tl/

[adjective] – Fertile land can produce a large number of good quality crops
The farmers were delighted to discover that the soil in their new field was exceptionally fertile, as their crops grew quickly and yielded abundant harvests.

indulge /in-DUHLJ /

[verb] – to allow yourself or someone else to have something enjoyable
After a week of hard work, the students decided to indulge themselves in a movie night, treating themselves to their favorite snacks and enjoying a relaxing evening together.
Article reading:
Please read the whole article. Then, I will check your pronunciation and intonation.
Enter an enchanting realm where magical islands entice you with their cocoa mysteries. Picture the wind carrying tales of decadence as you explore the Chocolate Islands. These captivating lands, scattered across the vast ocean, are rediscovering their deep connection to the cultivation of chocolate. Embark on a fascinating voyage to witness how these paradise-like islands are embracing their centuries-old cocoa heritage, reigniting a legacy that resonates to this day.
The Chocolate Islands, nestled in the embrace of azure waters, are undergoing a remarkable transformation. They were once renowned for their bountiful cocoa plantations, which flourished in harmony with the tropical climate. However, over time, the allure of other industries and economic changes led to a decline in cocoa production. Motivated by a newfound sense of pride and a desire to honor their historical connection to chocolate, island communities are breathing new life into this ancient tradition. Local farmers on the Chocolate Islands are passionately reviving cocoa cultivation, employing sustainable practices, and nurturing delicate cocoa trees with the utmost care. The island's fertile soil, plentiful rainfall, and gentle sunshine create an optimal environment for the cocoa trees to flourish. These resilient farmers have honed their skills in nurturing cocoa pods, ensuring each one reaches its peak ripeness. Their unwavering dedication is rekindling the art of chocolate-making, transforming the Chocolate Islands into a paradise for chocolate enthusiasts.
In the Chocolate Islands, the scent of freshly roasted cocoa fills the air as they embark on a new chapter. Expert chocolatiers skillfully blend age-old techniques with modern innovation to create delicious chocolate treats. Visitors can now indulge in these delightful creations and experience the rich chocolate legacy of the Chocolate Islands.
Discussion Questions:
I will read each question. Then, please answer them.
Imagine you are a visitor to the Chocolate Islands. Describe the scent of freshly roasted cocoa that fills the air and how it makes you feel.
If you had the ability to preserve and protect the fertile soil, plentiful rainfall, and gentle sunshine on the Chocolate Islands, what measures would you take to ensure the optimal environment for cocoa trees to flourish?
Do you agree that sustainable practices are essential for reviving cocoa cultivation and ensuring the long-term success of the Chocolate Islands' chocolate industry?
What are some potential challenges or obstacles that island communities on the Chocolate Islands might face in their efforts to revive cocoa cultivation and embrace their chocolate heritage?
In your opinion, how can the rich chocolate legacy of the Chocolate Islands be effectively communicated and shared with visitors? Discuss strategies that can be employed to enhance visitors' understanding and appreciation of the cultural and historical significance of chocolate on the islands.
Summarization
Please summarize the whole article using your own words and expressions. You will have one minute to prepare before you answer.
Describe:
Please explain the definition of each word listed below based on your understanding. You can provide example sentences if needed.
mystery
cultivation
sustainable
innovation
delightful
Listening: