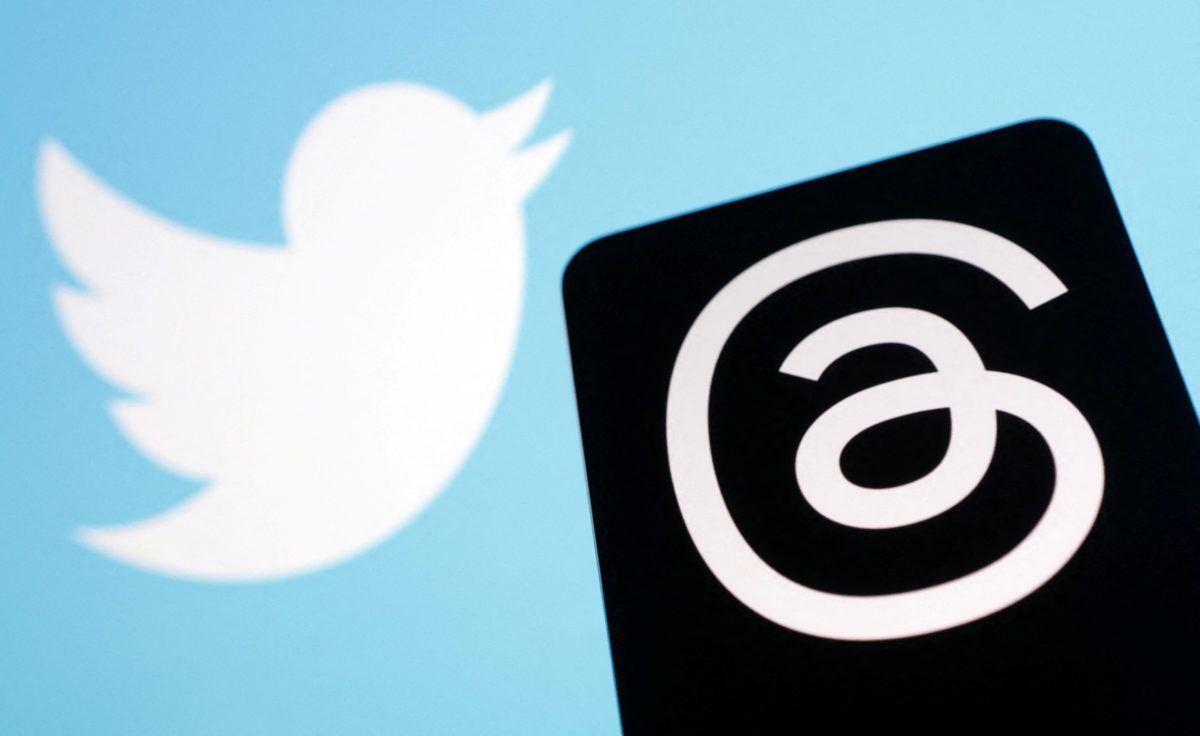 ©PBS News Hour
Pre-reading questions:
I will read each question. Then, please answer them.
What do you know about the recent developments in social media platforms and their competition?
What are some of the key features or aspects that you look for in a social media platform?
Vocabulary:
I will read the words, meanings, and sample sentences. Then, repeat after me.
appeal /uh-PEEL/

[verb] – to be interesting or attractive
The colorful illustrations in the book appeal to young readers.

dissatisfied /dis-SAT-is-fahyd/

[adjective] – not pleased with something; feeling that something is not as good as it should be
Many customers were dissatisfied with the quality of the product and requested a refund.

feature /FEE-cher/

[noun] – a typical quality or an important part of something
One key feature of this new smartphone is its high-resolution camera, which allows you to capture stunning photos.

criticism /KRIT-uh-siz-uhm/

[noun] – an opinion given about something or someone, esp. a negative opinion, or the activity of making such judgments
The new movie received a lot of criticism for its weak storyline and poor acting.

alternative /awl-TUR-nuh-tiv/

[noun] – something that is different from something else, especially from what is usual, and offering the possibility of choice
I'm considering the alternative of studying abroad for a semester.
Article reading:
Please read the whole article. Then, I will check your pronunciation and intonation.
Meta's Threads app has had a strong start, attracting ten million users within seven hours of its launch, according to Mark Zuckerberg. Positioned as a friendly competitor to Twitter, Threads aims to appeal to dissatisfied Twitter users. The app allows for 500-character posts and offers features similar to Twitter. Zuckerberg envisions Threads as a public conversation app with over one billion users. Concerns have been raised about data collection, including personal health and financial information. Threads is available in over 100 countries, except the EU, due to regulations. Meta plans to expand the app's features for interaction with users on other social media platforms.
The release of Threads comes amidst criticism of Meta's business practices, including prioritizing profits over safety and past data privacy scandals. With its integration with Instagram, Threads has an advantage over alternatives like Bluesky and Mastodon. Users can share posts between Threads and Instagram, customize profiles, and control privacy settings. Although connected to Instagram, Threads has drawn comparisons to Twitter, leading to speculation about its potential as a "Twitter killer." The launch in the EU has been delayed due to regulatory uncertainties. However, Meta is exploring opportunities for expansion into the European market.
Comprehension questions
I will read each question. Then, please answer them based on the article.
How many users did Meta's Threads app attract within seven hours of its launch?
What is Threads positioned as in relation to Twitter?
How many characters are allowed in a post on Threads?
What is one of Mark Zuckerberg's visions for Threads?
What are some concerns raised about Threads regarding data collection?
Discussion questions
I will read each question. Then, please answer them.
Have you ever used Meta's Threads app or any similar social media platforms like Twitter or Instagram? If yes, how was your experience compared to other platforms? If not, would you like to try Meta's Threads app or similar platforms in the future?
How do you feel about the concerns raised regarding data collection practices in apps like Threads?
Do you believe Meta's Threads app has the potential to become a successful competitor to Twitter?
What are your thoughts on Meta's strategy of launching Threads as a competitor to Twitter?
Considering the concerns about Meta's business practices and past data privacy scandals, do you think users will trust and embrace Threads as a new social media platform? Why or why not?
Listening: