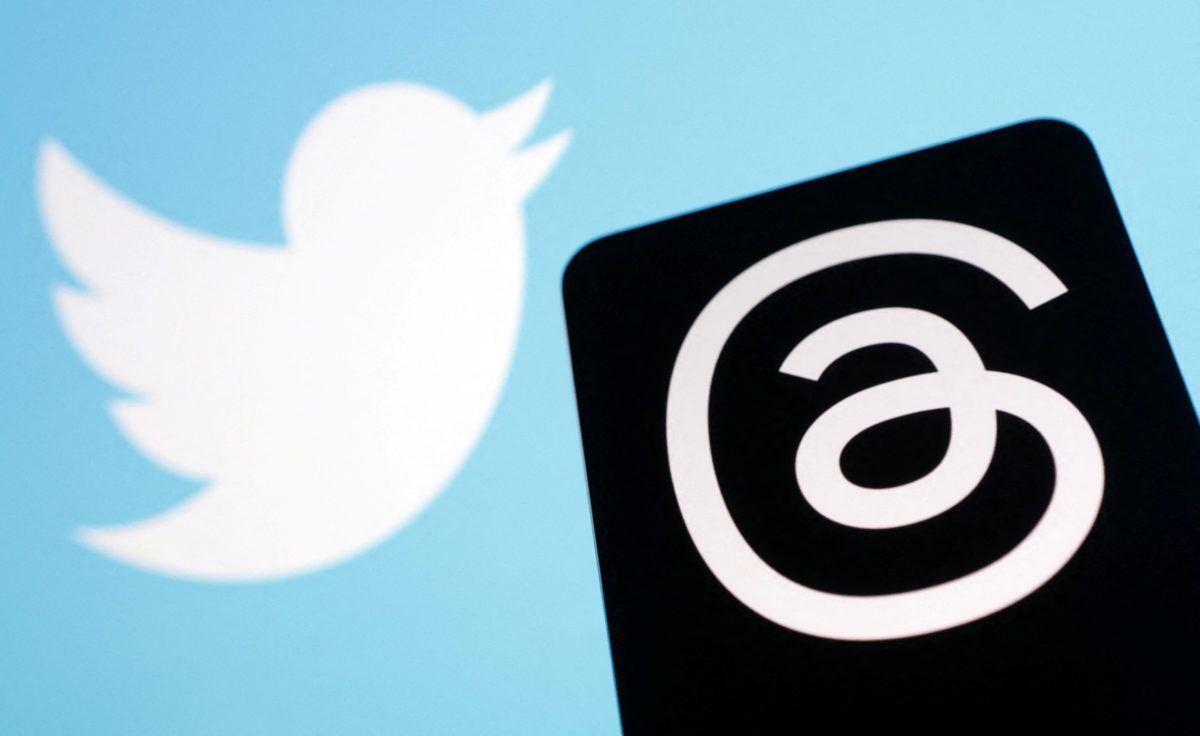 ©PBS News Hour
Pre-reading questions:
I will read each question. Then, please answer them.
講師がそれぞれの質問を読むので答えましょう。
Have you ever used social media platforms like Twitter or Instagram?
Have you heard of Meta's Threads app?
Vocabulary:
I will read the words, meanings, and sample sentences. Then, repeat after me.
単語、意味、例文を読みます。講師に続いて音読しましょう。
gain /geyn/

[verb] – to get something that is useful, that gives you an advantage, or that is in some way positive, especially over a period of time
She studied hard to gain knowledge and improve her grades in school.

competitor /kuhm-PET-i-ter/

[kuhm-PET-i-ter] – a person, team, or company that is competing against others
She trained hard to prepare for the upcoming race and beat her competitors.

similar /SIM-uh-ler/

[adjective] – looking or being almost, but not exactly, the same
My friend has a similar taste in music as I do.

compete /kuhm-PEET/

[verb] – to try to be more successful than someone or something else
The athletes are training hard to compete in the upcoming race.

option /OP-shuhn/

[noun] – one thing that can be chosen from a set of possibilities, or the freedom to make a choice
Sarah was given the option to work from home or come to the office for the meeting.
Article reading:
Please read the whole article. Then, I will check your pronunciation and intonation.
記事を音読しましょう。講師はあなたの発音とイントネーションを確認します。
Meta's Threads app quickly gained many users after its launch. It is meant to be a competitor to Twitter and attract people who are not happy with it. Threads allows users to make short posts and has similar features to Twitter. Mark Zuckerberg wants Threads to become a popular app with many users. Some people are worried about the app collecting personal information. Threads is available in many countries, but not in the European Union. Meta plans to add more features for users to interact with other social media platforms.Threads was released while Meta faced criticism for its business practices. It's different from alternatives like Bluesky and Mastodon because it works with Instagram. Users can share posts between Threads and Instagram, personalize their profiles, and control privacy settings. Threads is similar to Twitter, which has led to people wondering if it can compete with it. The launch in the European Union is delayed because of uncertain rules, but Meta is exploring options to expand there.
True or False:
Read the sentences and identify if they are true or false based on the article.
文章を読んで、記事に基づいて正誤を答えましょう。
Threads allows users to make short posts and has features similar to Twitter.
Mark Zuckerberg has no interest in making Threads a widely-used app.
Threads is available in the European Union.
Meta has no plans to explore expansion options in the EU.
Threads is intended to be a competitor to Twitter and attract users who are dissatisfied with it.
Fill in the blanks:
Choose the correct word from the table then fill in the blanks.
適切な言葉を選んで空欄を埋めましょう。
| | | | | |
| --- | --- | --- | --- | --- |
| gain | competitor | similar | compete | option |
Our team is determined to stay ahead of our ___________ by offering unique products.
The restaurant is trying to _______ with the popular food chain by offering a similar menu at lower prices.
He worked diligently to ____ experience in his chosen field of expertise.
The restaurant offers a vegetarian ______ on its menu for those who don't eat meat.
The two paintings share a _______ style.
Listening: