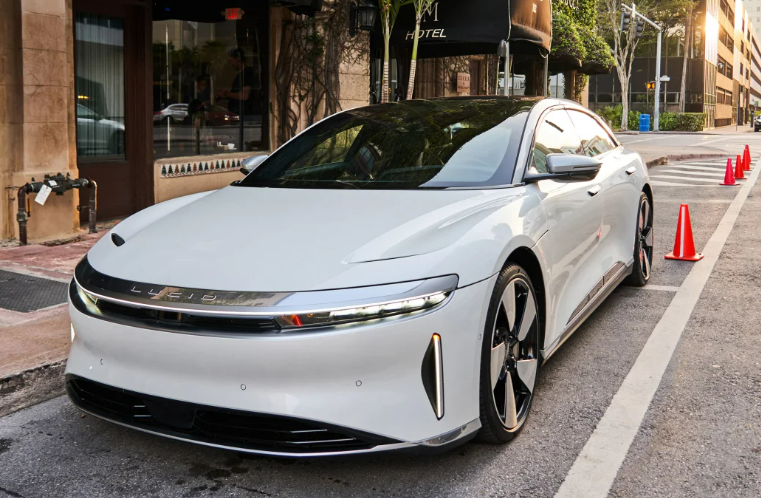 ©Romain Maurice/Getty Images for Haute Living
Pre-reading questions:
I will read each question. Then, please answer them.
What are electric vehicles (EVs) and how do they work?
What are the environmental benefits of using electric vehicles?
Vocabulary:
I will read the words, meanings, and sample sentences. Then, repeat after me.
momentous /moh-MEN-tuhs/

[adjective] – very important or significant, often with a sense of historical importance
The moon landing was a momentous event in human history.

thrilling /THRIL-ing /

[adjective] – very exciting or exhilarating
Riding a roller coaster can be a thrilling experience.

investment /in-VEST-muhnt/

[noun] – the act of putting money, effort, or resources into something with the expectation of gaining a profit or advantage
The company made a significant investment in research and development.

generate /JEN-uh-reyt /

[verb] – To produce or create something, often in a systematic or mechanical way.
Wind turbines generate electricity from the power of the wind.

strengthen /STENGK-thuhn/

[verb] – to make something stronger or more robust, often through reinforcement or improvement
Regular exercise can strengthen your muscles and improve your overall health.
Article reading:
Please read the whole article. Then, I will check your pronunciation and intonation.
In a significant development in the electric vehicle industry, Lucid Motors has inaugurated its inaugural electric vehicle (EV) manufacturing facility in Saudi Arabia. This marks a momentous and thrilling advancement in the realm of environmentally conscious transportation. Lucid Motors, a renowned American enterprise specializing in electric automobiles, has opted to establish its latest factory in Saudi Arabia. The decision was influenced by Lucid Motors' collaboration with the Saudi government. Saudi Arabia's significant investment in the electric car market aims to boost the economy, generate jobs, and foster innovation. This aligns with global demand for electric vehicles due to their environmental and cost-saving benefits. Lucid Motors' expansion into Saudi Arabia not only strengthens its Middle East presence but also taps into the region's burgeoning electric car market. Lucid Motors' advanced factory in Saudi Arabia is helping meet the rising demand for luxury electric cars, contributing to a cleaner planet amid the global shift towards sustainable transportation. This partnership between a renowned company and government support marks an exciting step forward for the electric car industry.
The expansion of Lucid Motors in Saudi Arabia is a hopeful sign for the electric car industry. It shows how working together between companies and governments can create a greener future and fight against climate change, making the world cleaner.
Comprehension questions
I will read each question. Then, please answer them based on the article.
According to the article, why did Lucid Motors decide to open its electric vehicle manufacturing facility in Saudi Arabia?
How is Saudi Arabia planning to benefit from its investment in the electric car market?
What are the global reasons for the increasing demand for electric vehicles mentioned in the article?
How does the expansion of Lucid Motors in Saudi Arabia contribute to the electric car industry?
In your own words, explain why the partnership between Lucid Motors and the Saudi government is considered significant for the electric car industry.
Discussion questions
I will read each question. Then, please answer them.
Have you ever embarked on a new venture in your personal or professional life? If so, what were the challenges and rewards of that endeavor?
Can you share an experience when you witnessed a renowned person or place? What made them renowned, in your opinion?
Do you agree that the collaboration between private companies like Lucid Motors and governments is crucial for advancing sustainable technologies and combating climate change?
In your opinion, what challenges and opportunities might arise as the EV industry continues to grow globally? How can governments and companies like Lucid Motors address these challenges?
How do you think Lucid Motors' decision to establish its factory in Saudi Arabia might influence the perception and adoption of electric vehicles in the Middle East and beyond?
Listening: