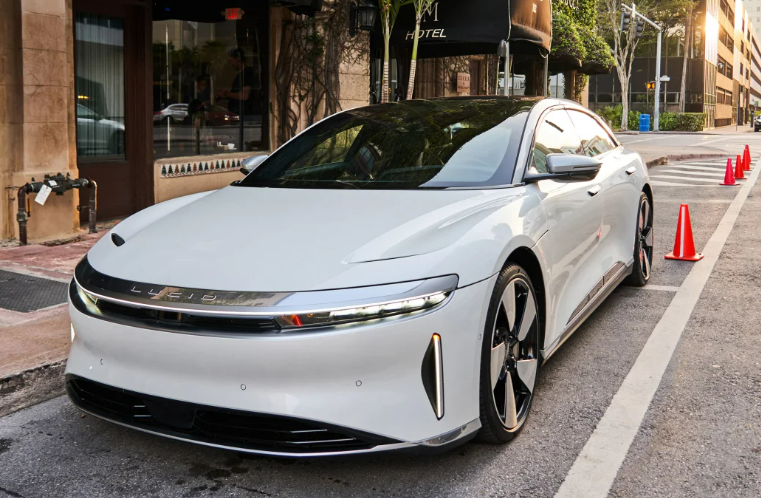 ©Romain Maurice/Getty Images for Haute Living
Pre-reading questions:
I will read each question. Then, please answer them.
講師がそれぞれの質問を読むので答えましょう。
Do you own an electric vehicle?
Are there environmental benefits associated with using electric vehicles?
Vocabulary:
I will read the words, meanings, and sample sentences. Then, repeat after me.
単語、意味、例文を読みます。講師に続いて音読しましょう。
development /dih-VEL-uhp-muhnt/

[noun] – the process by which someone or something grows, changes, and becomes more advanced
The development of technology has changed our lives significantly.

government /GUHV-ern-muhnt/

[noun] – the group of people who are responsible for controlling a country or a region, usually elected by the citizens of that country
The government is implementing new policies to improve healthcare.

encourage /en-KUR-ij/

[verb] – to support, inspire, or give someone the confidence to do something
Teachers often encourage students to ask questions in class.

promising /PROM-uh-sing/

[adjective] – showing signs of future success or potential
The young artist has a promising career ahead of her.

industry /IN-duh-stree/

[noun] – all the companies and activities involved in the production of goods or services in a particular area.
The automotive industry is constantly evolving with new technology.
Article reading:
Please read the whole article. Then, I will check your pronunciation and intonation.
記事を音読しましょう。講師はあなたの発音とイントネーションを確認します。
In a big step for electric cars, Lucid Motors has opened a new factory in Saudi Arabia. This is a very exciting development in the world of eco-friendly transportation. Lucid Motors is a well-known American company that makes electric cars. They decided to build a new factory in Saudi Arabia because they are working with the Saudi government. Saudi Arabia is putting a lot of money into electric cars to help their economy, create jobs, and encourage new ideas. This is in line with the global demand for electric cars, which are good for the environment and save money. Lucid Motors is expanding in the Middle East, tapping into the growing electric car market. Their new Saudi Arabian factory addresses the rising demand for luxury electric vehicles, promotes eco-friendly transportation, and showcases a promising partnership between the company and government support. The expansion of Lucid Motors in Saudi Arabia gives hope for the electric car industry. It shows that when companies and governments work together, they can make the world cleaner and fight against climate change, which means reducing pollution and making our planet better.
True or False:
Read the sentences and identify if they are true or false based on the article.
文章を読んで、記事に基づいて正誤を答えましょう。
Lucid Motors is a Chinese company.
The Saudi government is investing in electric cars to boost their economy and create jobs.
Electric cars are not good for the environment.
Lucid Motors' new factory in Saudi Arabia is intended to meet the demand for luxury electric vehicles.
The article suggests that cooperation between companies and governments can have a positive impact on reducing pollution and fighting climate change.
Fill in the blanks:
Choose the correct word from the table then fill in the blanks.
適切な言葉を選んで空欄を埋めましょう。
| | | | | |
| --- | --- | --- | --- | --- |
| development | government | encourage | promising | industry |
The fashion ______ is known for its fast-paced and creative nature.
The city's ______ plan includes building new parks and schools.
Citizens have the right to vote for their ______ representatives.
Positive feedback can ______ employees to work harder.
The new product has received ______ reviews from consumers.
Listening: