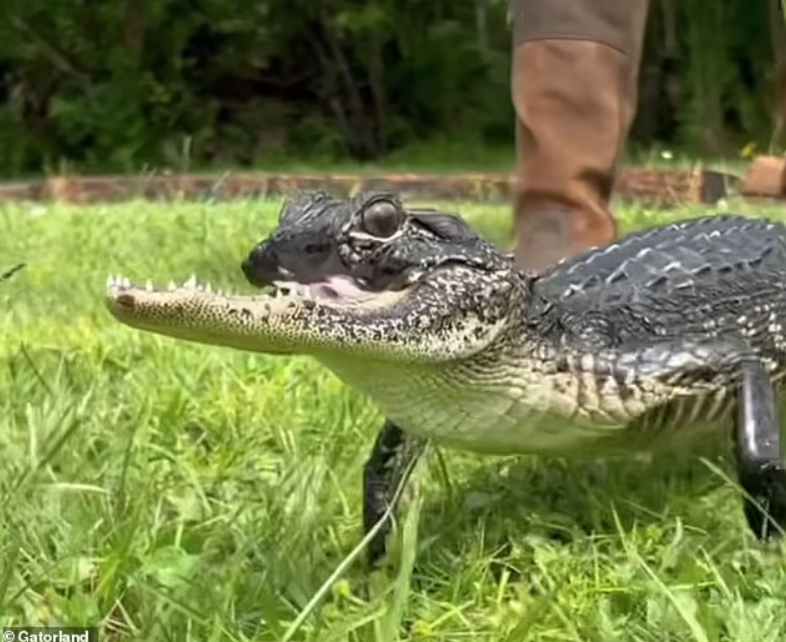 ©Gatorland
Pre-reading questions:
I will read each question. Then, please answer them.
What comes to mind when you hear the word "alligator"?
What do you think life is like for alligators in their natural habitat?
Vocabulary:
I will read the words, meanings, and sample sentences. Then, repeat after me.
capture /KAP-cher /

[verb] – to gain or win over the affection, admiration, or emotional attachment
The talented musician's performance captured the hearts of everyone in the audience, leaving them deeply moved by the music.

commitment /kuh-MIT-muhnt/

[noun] – a promise or firm decision to do something
Her commitment to environmental conservation was evident through her tireless efforts to protect the local wildlife.

comfort /KUHM-fert/

[noun] – a pleasant feeling of being relaxed and free from pain
After a long day at work, sinking into the cozy armchair provided a sense of comfort and relief from stress.

adjust /uh-JUHST/

[verb] – to change something slightly to make it fit, work better, or be more suitable
The mechanic adjusted the car's engine settings to improve its performance on the race track.

affection /uh-FEK-shuhn/

[noun] – a feeling of liking for a person or place
The deep affection between the elderly couple was heartwarming, demonstrating their enduring love for each other.
Article reading:
Please read the whole article. Then, I will check your pronunciation and intonation.
In the enchanting setting of Gatorland Park in Florida, a truly extraordinary alligator has found a loving home, capturing the hearts of both visitors and locals. This unique gator, named "Jawlene" as a touching tribute to Dolly Parton's "Jolene," has become a beloved resident. Jawlene, a female alligator, is receiving specialized care from the devoted crocodilian enrichment coordinator, Savannah Boan. The community played a significant role in choosing her name, highlighting the collective desire to see this remarkable reptile thrive. Jawlene's journey is a testament to the dedication of the park's team and the alligator's remarkable resilience. She has gained a slight weight of approximately 0.01 ounces, thanks to the team's unwavering commitment to her comfort and well-being.
CEO Mark McHugh of Gatorland shared heartwarming news about Jawlene's progress. She can now self-feed by independently consuming two mice using the back of her tongue. While discussions about fitting Jawlene with a prosthetic upper jaw have arisen, the park's administration wisely decided to postpone such measures. Their primary focus is to ensure that Jawlene fully adjusts to her new home and attains the necessary weight for a healthier future. Mark McHugh's deep affection for this remarkable alligator reinforces her role as a symbol of resilience and hope at Gatorland Park, demonstrating the enduring commitment of both the park's team and the broader community to her well-being.
Comprehension questions
I will read each question. Then, please answer them based on the article.
Who is the alligator mentioned in the article, and what is her name a tribute to?
What is the job of Savannah Boan at Gatorland Park?
How did the community contribute to the article's story?
What is the recent achievement mentioned regarding Jawlene's weight?
According to the article, what is the park's main concern before considering a prosthetic for Jawlene?
Discussion questions
I will read each question. Then, please answer them.
Have you ever visited a wildlife sanctuary or a park like Gatorland where you had a memorable encounter with an animal? If yes, what was your experience, and how did it make you feel? If not, can you imagine the kind of connection people might develop with a special animal like Jawlene at Gatorland Park?
In the article, it mentions that the community played a significant role in choosing the name "Jawlene" for the alligator. Have you ever been part of a community or group decision-making process, whether it's about naming something or deciding on a collective action? If yes, how did you feel about contributing to such a decision? If not, can you imagine what it's like to have a say in naming a beloved animal?
Do you think it's important for wildlife parks like Gatorland to prioritize the well-being of animals like Jawlene?
How do you think the relationship between the park's team, the community, and Jawlene contributes to the broader message of resilience and hope mentioned in the article?
What are the ethical considerations involved in deciding whether to fit Jawlene with a prosthetic upper jaw or not? How should such decisions balance the interests of the animal's well-being, conservation, and public perception of the sanctuary?
Listening: