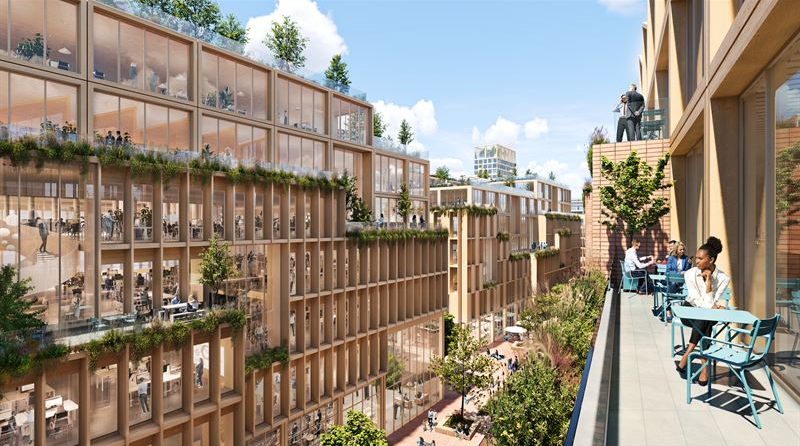 ©Atrium Ljungberg / Henning Larsen
Pre-reading questions:
I will read each question. Then, please answer them.
講師がそれぞれの質問を読むので答えましょう。
Do you like living in a city?
Do you think cities can be eco-friendly?
Vocabulary:
I will read the words, meanings, and sample sentences. Then, repeat after me.
単語、意味、例文を読みます。講師に続いて音読しましょう。
urban /UR-buhn/

[adjective] – of or in a city or town
The urban lifestyle offers convenient access to various amenities, such as shopping centers, restaurants, and entertainment venues.

construct /kuhn-STRUHKT/

[verb] – to build something or put together different parts to form something whole
They decided to construct a new bridge to improve transportation in the area.

demonstrate /DEM-uhn-streyt/

[verb] – to show or make something clear
The sales representative will demonstrate the new product features to potential customers.

carbon footprint /KAHR-buhn FOOT-print/

[noun] – Someone's carbon footprint is a measurement of the amount of carbon dioxide that their activities produce
The aviation industry is under scrutiny for its high carbon footprint, prompting discussions on implementing carbon offset programs and investing in greener technologies.

feature /FEE-cher/

[noun] – a typical quality or an important part of something
The museum's main feature is a remarkable collection of ancient artifacts from various civilizations.
Article reading:
Please read the whole article. Then, I will check your pronunciation and intonation.
記事を音読しましょう。講師はあなたの発音とイントネーションを確認します。
Stockholm is working on an exciting project to build the world's biggest wooden city, blending sustainable design with urban development. The city is collaborating with architecture firm White Arkitekter to construct a new neighborhood called "Slakthusområdet," which will demonstrate Stockholm's commitment to environmental sustainability and innovative architecture.
The main focus of the Slakthusområdet project is sustainability and community building. By using wood as the primary construction material, the district will have a smaller carbon footprint compared to traditional building materials. The wooden buildings will also create a warm and natural atmosphere, making the area more pleasant to live in. The neighborhood will include a mix of homes, offices, shops, and public spaces designed to prioritize walking, green areas, and eco-friendly transportation options. These features will promote a sense of well-being and connectedness among residents and visitors. Using wood aligns with the global movement toward sustainability, as it is a renewable resource that can store carbon dioxide and help combat climate change. Stockholm's project showcases the city's commitment to becoming carbon neutral and represents a significant step toward sustainable urban development.
True or False:
Read the sentences and identify if they are true or false based on the article.
文章を読んで、記事に基づいて正誤を答えましょう。
Stockholm is working on a project to build the world's biggest metal city.
The project is called "Slakthusområdet."
The focus of the project is mental health.
Wood is being used as the primary construction material in the project.
The neighborhood will only include shops.
Fill in the blanks:
Choose the correct word from the table then fill in the blanks.
適切な言葉を選んで空欄を埋めましょう。
| | | | | |
| --- | --- | --- | --- | --- |
| urban | construct | demonstrate | carbon footprint | feature |
The scientist conducted experiments to ___________ the effectiveness of the new technology.
The latest smartphone model boasts an array of innovative ___________, including a high-resolution camera and facial recognition technology.
The construction company was hired to ___________ a new office building in the city center.
The ___________ landscape is characterized by densely populated areas, high-rise buildings, and extensive infrastructure.
Individuals and businesses can reduce their ___________ by adopting sustainable practices and using renewable energy sources.
Listening: