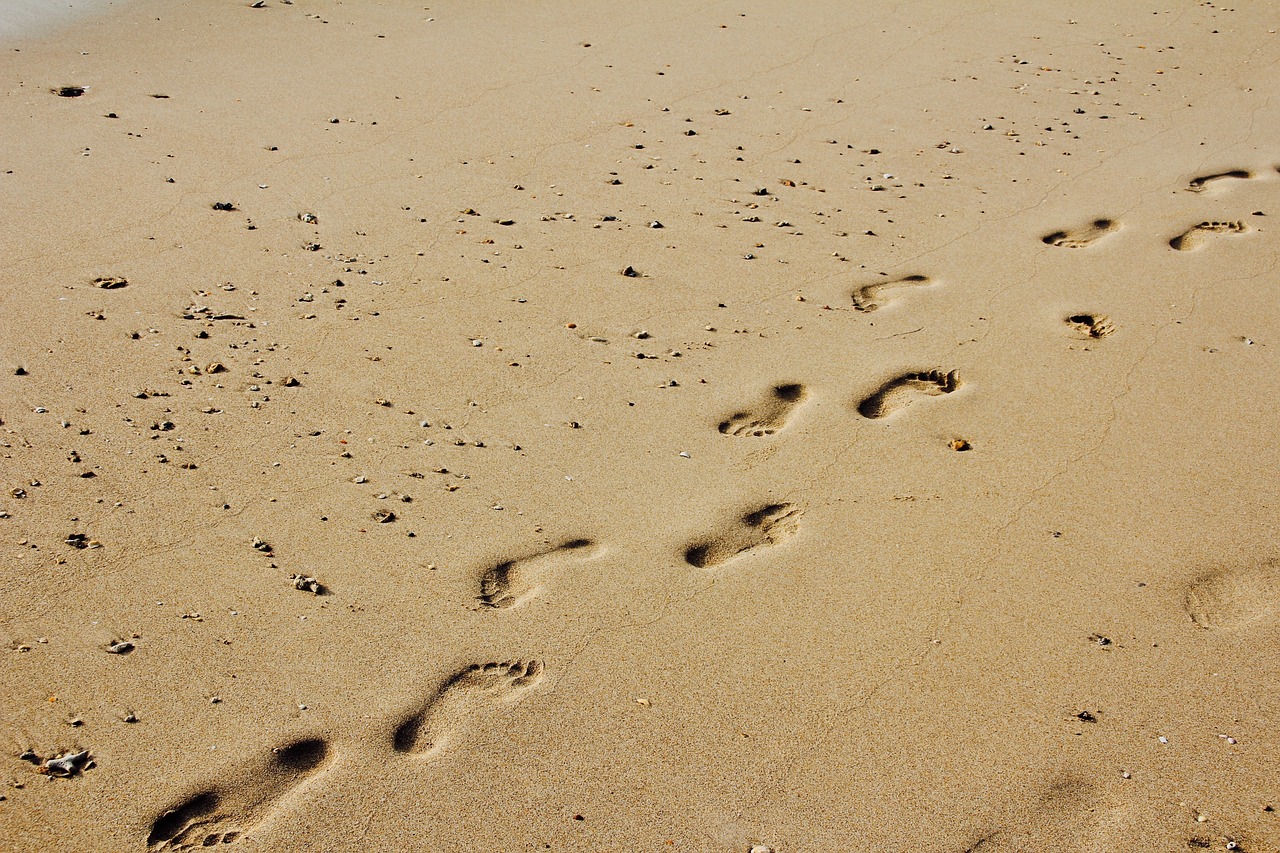 Pre-reading questions:
I will read each question. Then, please answer them.
When you think about ancient human footprints, what thoughts or questions come to mind?
What do you imagine these footprints might reveal about the past?
Vocabulary:
I will read the words, meanings, and sample sentences. Then, repeat after me.
presence /PREZ-uhns/

[noun] – the fact that someone or something is in a place
His calming presence in the room made everyone feel at ease during the meeting.

debate /dih-BEYT/

[noun] – serious discussion of a subject in which many people take part
The debate on the new school policy went on for hours, with parents, teachers, and students expressing their opinions.

remarkable /ri-MAHR-kuh-buhl/

[adjective] – unusual or special, and therefore surprising and worth mentioning
Her recovery after the surgery was remarkable; she was back on her feet in no time.

fascinating /FAS-uh-ney-ting/

[adjective] – extremely interesting
The documentary about the deep ocean was absolutely fascinating, with all the unique creatures and mysterious landscapes.

inhabitant /in-HAB-i-tuhnt/

[noun] – a person or animal that lives in a particular place
The desert's harsh conditions are well-suited for creatures like camels, which are natural inhabitants of these arid regions.
Article reading:
Please read the whole article. Then, I will check your pronunciation and intonation.
In a significant archaeological development, researchers have provided further evidence for ancient human footprints found in White Sands National Park, New Mexico, initially disclosed in 2021. Radiocarbon dating places these footprints at an astonishing 21,000 to 23,000 years old, challenging our prior understanding of American human history, which previously suggested a later settlement. These 61 footprints near an ancient Tularosa Basin lake hint at human arrival much earlier than previously thought, even when ice sheets were believed to have blocked North American access.
Skeptics initially questioned the dating of the footprints due to concerns that aquatic plants like Ruppia cirrhosa used in the 2021 study could skew the results. However, a recent study in the journal Science introduced two new dating methods: radiocarbon dating of conifer pollen from terrestrial plants and optically stimulated luminescence for dating quartz grains in the fossil sediment. Both approaches provided consistent results, reinforcing the assertion of an early human presence in the Americas. This discovery is pivotal in the ongoing debate about when and how early humans first reached the Americas, offering insight into their remarkable journey. While many questions persist, these ancient footprints provide a fascinating glimpse into the challenges and opportunities faced by the first American inhabitants as they explored uncharted territories.
Comprehension questions
I will read each question. Then, please answer them based on the article.
What is the significant archaeological development mentioned in the article?
Where were the ancient human footprints found, and when were they initially disclosed to the public?
How old are the footprints according to radiocarbon dating, and why is this age astonishing?
What does the discovery of these footprints challenge regarding our understanding of American human history?
Where were the 61 footprints discovered, and what do they suggest about human arrival in the area?
Discussion questions
I will read each question. Then, please answer them.
Have you ever participated in a discussion or debate about a historical topic that challenged your prior understanding? If yes, how did it feel to reconsider your viewpoint, and did it lead to a change in your perspective? If not, would you be open to engaging in such discussions, especially regarding discoveries like the ancient footprints in White Sands National Park? Why or why not?
Have you ever questioned the accuracy or validity of scientific research or findings in any field? If yes, what were your reasons for skepticism, and how did you approach seeking more information or clarification? If not, can you think of a situation where you might question scientific findings, like the skeptics did in the article about the ancient footprints? What would prompt you to do so?
Do you find the discovery of ancient footprints challenging our understanding of history intriguing?
How might the discovery of ancient footprints in White Sands National Park impact our understanding of early human migration and settlement in the Americas? What broader implications could this have for archaeology and history?
In the article, skeptics initially questioned the dating of the footprints. What lessons can we draw from this about the importance of rigor and skepticism in scientific research? How can scientists address such skepticism and validate their findings to build credibility in the scientific community?
Listening: