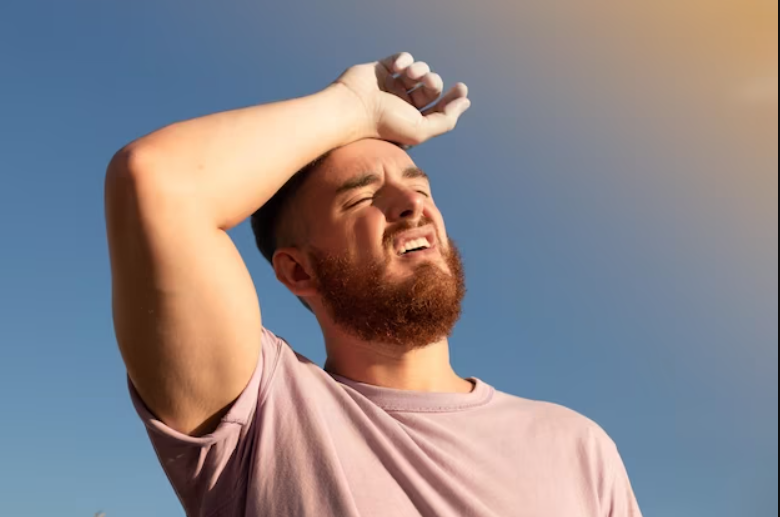 Pre-reading questions:
I will read each question. Then, please answer them.
What do you think is meant by "extremely hot weather"?
How do you think it can impact people and the environment?
Vocabulary:
I will read the words, meanings, and sample sentences. Then, repeat after me.
extreme /ik-STREEM/

[adjective] – very large in amount or degree
The extreme heat during the summer made it challenging to spend time outdoors.

remarkable /ri-MAHR-kuh-buhl/

[adjective] – unusual or special, and therefore surprising and worth mentioning
The young artist's talent was truly remarkable; her paintings captured the essence of nature with extraordinary detail and beauty.

deadly /DED-lee/

[adjective] – likely to cause death
Venomous snakes can deliver a deadly bite if not treated promptly.

surface /SUR-fis/

[noun] – the outer or top part or layer of something
The surface of the lake was calm and reflected the blue sky.

emphasize /EM-fuh-sahyz/

[verb] – to show that something is very important or worth giving attention to
The teacher wanted to emphasize the importance of good study habits to the students.
Article reading:
Please read the whole article. Then, I will check your pronunciation and intonation.
The Copernicus Climate Change Service confirmed September 2023 as the hottest month ever, marking the fourth consecutive month of extreme heat. This 0.5°C rise above the 2020 record puts 2023 on course to be the hottest year ever. Samantha Burgess of Copernicus voiced concern, calling it "unprecedented for this time of year," prompting worries about global climate goals and more frequent extreme weather events.
In September, global temperatures surged to an average of 16.38°C (61.45°F), akin to a hot July. This was 0.93°C higher than the 1991-2020 average and a remarkable 1.75°C above pre-industrial September levels, exceeding the Paris Climate Agreement's 1.5°C limit. The consequences of this extreme heat were devastating, causing deadly floods in Libya, Greece, Bulgaria, and Turkey, an unprecedented wildfire season in Canada, and record-breaking heatwaves in South America. Additionally, sea surface temperatures reached an unprecedented 20.92 degrees Celsius (69.66 Fahrenheit), and Antarctic sea ice hit record lows. Climate scientist Zeke Hausfather aptly described the situation as "gobsmackingly bananas," meaning astonishingly extraordinary. With European nations still experiencing record-breaking temperatures in October, the likelihood of 2023 claiming the title of the hottest year ever recorded is increasing. This emphasizes the urgent need to transition away from fossil fuels and address human-induced climate change, a pressing concern as leaders prepare for the United Nations COP28 climate summit in December.
Comprehension questions
I will read each question. Then, please answer them based on the article.
According to the article, what did the Copernicus Climate Change Service confirm about September 2023?
How much higher was the average temperature in September 2023 compared to the 1991–2020 average?
What word is used in the article to describe the floods in Libya, Greece, Bulgaria, and Turkey caused by extreme heat?
What does the term "gobsmackingly bananas" mean in the context of the article?
Why is it mentioned that sea surface temperatures reached an unprecedented level in September?
Discussion questions
I will read each question. Then, please answer them.
Have you ever experienced extremely hot weather, similar to what was mentioned in the article about September 2023? If yes, how did it make you feel, and how did you cope with the heat? If not, do you worry about the possibility of such extreme heat in the future and its potential effects on your community?
Have you or anyone you know been personally affected by a natural disaster, like floods or wildfires, as mentioned in the article? If yes, how did it impact your life and the lives of those affected? If not, are you concerned about the increasing frequency of such events, as indicated in the article, and how they might affect people in your region?
Do you think the rising global temperatures, as discussed in the article, are a cause for concern?
In your opinion, what role do you think international agreements like the Paris Climate Agreement play in addressing global climate issues, based on what you've read in the article? Why?
Given the alarming information in the article, what actions do you believe individuals, communities, and governments should take to mitigate the impacts of extreme heat and climate change? How can people contribute to addressing these challenges on a personal level?
Listening: