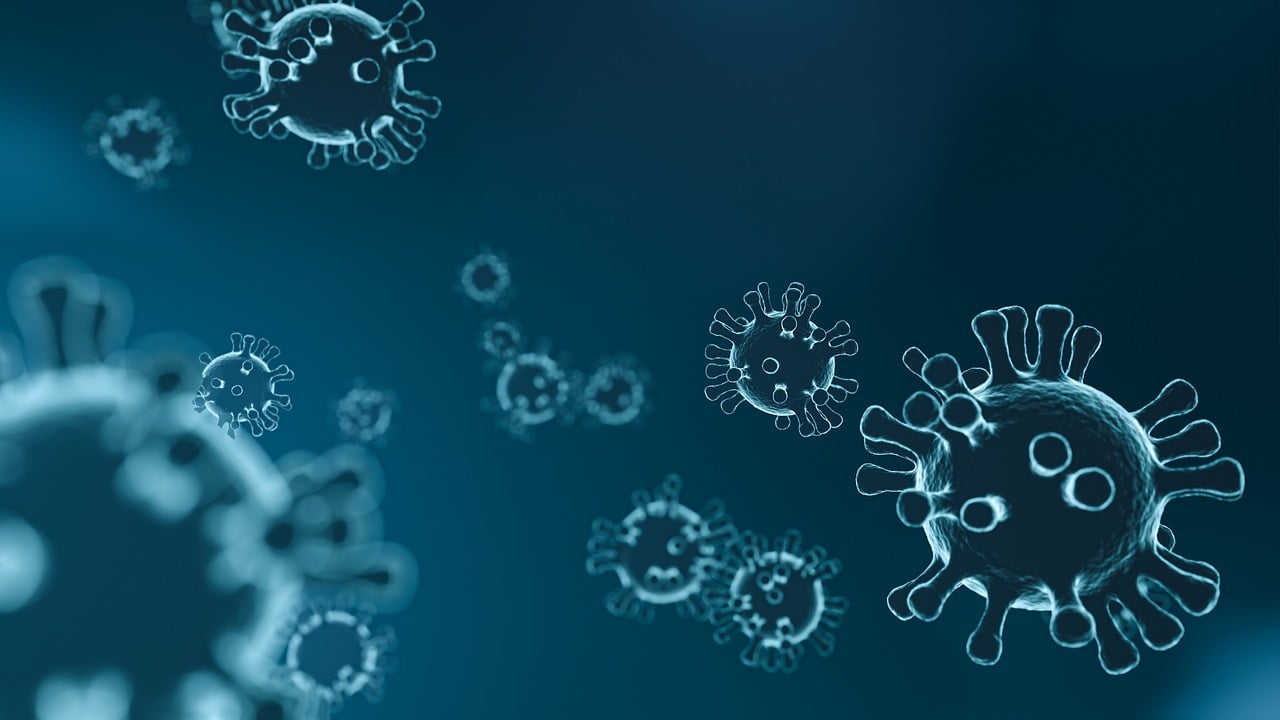 Pre-reading questions:
I will read each question. Then, please answer them.
What comes to mind when you think about 'viruses'?
Can you think of any historical examples where viruses have significantly impacted human populations or ecosystems?
Vocabulary:
I will read the words, meanings, and sample sentences. Then, repeat after me.
extensive /ik-STEN-siv/

[adjective] – covering a large area; having a great range
The national park boasts extensive forests, rivers, and hiking trails for visitors to explore.

calmly /KAHM-lee/

[adverb] – in a peaceful, quiet way and without worry or extreme emotion
Despite the chaos around them, she handled the situation calmly and with grace.

symptom /SIMP-tuhm/

[noun] – any feeling of illness or physical or mental change that is caused by a particular disease
She experienced several symptoms, including fever, fatigue, and a persistent cough.

severe /suh-VEER/

[adjective] – causing very great pain, difficulty, worry, damage, etc.; very serious
The earthquake caused severe damage to the city.

significant /sig-NIF-i-kuhnt/

[adjective] – important or noticeable
The discovery of a new species in the forest is significant for the field of biology.
Article reading:
Please read the whole article. Then, I will check your pronunciation and intonation.
In southern India's Kerala state, there is a Nipah virus outbreak, a rare and potentially life-threatening disease that has resulted in two individuals affected. To prevent its spread, schools are closed, and extensive testing is being carried out. The state's Chief Minister, Pinarayi Vijayan, has confirmed the virus in the Kozhikode district and is urging caution and adherence to guidelines. This marks the fourth outbreak in the state since 2018, and Vijayan is advising residents to approach the situation calmly without giving in to fear.
The Nipah virus can pass from animals to humans. It can also spread through contaminated food or direct contact. It leads to various symptoms, from mild to severe, starting with headaches and drowsiness. In serious cases, it can lead to a critical condition. It can also cause breathing problems and brain inflammation. There's no vaccine yet, and treatment is limited. In Kerala, over 700 close contacts have been found, with 77 considered high-risk. Some schools in Kozhikode are closed, and seven villages are restricted. In 2018, Kerala faced a major Nipah outbreak, with 17 individuals affected. The virus was first found in Malaysia in 1998–1999, leading to significant pig culling. It is mostly transmitted from infected pigs, but human-to-human transmission, especially among caregivers, has been seen. The Nipah virus is a major concern for the World Health Organization, needing urgent research.
Comprehension questions
I will read each question. Then, please answer them based on the article.
Where is the Nipah virus outbreak currently happening, and how many individuals are affected?
What measures are being taken to prevent the spread of the Nipah virus in Kerala state, India?
Who is the Chief Minister of Kerala, and what has he confirmed regarding the virus outbreak?
How many outbreaks of the Nipah virus have occurred in Kerala since 2018?
What advice does Chief Minister Pinarayi Vijayan give to residents in response to the Nipah virus outbreak?
Discussion questions
I will read each question. Then, please answer them.
Have you heard of the Nipah virus before reading this? If so, what did you know about it? If not, what do you think about it now?
Have you ever seen a community or government respond to a disease outbreak like Nipah virus? What did you think of their response? If not, how do you imagine you'd react in such a situation?
Do you think it's important for global health groups to focus on research for rare and potentially deadly diseases like Nipah virus?
Since the Nipah virus comes from animals, how do you think it might affect local farming and animal practices where the outbreak happens?
Given how serious the Nipah virus is and how hard it is to treat and prevent, what do you believe global health organizations should do to tackle this problem effectively?
Listening: