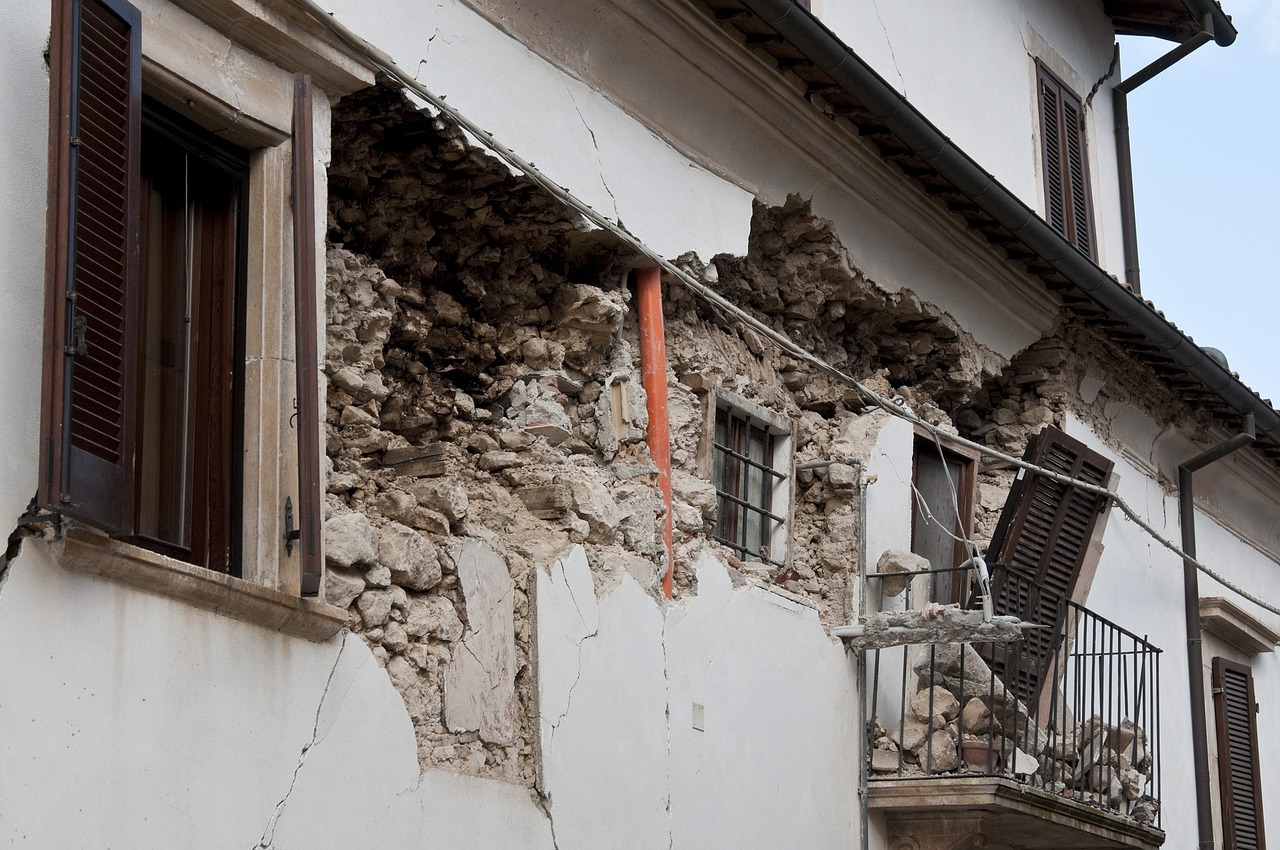 Pre-reading questions:
I will read each question. Then, please answer them.
講師がそれぞれの質問を読むので答えましょう。
Have you ever heard about earthquakes before?
Do you know where earthquakes usually happen?
Vocabulary:
I will read the words, meanings, and sample sentences. Then, repeat after me.
単語、意味、例文を読みます。講師に続いて音読しましょう。
damage /DAM-ij/

[noun] – harm or injury
The storm caused a lot of damage to the house.

ancient /EYN-shuhnt/

[adjective] – of or from a long time ago, having lasted for a very long time
The ancient ruins of the temple attract tourists from all over the world.

frequent /FREE-kwuhnt/

[adjective] – happening often
In the rainy season, we experience frequent thunderstorms in this region.

government /GUHV-ern-muhnt/

[noun] – the group of people who officially control a country
The government is responsible for making and enforcing laws in our country.

explode /ik-SPLOHD/

[verb] – to break up into pieces violently or to cause something to do this
The fireworks will explode in the sky with beautiful colors during the celebration.
Article reading:
Please read the whole article. Then, I will check your pronunciation and intonation.
記事を音読しましょう。講師はあなたの発音とイントネーションを確認します。
After Naples, Italy's strongest earthquake in 40 years, a recent magnitude 4.0 quake caused minor building damage but no injuries. On September 27, a 4.2-magnitude quake reached Rome. These quakes happened in Campi Flegrei, an area with ancient volcanoes and frequent shaking. Campi Flegrei is beneath the Bay of Naples, Ischia, and Capri and is known for ground movements called bradyseism. The last big eruption was in 1538, changing the land. In 2023, almost 3,000 earthquakes were recorded, leading INGV's Carlo Doglioni to share two scenarios with the government: one where the ground settles, like in 1983–84, and another with a major eruption, like 1538. The situation is closely watched.Because of these things, INGV says people who live near the volcanoes should leave their homes for a while to check if their buildings are safe. Many of these buildings were built in the last 20 years. Around 800,000 people live in the "yellow zone" and 500,000 in the "red zone," which is the riskiest area near earthquakes and volcanoes. People who live there want a new plan to leave if the volcano explodes.
True or False:
Read the sentences and identify if they are true or false based on the article.
文章を読んで、記事に基づいて正誤を答えましょう。
Naples, Italy, recently experienced a magnitude 4.0 earthquake that caused significant injuries.
A 4.2-magnitude earthquake on September 27th was felt in Rome.
Campi Flegrei is an area known for ancient volcanoes and frequent seismic activity.
The last major eruption in Campi Flegrei happened in 1983.
People living near the volcanoes in the "yellow zone" and "red zone" want a new plan in case a volcano erupts.
Fill in the blanks:
Choose the correct word from the table then fill in the blanks.
適切な言葉を選んで空欄を埋めましょう。
| | | | | |
| --- | --- | --- | --- | --- |
| damage | ancient | frequent | government | explode |
The recent earthquake in Naples, Italy, caused minor building __________, but luckily, there were no injuries.
The region experiences __________ seismic activity.
They discussed one where the ground settles, and another where a major eruption might __________.
The area where these tremors occurred is known for its__________ volcanoes.
INGV's Carlo Doglioni shared two scenarios with the __________.
Listening: