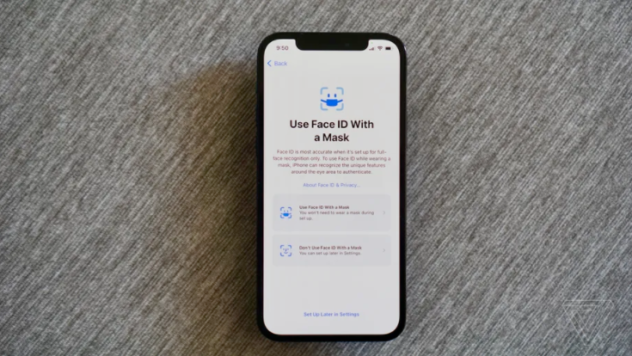 ©Chaim Gartenberg/The Verge
Pre-reading questions:
I will read each question. Then, please answer them.
講師がそれぞれの質問を読むので答えましょう。
Do you own any Apple device?
Do you protect all of your devices with passcodes?
Vocabulary:
I will read the words, meanings, and sample sentences. Then, repeat after me.
単語、意味、例文を読みます。講師に続いて音読しましょう。
convenient /kuhn-VEEN-yuhnt/

[adjective] – involving little trouble or effort
These meals are quick and convenient to prepare.

model /MOD-l/

[noun] – a particular type of machine, especially a car, that is slightly different from machines of the same type
The phone model comes in eight different colors.

activate /AK-tuh-veyt/

[verb] – to cause something to start working
To activate your GPS, go to your device's location settings.

consider /kuhn-SID-er/

[verb] – to spend time thinking about a possibility or making a decision
Even if we already heard Mike's story, we should still consider Ben's side to be fair.

warn /wawrn/

[verb] – to make someone realize a possible danger or problem, especially one in the future
I tried to warn him about the bad weather, but he wouldn't listen.
Article reading:
Please read the whole article. Then, I will check your pronunciation and intonation.
記事を音読しましょう。講師はあなたの発音とイントネーションを確認します。
Apple fans were surprised by the company's latest update (iOS15.4) that offers a convenient feature. Users of iPhone 12 or later models can now unlock their devices using Face ID while wearing a mask. But the question is: is it safe?
The user needs to take several detailed photos of their faces to activate this option. The device can recognize specific and important parts of the face like eyes, the tip of the nose, birthmarks or freckles on the forehead, and so on. This would be helpful for iPhone users who had to physically remove their masks to show their entire faces just to unlock their phones. It might feel kind of unsafe if they were in a public place, or if they had not yet been able to clean their hands before touching their face mask.
Creators have been working on this function for two years since the COVID-19 health issue started. But of course, not-so-good things should also be considered. Apple warns users that "face ID is most accurate when it's set up for full-face recognition only."
True or False:
Read the sentences and identify if they are true or false based on the article.
文章を読んで、記事に基づいて正誤を答えましょう。
The Face ID update started with the iOS14 update.
The update can be used by users who own an iPhone X and later models.
With this feature, the devices can recognize the eyes, tip of the nose, and freckles/birthmarks on the face.
Apple developers have been working on this update for two years since COVID-19 started.
It guarantees users that the new Face ID is 100% accurate.
Fill in the blanks:
Choose the correct word from the table then fill in the blanks.
適切な言葉を選んで空欄を埋めましょう。
| | | | | |
| --- | --- | --- | --- | --- |
| convenient | model | activate | consider | warn |
The doctor ______ him of the bad effects of drinking alcohol.
This ______ of Samsung Galaxy smartphone did not sell well on the market.
I'll ______ your offer, but I make no promises.
These security cameras must be _______ during and outside office hours.
Unfortunately, it's not _______ for me to go out today.
Listening: