Pre-reading questions
I will read each question. Then, please answer them.
講師がそれぞれの質問を読むので答えましょう。
What is your favorite season?
What do you like doing in autumn?
Vocabulary
I will read the words, meanings, and sample sentences. Then, repeat after me.
単語、意味、例文を読みます。講師に続いて音読しましょう。
autumn /AW-tuhm/

[noun] – the season of the year between summer and winter
The leaves turn red in autumn.

display /dih-SPLEY/

[noun] – a collection of objects or pictures arranged for people to look at
We enjoyed the fireworks display.

surround /suh-ROUND/

[verb] – to be around something on all sides
Many tall trees surround the lake.

away /uh-WEY/

[adverb] – at a distance (of or from here)
The train station is about 15 minutes away from here.

scenery /SEE-nuh-ree/

[noun] – the general appearance of the natural environment, especially when it is beautiful
The mountain is known for its beautiful scenery.
Article reading
Please read the whole article. Then, I will check your pronunciation and intonation.
記事を音読しましょう。講師はあなたの発音とイントネーションを確認します。
Autumn
is the season that welcomes the cold winter. Here are three places in Japan to see the best autumn leaves:
Jozankei, Hokkaido
You can enjoy the beauty of the red and yellow leaves while on a boat or a horse in Jozankei. You can also see them at the top of the mountain.
Minoo Park, Osaka
Minoo Park is popular for its
displays
of autumn leaves. Minoo Falls can also be seen in this place, which is
surrounded
by nature and has a hiking track leading to it.
Momijidani Park, Hiroshima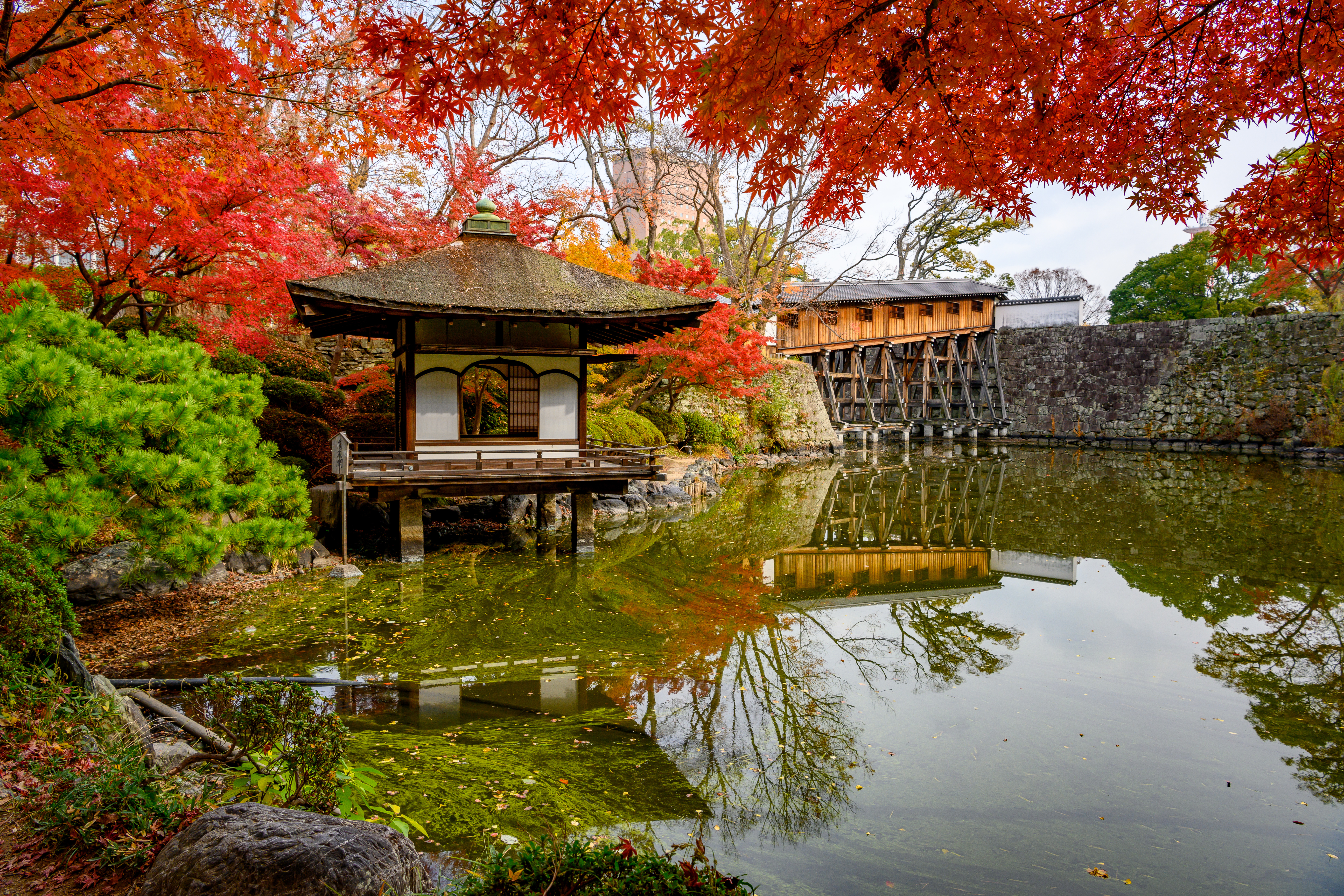 Momijidani Park is just 10 minutes
away
from Itsukushima Shrine. There are about 700 maple leaves around the park that show bright colors every year from mid- to late November.
Watching the leaves change has been a tradition in Japan during the fall season that starts in September. Visit Japan and enjoy its beautiful
scenery
!
True or False:
Read the sentences and identify if they are true or false based on the article.
文章を読んで、記事に基づいて正誤を答えましょう。
Autumn is the season before winter.
Jozankei is located in Osaka.
You can also see the autumn leaves from the top of a mountain in Jozankei.
Momijidani Park is five minutes away from Itsukushima Park.
Around 700 maple trees surround Momijidani Park.
Fill in the blanks
Choose the correct word from the table then fill in the blanks.
適切な言葉を選んで空欄を埋めましょう。
| | | | | |
| --- | --- | --- | --- | --- |
| autumn | display | surround | away | scenery |
How far _______ is the station from the bookstore?
_______ is my mother's favorite season.
The ocean has a beautiful _______.
Mountains _______ the village.
The cherry blossoms _______ was breathtaking.
Listening