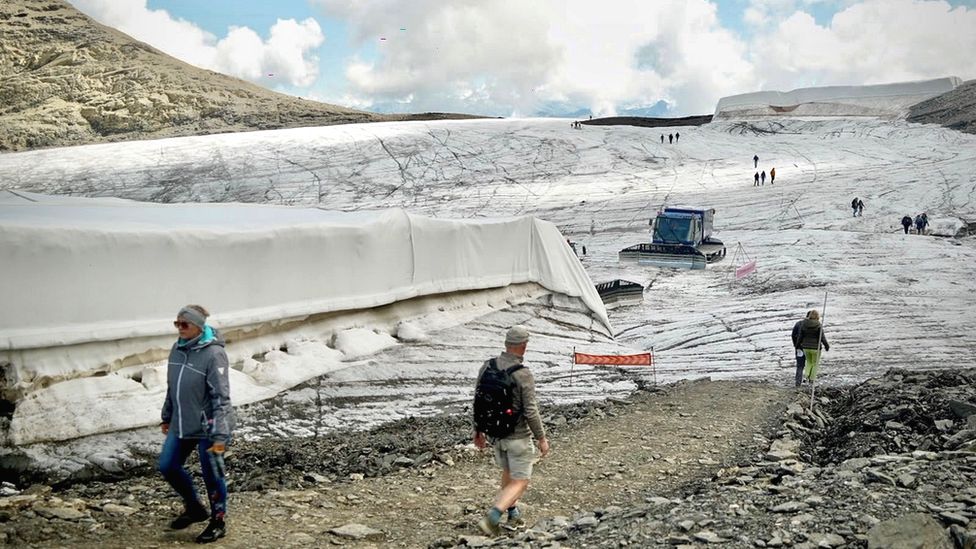 © BBC News
Vocabulary
I will read the words, meanings, and sample sentences. Then, repeat after me.
prolong /pruh-LAWNG/

[verb] – to make something last a longer time
He chose to prolong his stay into the weekend.

exacerbate /ig-ZAS-er-beyt/

[verb] – to make something that is already bad even worse
Don't interfere. It might exacerbate the situation.

thaw /thaw/

[noun] – a period of warmer weather when snow and ice begin to melt
The thaw frequently causes the river to overflow.

off the charts /of thuh chahrts/

[idiom] – quite a lot more or better than is usual or was expected
It came as no surprise that their asking price became off the charts.

barge /bahrj/

[noun] – a long boat with a flat bottom, used for carrying heavy loads
A barge could be seen about a hundred yards offshore.
Article reading
Please read the whole article. Then, I will check your pronunciation and intonation.
A new study shows that Switzerland's glaciers have lost more than half of their volume in less than 100 years, and the prolonged summer this year has exacerbated the thaw. The Tsanfleuron and the Scex Rouge glaciers have split, exposing previously unseen ground for the past thousands of years. Because glaciers are extremely sensitive to temperature changes, they are the first to notice when the Earth warms and responds by melting. The University of Bern glaciologist Mauro Fischer is in charge of keeping an eye on the Tsanfleuron and Scex Rouge. He puts in ice measuring rods every year in the spring and observes them throughout the summer and fall. The rods were lying on the ground after entirely melting out of the ice. He claims that his ice measurements were "off the charts," far exceeding anything we've ever measured since the beginning of glacier monitoring, and that "perhaps three times more mass loss occurred over one year than the average over the last ten years."
Glaciers are known as the water towers of Europe. They hold the winter snow and slowly release it over the summer, supplying water for Europe's rivers, agriculture, and nuclear power plants as well as cooling them. Already this summer, there have been delays in shipping along the Rhine in Germany because the water level is too low for barges carrying heavy loads. In Switzerland, waterways that are too shallow and too warm are rapidly cleaned of dead fish. Due to a lack of water to cool them, nuclear power plants in France and Switzerland had to cut their output.
Discussion Questions
I will read each question. Then, please answer them.
Where does your city get its water supply from? Has it ever run out of supply? Please share.
Do you worry about the water supply in the future? Please tell me more about it.
What would you do if you were affected by the declining supply of water?
Do you think artificial glaciers could help lessen the impact of Europe's water supply problem?
Where else do you think Europe could get a temporary water supply?
Summarization
Please summarize the whole article using your own words and expressions. You will have one minute to prepare before you answer.
Describe
Please explain the definition of each word listed below based on your understanding. You can provide example sentences if needed.
split
expose
unseen
entirely
waterway
Listening