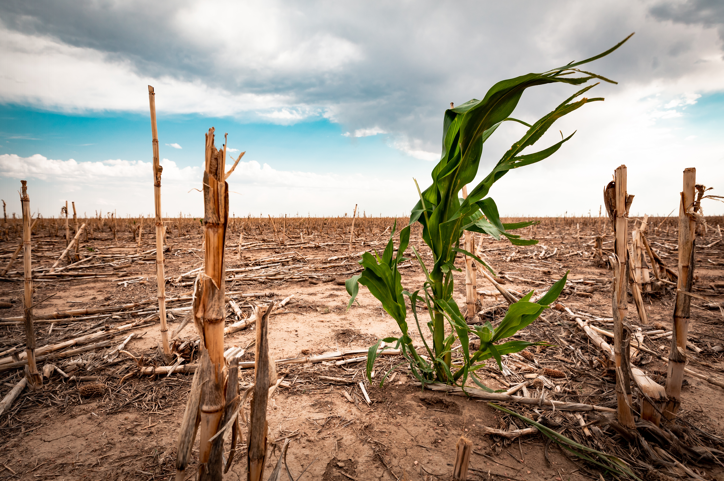 Vocabulary
I will read the words, meanings, and sample sentences. Then, repeat after me.
drought /drout/

[noun] – a long period when there is little or no rain
Many sheep died due to the drought that year.

deficit /DEF-uh-sit/

[noun] – the amount by which something, especially an amount of money, is smaller than it should be
There is a significant food supply deficit in many nations.

extreme /ik-STREEM/

[noun] – the greatest possible amount or degree of something
Exercise extreme caution whenever driving through fog.

famine /FAM-in/

[noun] – a situation in which there is not enough food for a great number of people, causing illness and death, or a particular period when this happens
The population in this area has decreased as a result of famine and war.

respectively /ri-SPEK-tiv-lee/

[adverb] – in a way that relates or belongs to each of the separate people or things you have just mentioned
James and Christian are 10 and 13 years old, respectively.
Article reading
Please read the whole article. Then, I will check your pronunciation and intonation.
Parts of China, Europe, Africa, and the US have seen extremely high temperatures this summer. According to the EU's Copernicus environmental program, the drought that Europe has been experiencing this summer may be the worst the continent has seen in 500 years. The "soil moisture deficit" affected over half of Europe at the height of the dry period in late August. Meanwhile, China's largest river, the Yangtze, shrank as a result of the country's extreme heat and severe lack of rainfall. According to official Chinese data, there was 60% less rain in the river's drainage basin in August than usual. However, the Chinese authorities issued more than 13,000 heavy rain warnings in July, along with eight drought advisories. More than 28 drought warnings and 10,000 warnings of heavy rain were issued in 2019 during the same time period. Extremes in both wet and dry weather are a result of global climate change.
The UN has issued a warning that 22 million people may be in danger of famine due to drought conditions in eastern Ethiopia, northern Kenya, and Somalia. In general, "relative to 1970-79, the numbers of droughts and floods were nearly threefold and tenfold, respectively, by 2010-19," based on a 2021 World Bank assessment. Due to years of drier and hotter weather, drought conditions in the western US have become the norm. In a report released in February, the American West has seen the most severe drought conditions in 1,200 years over the past two decades. And this summer's hot, dry weather contributed to forest fires in a number of states and a decline in water storage levels.
Discussion Questions
I will read each question. Then, please answer them.
When is the dry season in your country? Have you experienced a drought?
What was the highest temperature recorded in your country? Please tell me more about it.
What would you do in preparation for a possible food shortage?
Do you think there are any ways to increase rainfall in drought-ridden areas?
In your opinion, how can extreme weather conditions affect the economy and social life in countries?
Summarization
Please summarize the whole article using your own words and expressions. You will have one minute to prepare before you answer.
Describe
Please explain the definition of each word listed below based on your understanding. You can provide example sentences if needed.
affect
severe
drainage
the norm
decline
Listening