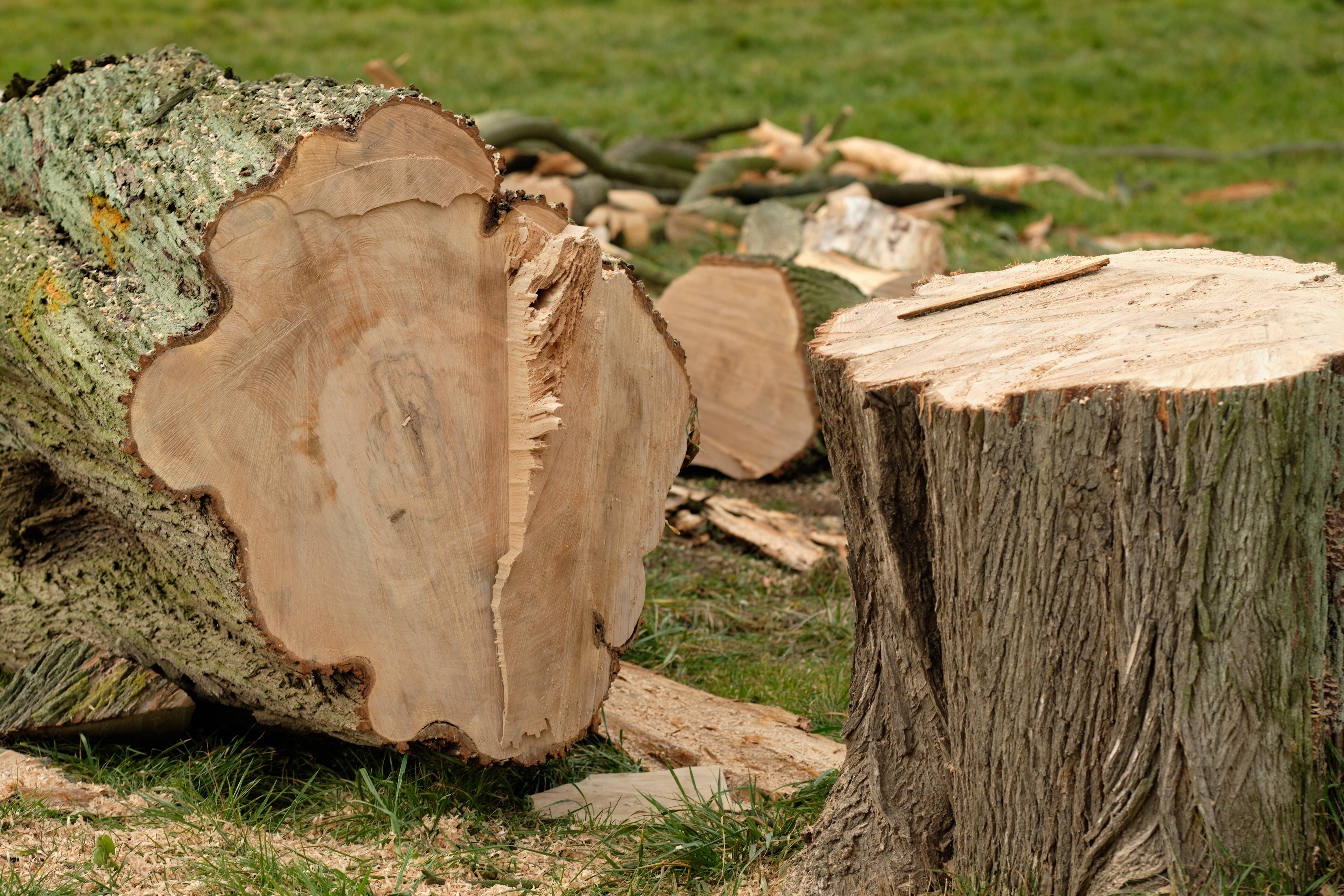 Pre-reading questions
I will read each question. Then, please answer them.
What is the importance of trees to the environment?
Do you believe there will be fewer trees in the future? Why?
Vocabulary
I will read the words, meanings, and sample sentences. Then, repeat after me.
landowner /LAND-oh-ner/

[noun] – someone who owns land, especially a large amount of land
Liam is the wealthy landowner's son.

illegally /ih-LEE-guhl/

[adverb] – in a way that is illegal
The video had been illegally copied and distributed.

stump /stuhmp/

[noun] – the part of something such as a tree, tooth, arm, or leg that is left after most of it has been removed
The picnic's seating was made up of rocks and tree stumps.

decay /dih-KEY/

[verb] – to become gradually damaged, worse, or less; to cause something to do this:
The timber has started to decay.

misleading /mis-LEE-ding/

[adjective] – causing someone to believe something that is not true
A portion of the information was gravely misleading.
Article reading
Please read the whole article. Then, I will check your pronunciation and intonation.
Natural Resources Wales (NRW) reports that over 2,000 trees have been cut down from an eight-hectare area at Fairwood on the Gower peninsula in Swansea. Landowner Jeff Lane, 72, is appealing his conviction for illegally removing protected trees from a wooded area. When visiting the location, Andrew Wright of NRW informed the court that he discovered "blatant" and "shocking" damage. He stated that during a June 2019 check of the site, woodland authorities discovered areas with stumps and pieces of trees that had been removed. The following year, Mr. Ward saw others suffered damage that prevented their rehabilitation.
The majority of the trees, according to Mr. Lane of Old Forge, Fairwood, were entirely waterlogged and decaying when he purchased the land in 2017. He explained he "cut down rotten and decayed trees" in an attempt to improve the land. In addition, he said that nothing would grow there; as a result, he intended to drain the region. Defense counsel David Leathley said Mr. Lane had received misleading information. He made reference to NRW telling Mr. Lane he was doing a great job when they visited the site. Mark Chester, an arboricultural advisor, also questioned the number of trees that were felled, saying that he believed it was just 362, and that he had not seen any evidence that it had been as high as 2,000.
Comprehension questions
I will read each question. Then, please answer them based on the article.
According to Natural Resources Wales, how many trees were cut down in Swansea?
How did Andrew Wright describe the damage at the site?
What did woodland authorities discover in 2019?
Why did Jeff Lane cut down the trees?
According to David Leathley, what misleading information did NRW tell Mr. Lane?
Discussion questions
I will read each question. Then, please answer them.
What is the most forested area in your country? Where is it located?
Is tree cutting a common occurrence in your country? Please tell me more about it.
If you were Jeff Lane, would you do the same? If yes, why? If not, what else would you do?
Do you think it is acceptable for landowners to cut down decayed trees?
What should be the correct process when purchasing land?
Listening