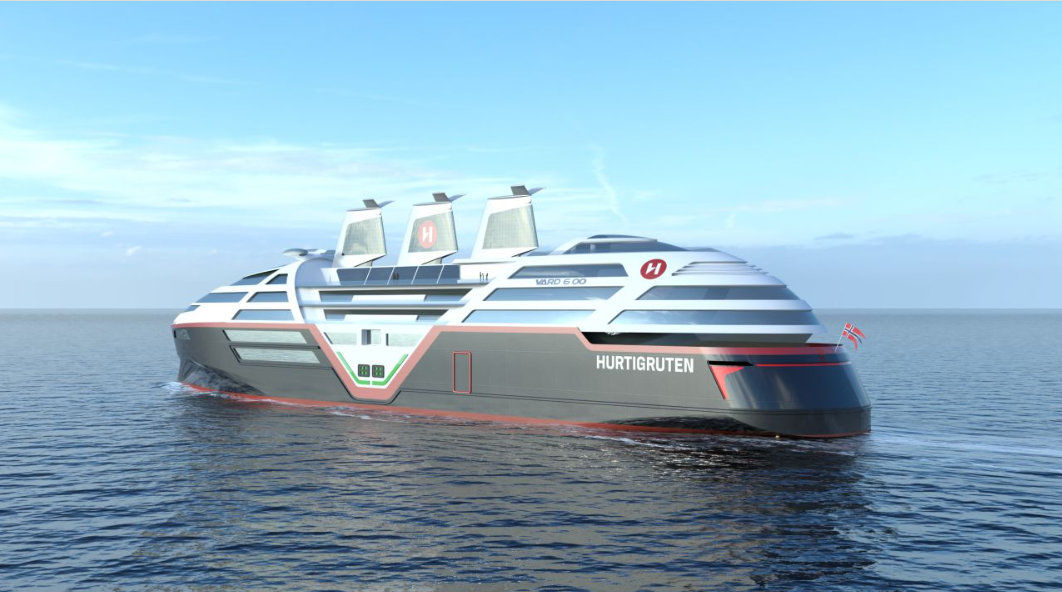 ©VARD via CNN
Pre-reading questions:
I will read each question. Then, please answer them.
What is a cruise ship?
If you were given the opportunity to go on a cruise, where would you want to go and why?
Vocabulary:
I will read the words, meanings, and sample sentences. Then, repeat after me.
operator /OP-uh-rey-ter/

[noun] – a company that does a particular type of business
The tour operator arranged transportation, accommodations, and guided tours for the group of travelers.

harmful /HAHRM-fuhl/

[adjective] – causing harm
The disposal of toxic waste in rivers and oceans can have harmful effects on marine life and ecosystems.

leadership /LEE-der-ship/

[noun] – the position or fact of being the leader
The CEO's leadership contributed to the company's success and growth.

global /GLOH-buhl/

[adjective] – relating to the whole world
The United Nations is an international organization that addresses global challenges and promotes peace and cooperation among nations.

adopt /uh-DOPT/

[verb] – to accept or start to use something new
The team plans to adopt a collaborative approach to achieve their goals.
Article reading:
Please read the whole article. Then, I will check your pronunciation and intonation.
Norwegian cruise operator Hurtigruten has unveiled the world's first zero-emission cruise ship, the MS Fridtjof Nansen. This is a significant milestone in the maritime industry's fight against climate change. The eco-friendly vessel employs cutting-edge technology, including a hybrid propulsion system fueled by electricity, liquified natural gas (LNG), and advanced battery packs. This allows for the complete elimination of harmful emissions like carbon dioxide (CO2) and nitrogen oxide (NOx). The MS Fridtjof Nansen's efficient hull design and incorporation of the latest green technologies contribute to a substantially reduced environmental impact, setting the stage for sustainable tourism.
Hurtigruten's commitment to environmental responsibility goes beyond a single vessel. The company aims to convert its entire fleet into low-emission ships, aligning with Norway's goal of becoming a zero-emission society and reinforcing the nation's leadership in the global fight against climate change. The launch of the MS Fridtjof Nansen sets a new standard for the industry and inspires other cruise operators to adopt cleaner technologies. By combining state-of-the-art technology with a strong commitment to sustainability, Hurtigruten is spearheading efforts to reduce greenhouse gas emissions and create a carbon-neutral cruising experience. The zero-emission ship not only offers awe-inspiring travel experiences but also underscores the importance of minimizing the environmental impact of the tourism industry. Hurtigruten's groundbreaking initiative showcases the potential for a greener and more sustainable future for the maritime sector.
Comprehension questions
I will read each question. Then, please answer them based on the article.
What is special about Norwegian cruise operator Hurtigruten's new cruise ship, MS Fridtjof Nansen?
How does the MS Fridtjof Nansen achieve zero-emission status?
What environmental benefits are achieved through the ship's hybrid propulsion system?
What is Hurtigruten's goal regarding its fleet of ships?
What does the launch of the MS Fridtjof Nansen mean for Norway's position in combating climate change?
Discussion questions
I will read each question. Then, please answer them.
Have you ever been on a cruise ship? How was the experience? If not, would you like to? Why or why not?
How important is it to you that cruise operators take steps towards reducing their environmental impact, such as adopting zero-emission technologies?
Would the availability of a zero-emission cruise ship like the MS Fridtjof Nansen influence your decision to book a cruise in the future?
How significant is Hurtigruten's commitment to converting its entire fleet into low-emission vessels in the context of combating climate change?
What other measures or initiatives do you believe should be taken by the tourism industry to further reduce its environmental impact?
Listening: