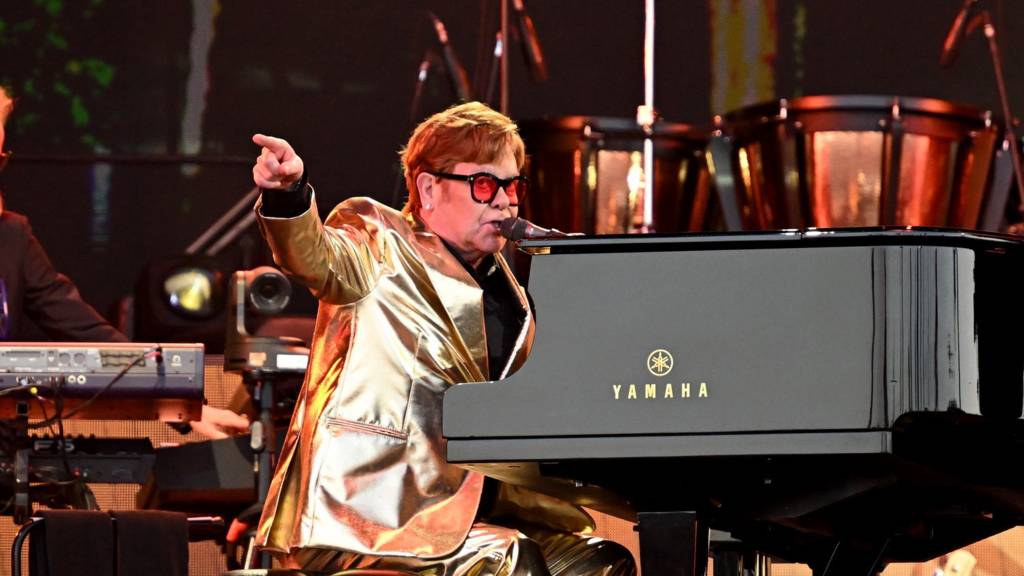 ©BBC
Pre-reading questions:
I will read each question. Then, please answer them.
What is the most memorable concert or live performance you have attended?
Who do you consider an iconic figure in the music industry?
Vocabulary:
I will read the words, meanings, and sample sentences. Then, repeat after me.
icon /AHY-kon/

[noun] – a very famous person or thing considered as representing a set of beliefs or a way of life
Michael Jackson is regarded as a cultural icon for his groundbreaking music.

remarkable /ri-MAHR-kuh-buhl/

[adjective] – unusual or special and therefore surprising and worth mentioning
The students' performance in the school play was remarkable.

cheer /cheer/

[verb] – to give a loud shout of approval or encouragement
The team's supporters gathered in the stands to cheer and celebrate their victory.

represent /rep-ri-ZENT/

[verb] – to be a sign or symbol of something
Timothy was chosen to represent his school at the science fair.

enthusiastic /en-thoo-zee-AS-tik /

[adjective] – showing enthusiasm
The students were enthusiastic about the upcoming field trip.
Article reading:
Please read the whole article. Then, I will check your pronunciation and intonation.
Elton John, the renowned British music icon, concluded his remarkable career with a memorable performance at Glastonbury. With his extraordinary talent and captivating stage presence, the 76-year-old singer delighted fans with classic pop hits like "Bennie And The Jets" and "Tiny Dancer." Expressing his happiness, Elton mentioned that this moment would always hold a special place in his heart. The crowd of over 120,000 cheered as he performed iconic songs like "Pinball Wizard" and "The Bitch Is Back."
Glastonbury served as the grand finale of Elton John's Farewell Yellow Brick Road tour, which earned a remarkable $887 million at the box office. With only a few shows remaining, including the final performance in Stockholm, this tour represents the culmination of an incredible musical journey. From his humble beginnings to becoming a beloved figure in rock music, Elton John's impact is unmatched.
The enthusiastic crowd at Glastonbury celebrated Elton John's farewell with great enthusiasm, creating a truly unforgettable atmosphere. It was a joyous tribute to an extraordinary career that has left an indelible mark on the music industry. As the final chords echoed, Elton John's legacy stood tall, forever etched in the hearts of music enthusiasts around the world.
Comprehension questions
I will read each question. Then, please answer them based on the article.
How would you describe Elton John's talent and stage presence?
Which songs did Elton John perform at Glastonbury?
Where did Elton John conclude his career?
How did Elton John express his emotions about the performance?
What is the lasting impact of Elton John's career on the music industry?
Discussion questions
I will read each question. Then, please answer them.
Have you ever been to a concert or musical performance that you will always remember? If yes, what was the experience like, and what made it special? If not, can you imagine what kind of concert or performance you would like to attend in the future and why?
If you were present at Elton John's final concert, how do you think you would have felt while he was performing?
Do you think Elton John's record-breaking tour and his last show in England will have a long-lasting impact on the music industry?
What do you think about Elton John's choice to retire from touring after his Farewell Yellow Brick Road tour?
Looking back at Elton John's journey and his farewell tour, what do you believe are some important factors that contributed to his incredible success and lasting legacy in the music world?
Listening: