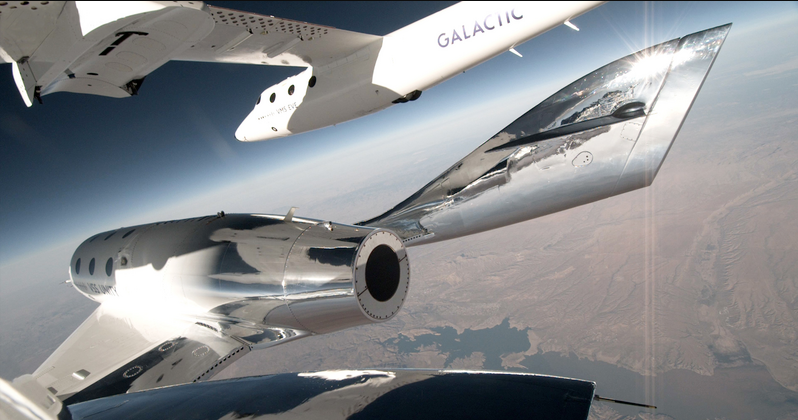 ©https://www.virgingalactic.com/
Vocabulary:
I will read the words, meanings, and sample sentences. Then, repeat after me.
entity /EN-ti-tee /

[noun] – something that exists apart from other things, having its own independent existence
The company is a legal entity responsible for its own financial obligations and business operations.

avenue /AV-uh-nyoo/

[noun] – a method or way of doing something
The fashion industry is an avenue of creative expression for designers to showcase their unique styles and concepts.

capability /key-puh-BIL-i-tee/

[noun] – the ability to do something
The team's collaborative nature and diverse skill sets contribute to its collective problem-solving capabilities.

boundary /BOUN-duh-ree/

[noun] – an edge or limit of something
The novel pushes the boundaries of conventional storytelling with its innovative narrative structure.

civilian /si-VIL-yuhn /

[noun] – a person who is not a member of the police or the armed forces
The humanitarian organization provided aid and medical assistance to the war-torn region, focusing on the needs of civilians.
Article reading:
Please read the whole article. Then, I will check your pronunciation and intonation.
Virgin Galactic, the pioneering space tourism company, has announced a partnership with the Italian Air Force for an upcoming mission. The collaboration aims to further advance space exploration and research, showcasing the growing interest of military organizations in space-related initiatives. The Italian Air Force will be participating in a launch mission with Virgin Galactic, utilizing the company's state-of-the-art spacecraft. This collaboration marks a significant milestone as it highlights the increasing involvement of military entities in space programs, opening new avenues for scientific exploration and technological advancements.
The partnership between Virgin Galactic and the Italian Air Force will provide an opportunity for both organizations to exchange knowledge and expertise. It will facilitate the sharing of resources, data, and research findings, enabling a mutually beneficial collaboration that can contribute to the advancement of aerospace technology and capabilities. By joining forces with the Italian Air Force, Virgin Galactic gains access to a wealth of experience and infrastructure within the military sector. This collaboration could lead to significant advancements in areas such as space propulsion, satellite technology, and astronaut training, among others. For the Italian Air Force, this partnership offers an opportunity to explore the possibilities of space-based operations and expand their capabilities beyond Earth's atmosphere. It allows them to harness the cutting-edge technology and expertise of Virgin Galactic to support their own research and development efforts. The collaboration between Virgin Galactic and the Italian Air Force underscores the increasing interest and investment in space exploration by military organizations worldwide. Partnerships like this will play a crucial role in pushing the boundaries of human knowledge and fostering technological innovation for both civilian and defense applications.
Discussion Questions:
I will read each question. Then, please answer them.
What are your thoughts on the partnership between Virgin Galactic and the Italian Air Force for space missions?
If given the opportunity, would you go aboard Virgin Galactic? Why or why not?
Do you think the partnership between Virgin Galactic and the Italian Air Force for an upcoming space mission is safe?
How do you think this partnership could impact the future of space exploration and research?
In what ways can the collaboration between Virgin Galactic and the Italian Air Force enhance the capabilities and operations of both organizations?
Summarization
Please summarize the whole article using your own words and expressions. You will have one minute to prepare before you answer.
Describe:
Please explain the definition of each word listed below based on your understanding. You can provide example sentences if needed.
space tourism
space exploration
state-of-the-art
mutually
astronaut
Listening: