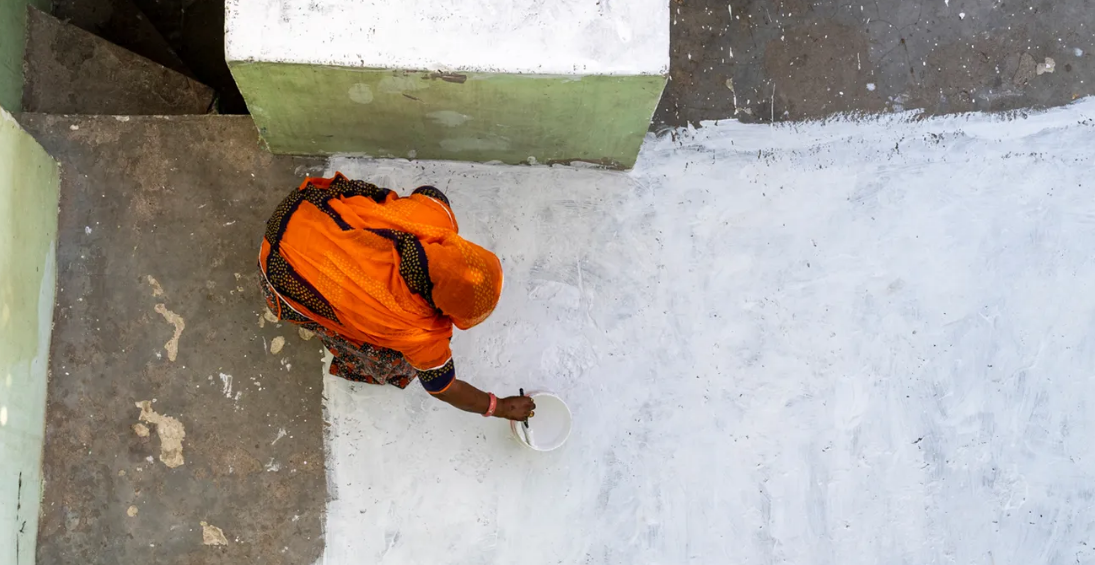 ©Mitul Kajaria
Vocabulary:
I will read the words, meanings, and sample sentences. Then, repeat after me.
scorching /SKAWR-ching/

[adjective] – very hot
After spending the entire day under the scorching sun, I was relieved to finally find shade and cool down with a refreshing drink.

reliance /ri-LAHY-uhns/

[noun] – the state of depending on or trusting in something or someone
Many people have a heavy reliance on their smartphones for communication and accessing information.

appliance /uh-PLAHY-uhns/

[noun] – a device, machine, or piece of equipment, especially an electrical one that is used in the house, such as a stove or washing machine
My mom uses a dishwasher as a helpful appliance to clean all the dirty dishes in our kitchen.

chore /chawr/

[noun] – a job or piece of work that is often boring or unpleasant but needs to be done regularly
Doing the laundry used to be a tedious chore for me, but now I find it more enjoyable by listening to music while folding clothes.

innovation /in-uh-VEY-shuhn/

[noun] – a new idea or method
The company's latest innovation, a smartwatch with built-in health-tracking features, has been receiving positive reviews from tech enthusiasts.
Article reading:
Please read the whole article. Then, I will check your pronunciation and intonation.
Indian slum residents face unbearable heat on summer days due to the scorching sun on tin roofs. However, a simple yet ingenious solution has emerged: white roofs. By applying white paint, indoor temperatures are significantly reduced, bringing relief to women and families. In this article, we'll delve into how this innovative technology is improving the lives of Indian slum dwellers.
White roofs, or "cool roofs," are transforming the lives of people in Indian slums by alleviating the heat trapped inside their homes. The concept is straightforward: by reflecting sunlight instead of absorbing it, the white roofs help keep the interiors cooler. When the sun's rays hit a white surface, they bounce off rather than being absorbed into the building. This reflective quality prevents the heat from entering the homes, providing a much-needed respite during hot summer days. White roofs in Indian slums offer economic advantages beyond temperature reduction. They reduce reliance on energy-intensive cooling appliances, leading to savings on electricity bills. The durability of the white roof coating decreases maintenance costs. Moreover, these roofs empower women by providing a more comfortable environment for cooking and managing household chores. This innovation has the potential to transform lives, improving the well-being and quality of life for families in Indian slums.
White roofs in Indian slums combat heat, improve living conditions, and inspire change. By using reflective white paint, these roofs lower indoor temperatures, saving money, increasing roof durability, and creating better conditions for household activities. This innovative approach demonstrates how simple solutions can have a big impact on challenging communities.
Discussion Questions:
I will read each question. Then, please answer them.
Have you ever experienced unbearable heat during the summer? If so, how did it affect you?
Can you recall a time when you had to rely on energy-intensive cooling appliances to beat the heat? How did it impact your electricity bills?
Do you agree that reducing reliance on energy-intensive cooling appliances through the use of white roofs can lead to savings on electricity bills?
Do you think the concept of white roofs can be applied in other regions or countries facing similar heat-related challenges? Why or why not?
What are some potential economic, social, and environmental benefits that could result from the widespread use of white roofs in Indian slums? How can these benefits be maximized?
Summarization
Please summarize the whole article using your own words and expressions. You will have one minute to prepare before you answer.
Describe:
Please explain the definition of each word listed below based on your understanding. You can provide example sentences if needed.
resident
emerge
transform
empower
demonstrate
Listening: