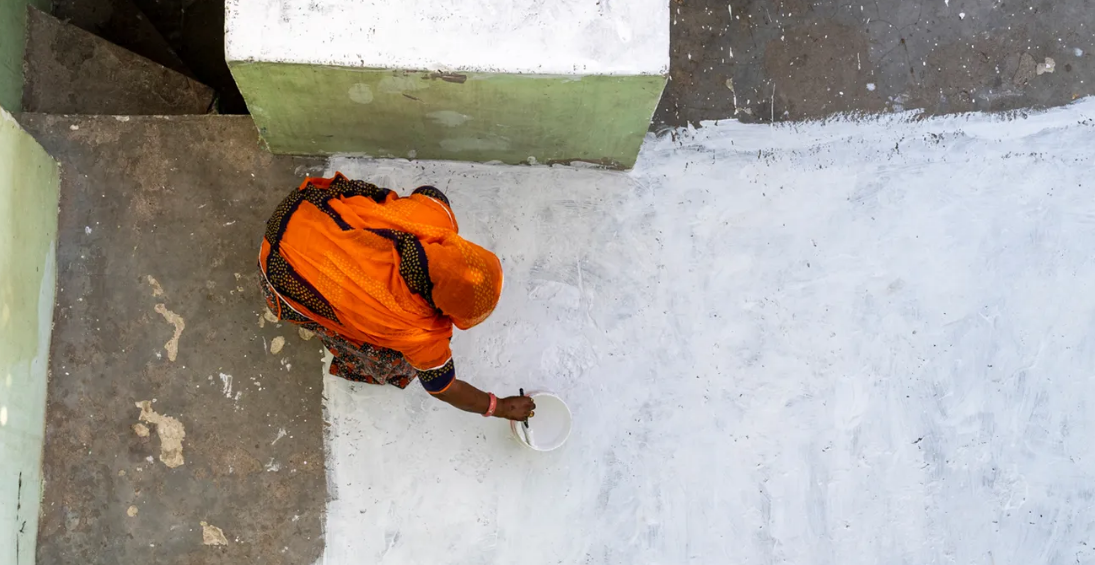 ©Mitul Kajaria
Pre-reading questions:
I will read each question. Then, please answer them.
How does the color of a roof affect the temperature inside a building?
How do white roofs impact energy consumption and utility costs for homeowners?
Vocabulary:
I will read the words, meanings, and sample sentences. Then, repeat after me.
unbearable /uhn-BAIR-uh-buhl /

[adjective] – too painful or unpleasant for you to continue to experience
The heat inside the classroom during the summer was unbearable, making it difficult for the students to concentrate on their studies.

effective /ih-FEK-tiv/

[adjective] – successful or achieving the results that you want
Using flashcards can be an effective way for students to memorize vocabulary words and improve their language skills.

overall /OH-ver-AWL/

[adverb] – in general rather than in particular, or including all the people or things in a particular group or situation
Overall, the team did a great job on the project, and they were proud of their hard work.

highlight /HAHY-lahyt/

[verb] – to attract attention to or emphasize something important
During the presentation, the teacher will highlight the important points to help us understand the topic better.

community /kuh-MYOO-ni-tee/

[noun] – the people living in one particular area or people who are considered as a unit because of their common interests, social group, or nationality
Our school organized a clean-up campaign to help improve our community by picking up trash and planting trees together.
Article reading:
Please read the whole article. Then, I will check your pronunciation and intonation.
In Indian slums, the intense heat from the sun can be unbearable. However, a simple and effective solution has emerged: white roofs. By applying a layer of white paint, the temperatures inside the houses decrease considerably, providing relief to families, particularly women. This technology is revolutionizing the lives of people in Indian slums.
White roofs, also known as "cool roofs," are making a remarkable difference in the lives of people living in Indian slums. They reflect sunlight instead of absorbing it, keeping the interiors cooler and reducing the need for energy-intensive cooling appliances. This leads to lower electricity costs and maintenance expenses. Moreover, white roofs provide a more comfortable environment for women to perform household tasks. Overall, this innovative solution has the potential to significantly improve the quality of life for families in Indian slums.
White roofs in Indian slums tackle heat-related challenges, enhance living conditions, and inspire positive change. By using reflective white paint, these roofs effectively reduce indoor temperatures, resulting in cost savings, increased roof durability, and improved conditions for daily household activities. This innovative approach highlights how simple solutions can have a significant impact on communities facing difficult circumstances.
Comprehension questions
I will read each question. Then, please answer them based on the article.
What is the purpose of applying white paint to the roofs of Indian slums?
How do white roofs help reduce electricity costs?
Who benefits the most from the implementation of white roofs in Indian slums?
What are some advantages of having white roofs in terms of household tasks?
How can white roofs improve the quality of life for families in Indian slums?
Discussion questions
I will read each question. Then, please answer them.
Have you ever experienced unbearable heat during the summer? If so, how did it affect you?
Can you recall a time when you had to rely on energy-intensive cooling appliances to beat the heat? How did it impact your electricity bills?
Do you agree that reducing reliance on energy-intensive cooling appliances through the use of white roofs can lead to savings on electricity bills?
Do you think the concept of white roofs can be applied in other regions or countries facing similar heat-related challenges? Why or why not?
What are some potential economic, social, and environmental benefits that could result from the widespread use of white roofs in Indian slums? How can these benefits be maximized?
Listening: