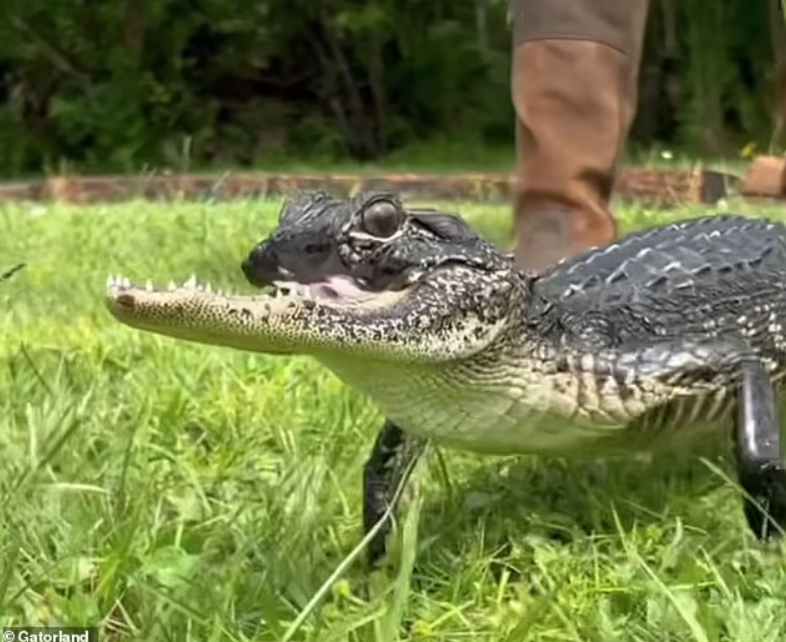 ©Gatorland
Pre-reading questions:
I will read each question. Then, please answer them.
講師がそれぞれの質問を読むので答えましょう。
Have you ever heard of an alligator before?
Do you know where alligators usually live?
Vocabulary:
I will read the words, meanings, and sample sentences. Then, repeat after me.
単語、意味、例文を読みます。講師に続いて音読しましょう。
extraordinary /ik-STRAWR-dn-er-ee/

[adjective] – very unusual, special, unexpected, or strange
The magician's performance was truly extraordinary, leaving the audience in awe of his incredible tricks.

progress /PROG-res/

[noun] – movement to an improved or more developed state, or to a forward position
The significant progress in technology over the last decade has transformed the way we live and work.

discussion /dih-SKUHSH-uhn/

[noun] – the activity in which people talk about something and tell each other their ideas or opinions
The lively discussion among the group of friends covered various topics, from politics to the latest movies.

postpone /pohst-POHN/

[verb] – to delay an event and plan or decide that it should happen at a later date or time
Due to bad weather, they had to postpone the outdoor picnic to next weekend.

necessary /NES-uh-ser-ee/

[adjective] – needed in order to achieve a particular result
Proper planning and organization are necessary to successfully complete a complex project on time.
Article reading:
Please read the whole article. Then, I will check your pronunciation and intonation.
記事を音読しましょう。講師はあなたの発音とイントネーションを確認します。
In the enchanting Gatorland Park in Florida, an extraordinary alligator named "Jawlene" has captured the hearts of visitors and locals. Jawlene, a female alligator, receives special care from the dedicated crocodile expert, Savannah Boan. The community chose her name, showing their desire to see her thrive. Jawlene's journey reflects the park's team's dedication and her own remarkable resilience. She has gained a slight weight of approximately 0.01 ounces due to the team's unwavering commitment to her well-being.CEO Mark McHugh of Gatorland shared heartwarming news about Jawlene's progress. She can now self-feed by independently consuming two mice using the back of her tongue. While discussions about fitting Jawlene with a prosthetic upper jaw have arisen, the park's administration wisely decided to postpone such measures. Their primary focus is to ensure that Jawlene fully adjusts to her new home and attains the necessary weight for a healthier future. Mark McHugh's deep affection for this remarkable alligator reinforces her role as a symbol of resilience and hope at Gatorland Park, demonstrating the enduring commitment of both the park's team and the broader community to her well-being.
True or False:
Read the sentences and identify if they are true or false based on the article.
文章を読んで、記事に基づいて正誤を答えましょう。
Gatorland Park is located in Florida.
The community helped choose the alligator's name, "Jawlene."
Jawlene has lost weight during her journey.
CEO Mark McHugh wants to give Jawlene a prosthetic upper jaw.
The community is committed to Jawlene's well-being.
Fill in the blanks:
Choose the correct word from the table then fill in the blanks.
適切な言葉を選んで空欄を埋めましょう。
| | | | | |
| --- | --- | --- | --- | --- |
| extraordinary | progress | discussion | postpone | necessary |
Despite facing some challenges, the students made significant ____________ in their studies over the semester.
Due to bad weather, they had to ____________ the outdoor picnic until next weekend.
The magician's performance was truly ____________, leaving the audience in awe of his tricks.
Having a first-aid kit is ____________ for any camping trip to ensure safety in case of accidents.
The team had a ____________ to plan the upcoming charity event and decide on all the details.
Listening: