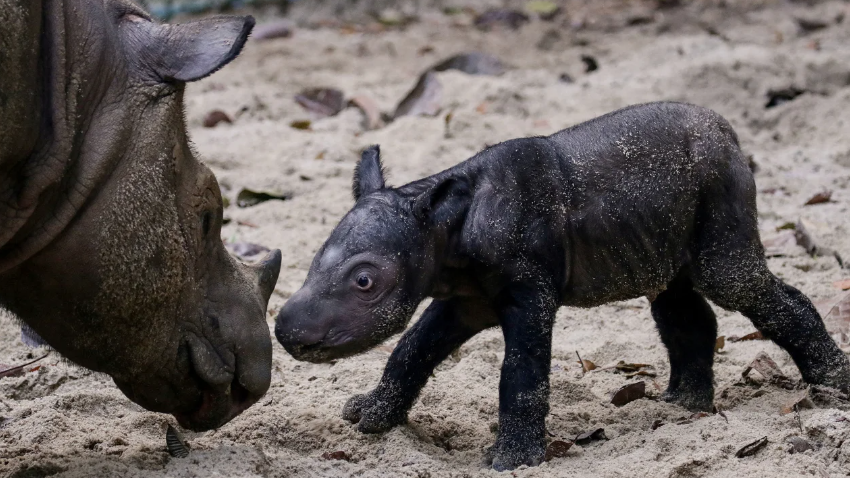 ©Antara Foto/Reuters
Vocabulary:
I will read the words, meanings, and sample sentences. Then, repeat after me.
brink /bringk /

[noun] – the point where a new or different situation is about to begin
The negotiations were on the brink of success when an unexpected dispute arose.

extinction /ik-STINGK-shuhn /

[noun] – a situation in which something no longer exists
The extinction of the dodo bird occurred in the 17th century.

resilience /ri-ZIL-yuhns/

[noun] – the ability to be happy, successful, etc. again after something difficult or bad has happened
The resilience of the community was evident as they rebuilt after the natural disaster.

nurse /nurs /

[verb] – to care for a person or an animal while they are sick
She decided to nurse her sick friend back to health by providing care and support.

inhabit /in-HAB-it /

[verb] – to live in a place
Various wildlife species inhabit the lush rainforests of the Amazon.
Article reading:
Please read the whole article. Then, I will check your pronunciation and intonation.
In a remarkable conservation success story, a critically endangered Sumatran rhinoceros calf was born in Way Kambas National Park, Southern Sumatra Island, Indonesia. This marks the third successful pairing between Ratu, a local female rhino, and Andalas from Ohio's Cincinnati Zoo. The female calf, yet to be named, made her debut on Saturday, offering hope to a species on the brink of extinction due to illegal poaching and habitat loss. Sumatran rhinos, the world's smallest rhino species, now number fewer than 80 individuals in fragmented Indonesian regions, according to the International Rhino Foundation (IRF). The recent birth, captured in heartwarming photos shared by the forestry ministry, signifies a ray of hope for these creatures. Weighing around 27 kilograms (60 pounds) and covered in black hair, the calf remarkably stood within 45 minutes of her natural birth, demonstrating her resilience, and began nursing from her attentive mother, Ratu, just four hours later. Recognizable by their distinctive appearance, standing at approximately 4 to 5 feet tall (about 1.5 meters) with an average body length of 8.2 feet (2.5 meters) and covered in long hair, Sumatran rhinos inhabit the dense tropical forests of Sumatra. Their slow reproductive rate, with females giving birth intermittently, underscores the critical importance of conservation efforts to protect this endangered species from extinction.
Conservationists emphasize the vital role played by breeding programs like the Sumatran Rhino Sanctuary in securing the species' future. The sanctuary has successfully produced three calves, contributing to the establishment of an insurance population of rhinos. With the Sumatran rhino declared locally extinct in neighboring Malaysia in 2019, this recent birth offers hope for the survival of this unique and critically endangered species.
Discussion Questions:
I will read each question. Then, please answer them.
Have you ever seen or read about a situation where a rare animal or plant was in danger of disappearing, like the Sumatran rhinoceros in the article? If yes, can you tell me about it and how it made you feel about the need to protect endangered species? If not, how do you think people might react to such a situation, and why is it important to save these animals?
The article mentions the Sumatran Rhino Sanctuary and its role in helping Sumatran rhinos survive. Have you ever visited or heard of a wildlife sanctuary or conservation project in your country or another place? If yes, what did you learn from it, and do you think such initiatives are important? If not, how do you think these sanctuaries can contribute to the protection of endangered species, and would you like to visit one if given the chance?
Do you believe that wildlife conservation is important for the survival of endangered species like the Sumatran rhinoceros, as mentioned in the article?
What do you think are the main challenges to protecting endangered species like the Sumatran rhinoceros? How can individuals and governments address these challenges effectively?
The article mentions that the Sumatran rhinos have a slow reproductive rate and give birth intermittently. Why do you think some species have such low reproductive rates, and what impact does it have on their survival? How can conservation efforts adapt to this challenge?
Summarization
Please summarize the whole article using your own words and expressions. You will have one minute to prepare before you answer.
Describe:
Please explain the definition of each word listed below based on your understanding. You can provide example sentences if needed.
debut
distinctive
establishment
extinction
foundation
Listening: