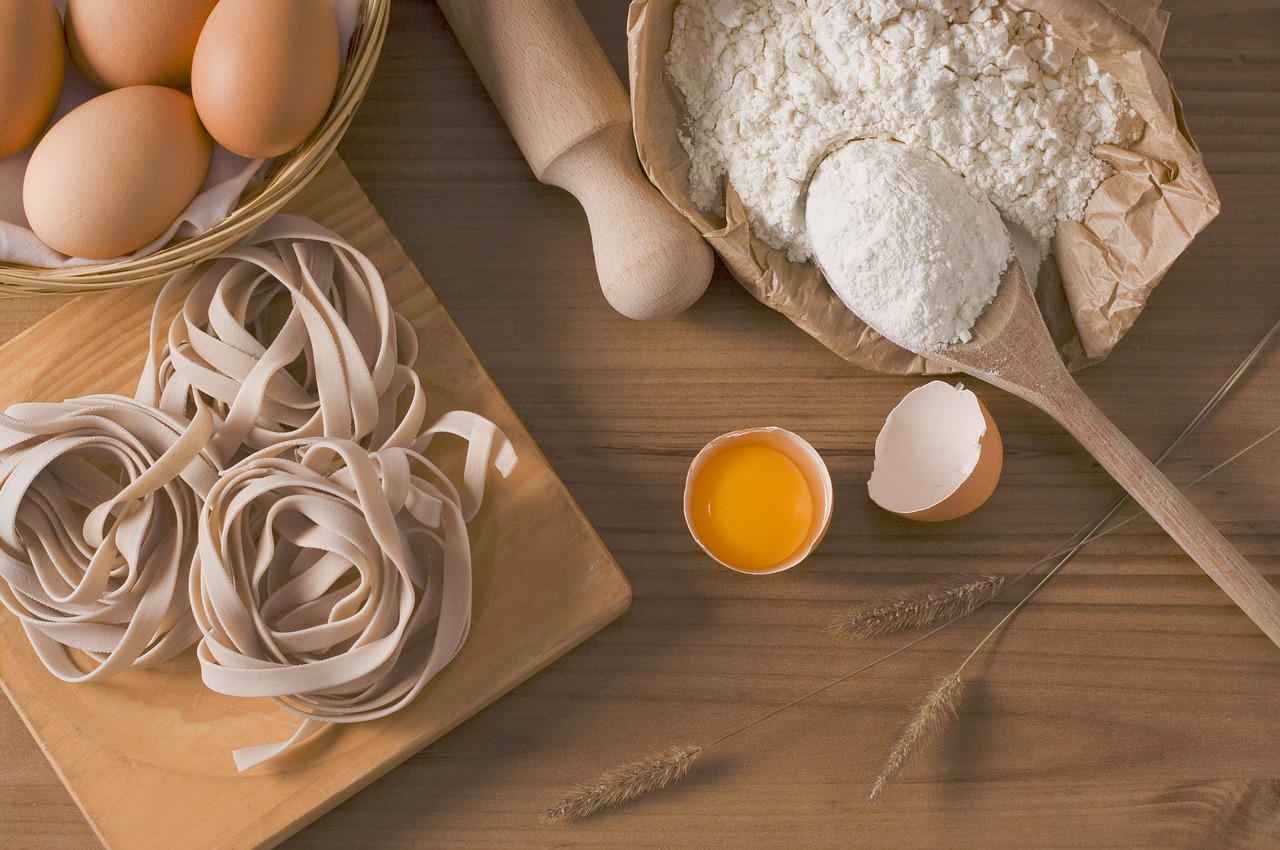 Pre-reading questions:
I will read each question. Then, please answer them.
講師がそれぞれの質問を読むので答えましょう。
Do you commonly use flour as an ingredient?
Do you know about pulse-based flours?
Vocabulary:
I will read the words, meanings, and sample sentences. Then, repeat after me.
単語、意味、例文を読みます。講師に続いて音読しましょう。
flour /flouuhr/

[noun] – powder made from grain, especially wheat, used for making bread, cakes, pasta, pastry, etc.
Sarah mixed flour, sugar, and eggs to make a delicious cake for her friend's birthday.

recipe /RES-uh-pee/

[noun] – a set of instructions telling you how to prepare and cook food, including a list of what food is needed for this
My mom found a new recipe online, and she's going to try making spaghetti for dinner tonight.

essential /uh-SEN-shuhl/

[adjective] – necessary or needed
Water is an essential part of our daily lives, and we need it to stay hydrated and healthy.

issue /ISH-oo/

[noun] – a subject or problem that people are thinking and talking about
The students discussed the issue of littering in their schools and came up with ideas to keep the campus clean.

promote /pruh-MOHT/

[verb] – to encourage or support something, or to help something become successful
The school organized a campaign to promote healthy eating habits among students, encouraging them to choose nutritious snacks and meals.
Article reading:
Please read the whole article. Then, I will check your pronunciation and intonation.
記事を音読しましょう。講師はあなたの発音とイントネーションを確認します。
Join us on a flavorful adventure as we embrace eco-friendly flours. Together, let's explore pulse-based flour recipes that satisfy our taste buds and boost our well-being. It's time for a culinary revolution, taking small and delightful steps toward a healthier future.
Derived from legumes such as lentils, chickpeas, and beans, pulse-based flours have emerged as formidable contenders in the culinary realm. These flours boast an impressive nutritional profile, surpassing that of traditional wheat flours. Packed with protein, fiber, essential vitamins, minerals, and antioxidants, pulse-based flours champion the cause of a well-rounded diet. Gluten-free and versatile, these flours are a dream for those with gluten issues. They work wonders in pancakes, bread, and more. Packed with nutrients and blood sugar-friendly, they're a savior for people with diabetes. Plus, they satisfy your cravings and give your recipes a tasty, wholesome twist.
By embracing these flours, we not only promote an environmentally friendly food system but also indulge in unique flavors and improved well-being. Let us embark on this culinary revolution together, exploring pulse-based flour recipes that tantalize our taste buds and elevate our overall health, one delightful step at a time.
True or False:
Read the sentences and identify if they are true or false based on the article.
文章を読んで、記事に基づいて正誤を答えましょう。
Pulse-based flours are derived from legumes like lentils, chickpeas, and beans.
Pulse-based flours are gluten-free.
Pulse-based flours can be used to make pancakes and bread.
Pulse-based flours are beneficial for people with diabetes.
Pulse-based flour recipes offer unique flavors.
Fill in the blanks:
Choose the correct word from the table then fill in the blanks.
適切な言葉を選んで空欄を埋めましょう。
| | | | | |
| --- | --- | --- | --- | --- |
| flour | recipe | essential | issue | promote |
The teacher used interactive games and activities to ______ teamwork and cooperation among the students, fostering a supportive classroom environment.
In the bakery, the baker used ______ to knead the dough and shape the bread before baking it in the oven.
Emily followed the ______ carefully and added all the ingredients to make chocolate chip cookies.
Having a good night's sleep is ______ for students because it helps them concentrate and perform better in school.
The teacher addressed the ______ of bullying and reminded the students to treat each other with kindness and respect.
Listening: