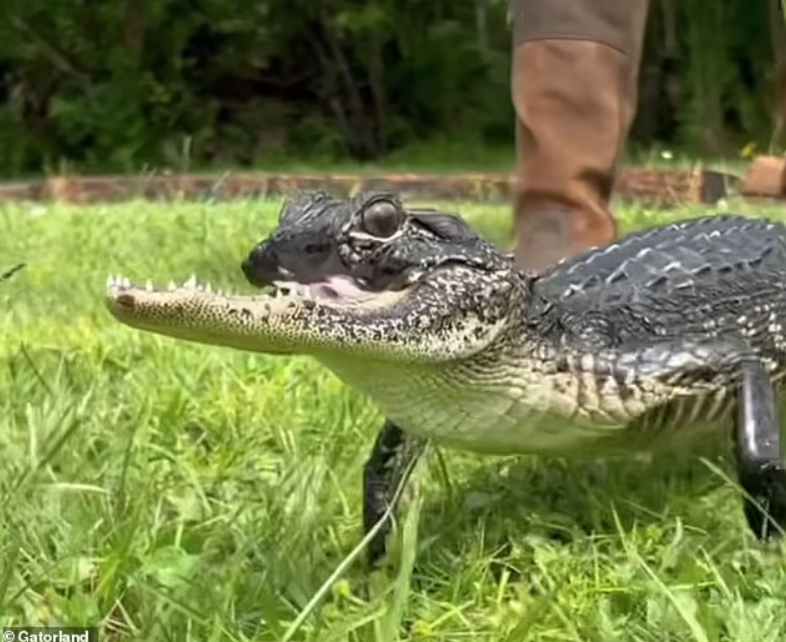 ©Gatorland
Vocabulary:
I will read the words, meanings, and sample sentences. Then, repeat after me.
local /LOH-kuhl /

[noun] – a person who lives in the particular small area that you are talking about
The local, who had spent all his life in the small village, was a respected figure in the community.

lifelong /LAHYF-lawng/

[adjective] – lasting for the whole of a person's life
Her lifelong dream was to travel the world and explore new cultures, which she achieved after years of hard work and dedication.

resilience /ri-ZIL-yuhns/

[noun] – the ability to be happy, successful, etc. again after something difficult or bad has happened
Despite facing numerous setbacks, his resilience allowed him to bounce back, rebuild his life, and find happiness once more.

flourish /FLUR-ish/

[verb] – to grow or develop successfully
With the right conditions, plants can flourish and thrive, producing beautiful flowers and fruits.

profound /pruh-FOUND/

[adjective] – felt or experienced very strongly or in an extreme way
The impact of the teacher's kind words had a profound effect on the student, boosting his confidence and self-esteem.
Article reading:
Please read the whole article. Then, I will check your pronunciation and intonation.
In Florida's Gatorland Park, an extraordinary alligator with a missing upper jaw has captured the hearts of visitors and locals, finding a lifelong sanctuary. This remarkable alligator has been bestowed with the name "Jawlene," a heartwarming tribute to the 1973 Dolly Parton classic "Jolene." Jawlene, a female alligator, has been receiving specialized care and attention, with every effort made to ensure her comfort and well-being. Savannah Boan, the park's dedicated crocodilian enrichment coordinator, has played a crucial role in caring for Jawlene, helping her gain a slight amount of weight, approximately 0.01 ounces. This achievement is a testament to the commitment of the park's team and the resilience of this remarkable reptile. Furthermore, it was the community's involvement that contributed to the selection of the name "Jawlene," underscoring the collective desire to see this alligator flourish.
Mark McHugh, the CEO of Gatorland, shared the positive news about Jawlene's progress in a heartfelt video, celebrating her ability to self-feed by consuming two mice independently using the back of her tongue. While there have been discussions about the possibility of fitting Jawlene with a prosthetic upper jaw, the park's administration has wisely decided to postpone such measures for the time being. Their primary concern is ensuring that Jawlene becomes fully acclimated to her new environment and gains the weight she needs for a healthier future. Mark McHugh expressed profound affection for this remarkable alligator, reinforcing that she has become a symbol of resilience and hope at Gatorland Park, showcasing the unwavering commitment of both the park's team and the broader community to her well-being.
Discussion Questions:
I will read each question. Then, please answer them.
Have you ever visited a wildlife sanctuary or park and encountered a remarkable animal like Jawlene, the extraordinary alligator at Gatorland Park? If yes, how did that experience affect your perception of wildlife conservation and the dedicated efforts of the park's team? If not, can you imagine the emotions and thoughts you might have if you were to encounter such a unique animal?
Mark McHugh, the CEO of Gatorland, expressed profound affection for Jawlene, highlighting her as a symbol of resilience and hope. Can you think of a similar story or situation where an animal or individual's resilience touched your heart or inspired you? If yes, what was the story, and how did it impact you? If not, can you imagine how witnessing such resilience might influence your perspective on challenges and perseverance?
Do you think the decision to postpone fitting Jawlene with a prosthetic upper jaw was the right choice, considering her current condition and progress?
What do you believe makes Jawlene's story particularly heartwarming and inspiring, beyond the fact that she's an extraordinary alligator with a missing upper jaw?
In what ways can a community's involvement in naming and supporting a unique animal like Jawlene have a positive impact on wildlife conservation and awareness?
Summarization
Please summarize the whole article using your own words and expressions. You will have one minute to prepare before you answer.
Describe:
Please explain the definition of each word listed below based on your understanding. You can provide example sentences if needed.
tribute
administration
dedicate
reinforce
reptile
Listening: